Key events
Everton 0-0 Aston Villa: Villa has arranged itself. They were second best in the first half but have started brighter this term.
GOAL! Leicester 0-1 Arsenal (Martinelli, 46)
Well well well. So much for talking about lack of goals. Arsenal have roared out of the gates and taken the lead. Brilliant from Martinelli who bends a round at the goalkeeper from the left. Imagine Henry ravaging his pomp.
Leicester 0-0 Arsenal: When Arsenal struggle for goals (at least in this game), Rwik Chattopadhyay brings up an interesting point:
"Wondering where Folarin Balogun fits into this equation? Will he be back at the Emirates next season? Will Nketiah still be here? Nice headache to have for Mikel Arteta."
Balagun is the joint top scorer in Ligue 1 – alongside Kylian Mbappe – with 15 goals. Just btw.
Harriet Osborne dreaming fancy dreams from across the pond:
"This West Brom-Boro situation is interesting for stateside fans – an American striker on a hot streak scoring twice in quick succession against who until recently was our undisputed number one. I don't know how to feel about it. Maybe someone else will.An American striker who scores a quick double can never become one bad thing for us, can it? And what if he had been healthy in November?"
If only Harriet, if only.
A little half-time reading to get you going Marcus Rashford which reminds me of early Cristiano Ronaldo. I know, it sounds ridiculous, but is it really?
Leicester 0-0 Arsenal: More VAR chat from a self-confessed "insatiable" fan:
"As an insatiable Arsenal fan I'm sick of all this VAR talk. I don't think there's a big conspiracy against my team BUT I do think Saka was brought down in the box. The defender put his arm around Saka and then fell on top him.
"If Ben White fouled the keeper then Saka was sent off too. Why no consequence?
"If the referee thinks it was not a foul then the referee should book Saka for diving."
Unfortunately, I don't have the answers to these questions, Eagle Bros.
Leicester 0-0 Arsenal: It wouldn't be one the elite series weekend without a VAR call, right?
"I'm done with VAR. If they're going to disallow a goal, surely they'd give a pk to Saka. Sure, VAR isn't there to make sure there are fewer goals in the game. Give the title to Man City or United already and end this farce."
Stand on, Adeem Sadiq. From most sources, it appears that the goal was rightly ruled out. Also, Arsenal should be out of sight after their dominance. Have faith. I think they will be fine though.
Sheffield Wednesday look good to achieve a club record 20 game unbeaten run as they trail Charlton 1-0. Liam Palmer's ninth minute goal the difference there.
"A bit late to this, but one stands out to me, and it's happening tomorrow, Jimmy Greaves Derby between Spurs (321) and Chelsea (157). I saw him score for both"
Good addition here by 'Rayge' (no last name, or are you a brazilian midfielder?)
Leicester did not record a single shot on goal in their home match against Arsenal. Not ideal.
GOAL! Barnsley 3-1 Derby (Cole 45+2)
Coles sweeps home just before the half-time break after a goal spin. Do we already have today's game?
Goalless on all fours the elite series matches after 45 minutes:
GOAL! QPR 1-2 Blackburn Rovers (Szmodics 45+2)
Blackburn are back in front thanks to a neat finish under the attacking keeper.
Everton v Aston Villa: It's a blocked free-kick from McNeil's boot and it's half-time.
Leicester 0-0 Arsenal: An Arsenal free-kick down the right is whipped in but too long for anyone to get their head on. Sums up Arsenal. Just missing something. Nketiah will definitely provide some focus up front.
Everton 0-0 Aston Villa: Maupay's curled effort from the center of the box doesn't have enough power so Martinez saves comfortably. Good game, but goalless just before half time.
Leeds 0-0 Southampton: A short corner creates a shooting chance for McKennie but he blazes over the bar. Leeds look good but lack the bite needed.
GOAL! Norwich City 2-0 Cardiff (Marquinhos, 37)
With his first goal in the country, the Brazilian doubled Arsenal's charge from Norwich's lead.
Leeds 0-0 Southampton: Leeds make a mess of two to one. Harrison dabbles and lets Southampton out.
GOAL! Barnsley 2-1 Derby (McGoldrick, 35)
What a game this is. McGoldrick thinks about the goalkeeper and cuts the deficit in half. Don't count them out just yet.
A die-hard Arsenal fan? What happens next?
"Even though I'm an Arsenal fan, I think this type of infringement, which no referee could possibly see, is exactly what VAR is for. I don't care if a player is an inch or two offside, but the game would be more fun without that kind of insidious fouling."
Well said, Kari Tulinius.
GOAL! Barnsley 2-0 Derby County (Phillips, 33)
Shortly after Derby hits the post, the two are behind. Phillips puts one on in the far corner.
GOAL! Norwich City 1-0 Cardiff City (Sara, 33)
The Canaries sing as Gabriel Sara's fourth goal of the season gives the home side the lead.
GOAL! Burnley 3-0 Huddersfield (Brownhill, 31)
Imperious once again from Burnley who had 82% of the ball. Is this the best team the Championship has ever seen? It's a quick move that ends with a perfect cross for skipper Josh Brownhill whose first-time shot rolls into the net.
Leicester 0-0 Arsenal: The case goes down the drain and there will be a criminal appeal. Nothing does though. Still, it's all Arsenal.
GOAL! Preston 0-1 Wigan (Cunningham OG, 27)
It's not ideal for the home team. Greg Cunningham has shunted one into his own net.
Leicester 0-0 Arsenal: Iheanacho puts the ball in the net. Too bad he's about 30 yards offside.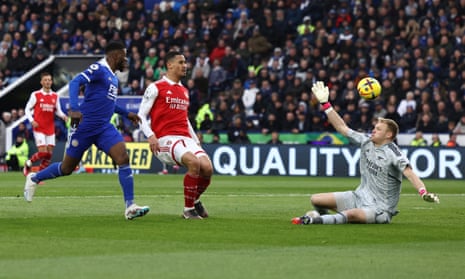 GOAL! QPR 1-1 Blackburn Rovers (Iroegbunam, 24)
After Sam Gallagher put the visitors ahead after 14 minutes, Tim Iroegbunam made it all 10 minutes later.
UNAUTHORIZED GOAL! Leicester 0-0 Arsenal
Trossard has rolled in the top corner but it doesn't count. There is a foul in the box after an Arsenal corner. The ball squirts to Trossard on the edge and he produces a moment of magic. But that has been ruled out following a VAR referral.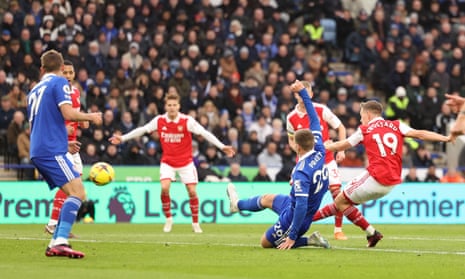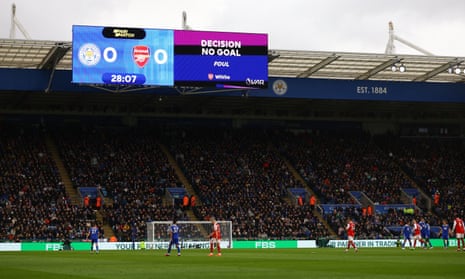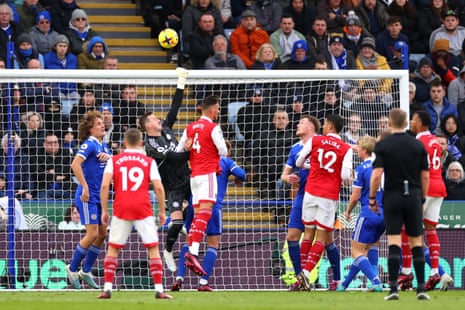 Still scoreless over the four the elite series games though Arsenal and West Ham dominates their games.
After a VAR check, Barnsley are ahead. Devante Cole slides the ball after a Rams mistake in the backfield.
West Ham 0-0 Nottingham Forest: Ings makes a mess of a nod. How has he laid so wide? Should be up 1-0.
West Ham 0-0 Nottingham Forest: Fabianski has to tip over Felipe's header, but that's as close as the visitors have come. The Hammers are otherwise responsible.
Leicester 0-0 Arsenal: For all their dominance, Arsenal lack a focal point. Trossard continues to fall short but that means there is no one to provide the traction. Nketiah will surely be introduced at half-time. 20 minutes passed.
GOAL! Burnley 2-0 Huddersfield (Roberts, 18)
Comfortable. Vincent Kompany has this team spinning. Roberts is found with a delicious through ball and he rounds the keeper to double the lead. Sensational stuff.
GOAL! Ross County 2-0 Dundee United (Dhanda, 14)
It's not going well for bottom of the table Dundee United. They're two down in no time.
Leicester 0-0 Arsenal: Same as before. Arsenal do all the running and passing. However, Leicester are holding firm.
GOAL! Reading 1-0 Blackpool (Ince, 12)
No celebration for Tom Ince as his deflected shot gives Reading the lead. Ince, like his father, represented Blackpool so he keeps a lid on things.
Leeds 0-0 Southampton: Just one shot each as Leeds control the ball with more than 70% of it. Will have to be crucial to break down Southampton though.
GOAL! West Brom 2-0 Middlesbrough (Ditch 8, 10)
It's two goals in two minutes as West Brom gallop forward. Daryl Dike at the double. Two breaks after 'Brough have dominated possession.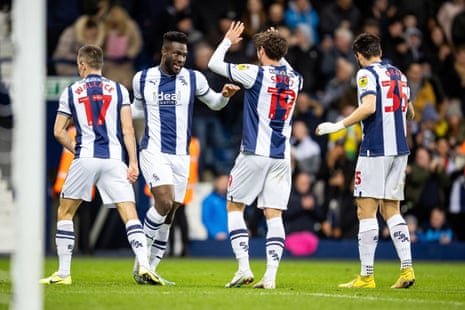 Everton 0-0 Aston Villa: Pickford is called into action and makes a good save. Keeps his side level after 10 minutes, shortly after Watkins did the same at the other end.
GOAL! Burnley 1-0 Huddersfield (Ashley Barnes, 7)
The runaway league leaders are ahead early in their game.
Leicester vs Arsenal: It's really one-way traffic after five minutes. Arsenal charge left then switch right. Saka cuts in off his wing and has a shot blocked. Arsenal recover and start again.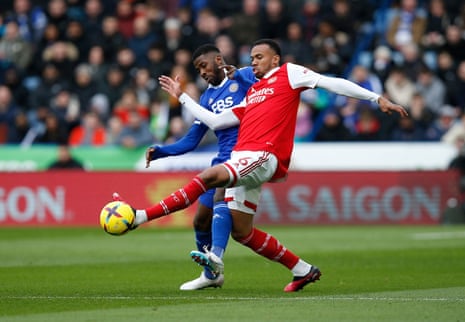 We have a goal. Lincoln City 1-0 up to Forest green in League One.