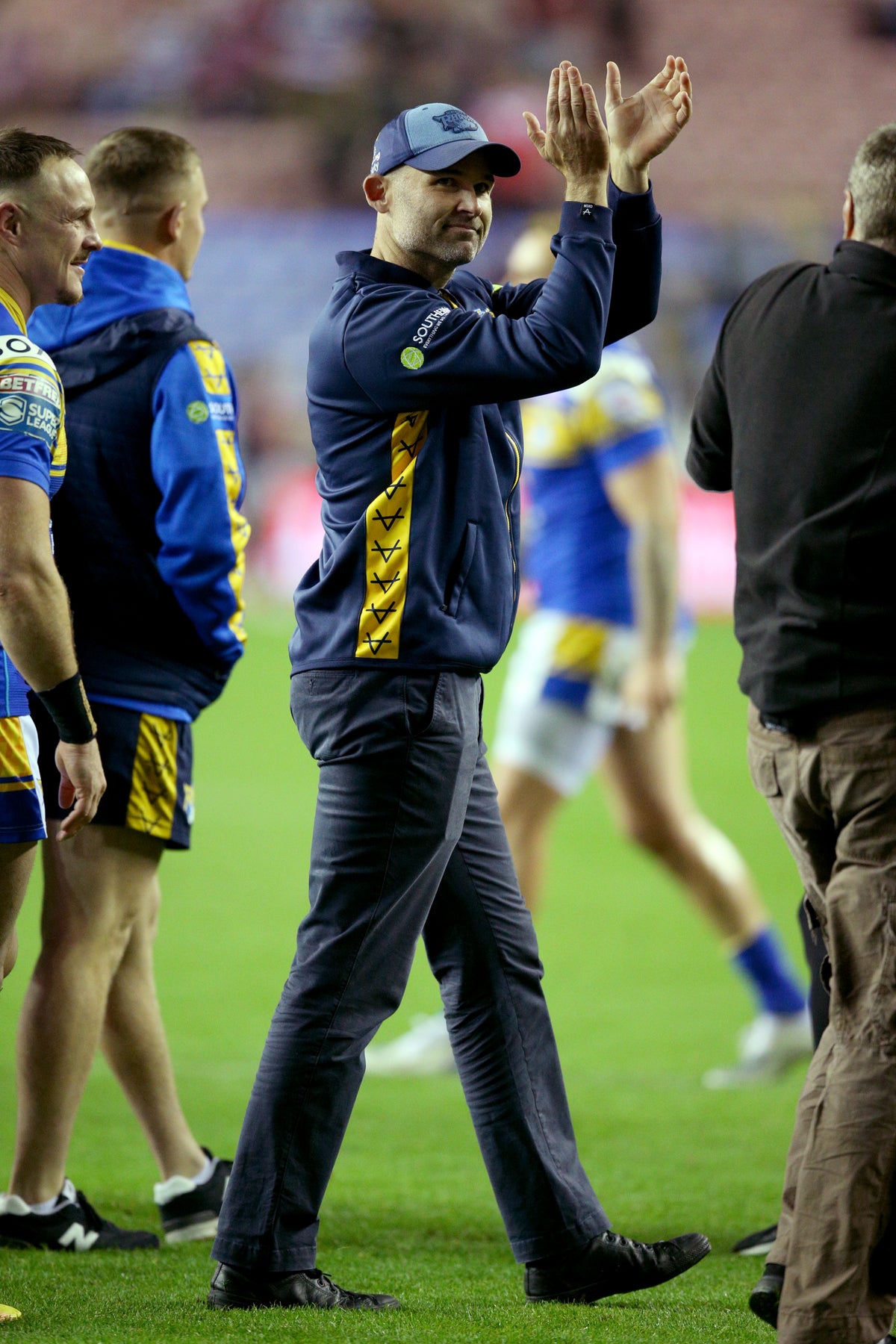 Leeds head coach Rohan Smith has always believed in his players, who showed extraordinary courage and determination to condemn the 12-man Wigan to their first home defeat of the season and reach the 11th Super League Grand Final.
Rhinos weren't comfortable nearly the entire first half of Friday's semi-final at DW Stadium, but managed to limit their opponents to a 4-2 range before finding their offensive rhythm in the second half.
Makeshift hooker Jarrod O'Connor made his first try for the club within four minutes of the second half, and former St Helens second rower James Bentley had two to assist Leeds in a stunning 20-8 victory that took him to Old Trafford next Saturday. added more. .
"I wasn't worried at all," Smith said of his team's patient back protection efforts in the first half. "It's part of the game.
"I feel there is a belief that we can find our way in the group.
"Our goal line defense has been very good for a while, there's a lot of confidence and faith. Everyone was calm and relaxed and doing their job.
"He felt good because everybody came in at 4-2."
The only disappointment for Leeds was the injury of Aidan Sezer, who was in danger of missing the Grand Final and was removed for head injury consideration after Wigan's England striker John Bateman fell in a high and late tackle.
"We haven't spoken to the doctor yet," Smith said. "I'm trying to enjoy it for a few minutes. We'll talk about Aidan on the way home."
The first trip to Old Trafford in five years marks a remarkable turn in the fate of Rhinos, who finished second to last in the Super League in April after winning just one of their first 10 games.
Smith added: "I came in not knowing much, but I knew enough to know that it's a good group of actors and a good group of people.
"I am really proud and privileged to be a part of this. Now that things are calming down, we're starting to think a little about next week."
Smith has confirmed that center Harry Newman will not be eligible to play in the Grand Final as injury suspicions remain against his three-quarter mates Ash Handley and David Fusitu.
Bateman has been shown a red card for his handling of Sezer, and will face anxious anticipation as the Rugby Football League's match review panel prepares to examine the incident closely on Monday, to discover if this jeopardizes his place at the World Cup.
"I have no complaints," said Wigan coach Matt Peet. "We understand the rules.
"John had all the good intentions, it was a momentary mistake. I hope Aidan is well.
"It would be a shame if they were banned but I think they have to stick with what they've been doing all season. It would be a shame if we miss World Cup games."
Wigan's agony was exacerbated when he suffered a leg injury early in the second half and lost to triscore phenomenon Bevan French, leading them 20-4 before prostitute Sam Powell made his 250th game for them in a late try of consolation.
"I'm sorry for the group, but I'm really proud of the group," said Peet, who led Wigan to victory in the Challenge Cup final in his first season as head coach. "It's been a special year.
"Leeds deserve a lot of credit for the way they play and especially the way they defend the goal line. They showed great resilience, a sign of commitment to each other."
The defeat brought a disappointing end to the distinguished career of Wigan captain Thomas Leuluai, who made his 327th game to replace the injured Cade Cust.
"His career speaks for itself, it's been a fairy tale for his family to be proud of," Peet said.
Leuluai will play for the last time for New Zealand in the World Cup friendly match against Leeds in October.
"It's a feeling of disappointment but I'm proud of the band," he said. "The posting made it quite difficult, but they kept going.
"I've had bigger losses than that. We faced a really good team, I thought Leeds was great."