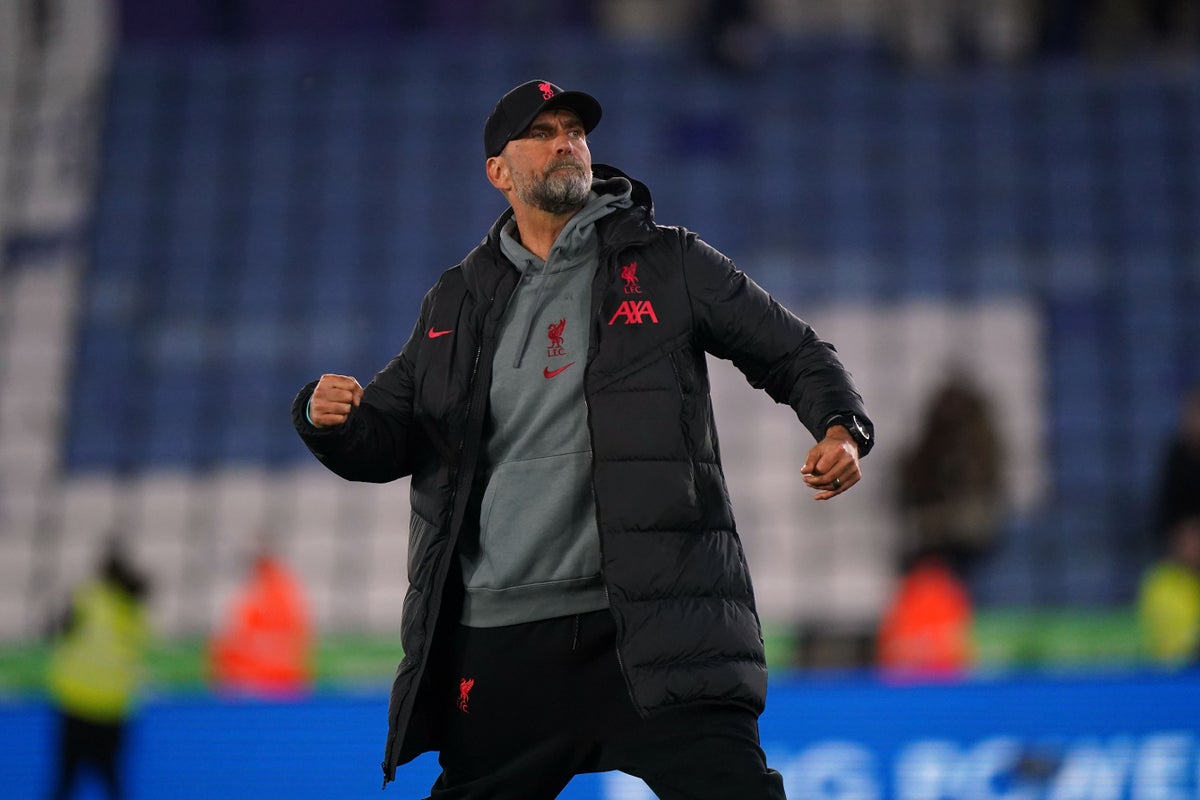 Jurgen Klopp swore Liverpool He will continue the pressure on the Champions League race after a routine 3-0 win. Leicester.
Curtis Jones' fast duo and Trent Alexander-Arnold's spectacular goal kept the Foxes close to relegation while keeping their top-four entry alive.
Second-placed Leicester are two points behind Premier League safety and are two games away. Newcastle next Monday.
The win means Liverpool are booked for European football next season and are in fifth place, one point behind Newcastle and Manchester United, both playing one game less.
Klopp said: "It's our job (to keep the pressure on Newcastle and Manchester United) but if not this is better than we expected six or seven weeks ago.
"I have no idea what that means for us. Four or five years ago we had Chelsea and they were always winning. I think that was the year we finished fourth and had to qualify.
"We had to win the last game and we had to win, win, win until the last game, because they were always winning behind us.
"Still, we did, and to be honest, I expect them to do the same.
"But it's keeping you alert, and that's our job – we have to keep them alert and then we'll see what happens.
"Six or seven weeks ago I didn't believe this could happen. What we lacked back then was consistency.
"The game was never the game it could be, it's a real fight, a challenge anywhere, because we controlled it in a really convincing way."
Alisson Becker quenched an early chance for Jamie Vardy and Liverpool quickly regained control, doubling the game as a competition before Jones' break.
The midfielder opened the score in the 33rd minute when he came unmarked to the far post to lead Mohamed Salah into the middle.
Three minutes later, Salah received another pass and passed Daniel Iversen just inside the penalty area.
Leicester had capitulated and only Iversen's clever save prevented Cody Gakpo from making the score 3-0 soon after.
Harvey Barnes tested Alisson early in the second half, but there was little fighting with the Foxes and Liverpool eventually took the victory.
Alexander-Arnold rubber-stamped the numbers with a stunning 25-yard kick after Salah's short free kick with 19 minutes left.
Salah should have done 4-0 instead of shooting wide after passing cleanly and booing Leicester.
They have been on the verge of relegation for two years since they first lifted the FA Cup.
Boss Dean Smith said: "We're all fans here, we all support clubs and you want to see your club win. We lost to a team that physically crushed us when they took a 2-0 lead.
"I wouldn't question our fight, our stance, but I understand and we should all hear the fans. If you're losing 2-0 or 3-0 at home and you're in a relegation battle, I understand the fans will react in certain ways.
"Of course (I believe they can survive). I don't like to play on Monday nights, I don't think it's right. We'll definitely know what to do next week at St James' Park.
"Goals change the game. I can throw 50 balls at their goalie and they won't score from one of his big hits.
"Giving away was a truly disappointing gold. Second, Wilf (Ndidi) tried to read a pass and they played Jones, who scored well.
"At that time our minds were a little worn out and we needed to get in the middle without any more pain."
[pub1]