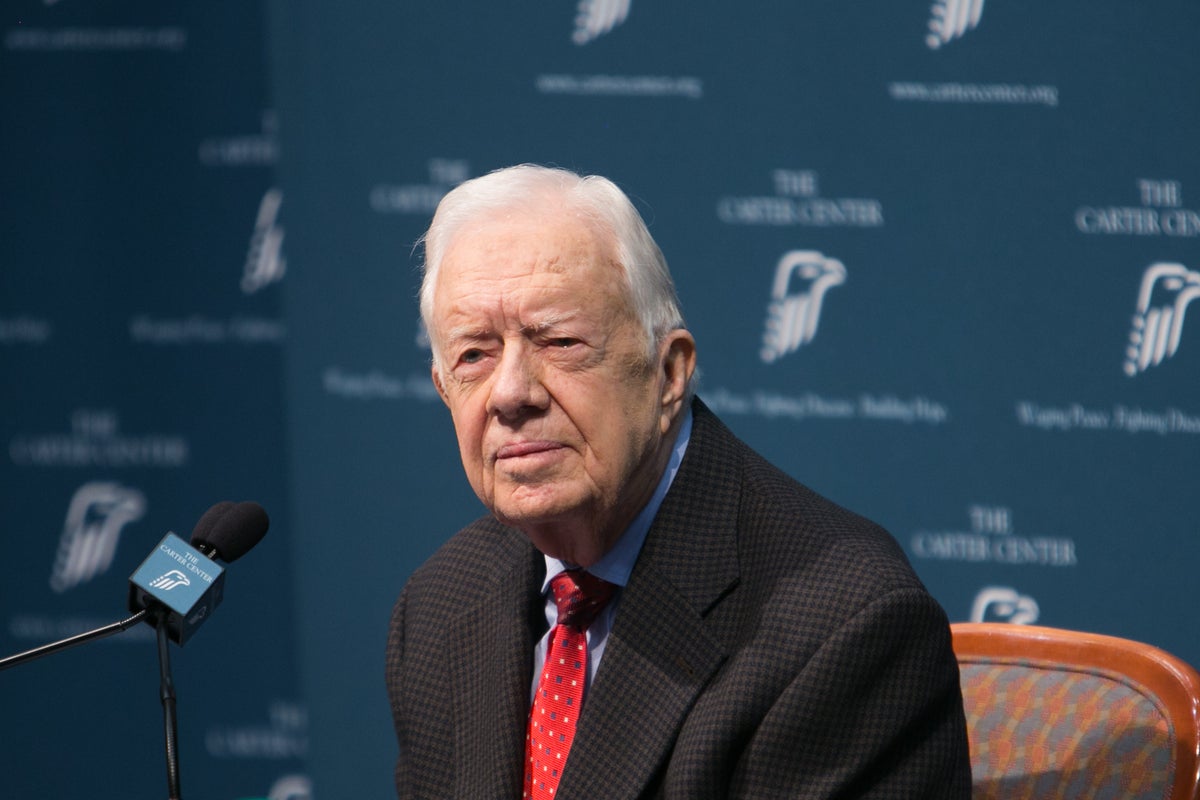 Former USA President Jimmy Carter will "spend his remaining time at home" receiving hospice care.
The 98-year-old made the decision after a series of hospital stays, the Carter Center announced on Saturday.
"After a series of short hospital stays, former US President Jimmy Carter today decided to spend his remaining time at home with his family and receive hospice care rather than further medical intervention." The Carter Center said in a statement.
"He has the full support of his family and medical team. The Carter family asks for privacy during this time and is grateful for the concern shown by his many admirers."
Mr. Carter, a Democrat, became the 39th president of the United States when he defeated former President Gerald Ford in 1976. He served a single term and was defeated by Republican Ronald Reagan in 1980.
He is the oldest living former president in US history and still lives in a modest home in rural Plains, Georgia, a two and a half hour drive south of Atlanta.
Mr Carter had a small cancerous mass removed from his liver in 2015. And in 2016 he announced that he would not need any further treatment as his cancer had been eliminated by an experimental drug.
The other living former presidents are Donald Trump, 76; Barack Obama, 61; George W. Bush, 76; Bill Clinton, 76.
I saw both my grandparents yesterday. They are at peace and – as always – their home is full of love. Thank you all for your kind words https://t.co/9rhG61sZEV

— Jason Carter (@SenatorCarter) February 18, 2023
Mr Carter's grandson, former Georgia state senator Jason Carter, took to Twitter to say his grandparents were "at peace".
"I saw both my grandparents yesterday. They are at peace and – as always – their home is full of love. Thank you all for your kind words," he tweeted.
The former president, a lifelong Baptist, told a Sunday school congregation at church in 2019 that he was "at ease with death" after his cancer diagnosis, CBS News reported.
"I obviously asked for it. I didn't ask God to let me live, but I just asked God to give me a proper attitude towards death. And I found that I was absolutely and completely at peace with death," he said, according to the news organization.
"It didn't really matter to me whether I died or lived. I have, since that time, been absolutely certain that my Christian faith includes complete belief in life after death. So I'll live again after I die — I don't know what form I'll take, or anything."
Mr. Carter was a peanut farmer and lieutenant in the US Navy before entering politics and serving a term as governor of Georgia from 1977 to 1981.
He received the Nobel Peace Prize in 2002 for his peace efforts around the world and has been a long-time supporter and volunteer for Habitat for Humanity.