Amazon Freevee is debuting a very entertaining docu-comedy series Jury duty. Chronicle describes the inner workings of an American jury through the eyes of a particular juror. Ronald Gladden, a solar contractor from San Diego, didn't know it wasn't an official jury summons. The hilarious trailer sees Gladden as a polite judge who doesn't realize that the whole case is fake and everyone else is an actor. James Marsden. Since everything that happens in and out of the courtroom is scripted, it makes for some hilarious moments.
Marsden said in his official statement: "What interested me was the difficulty of creating a hero's journey for someone who doesn't know that the world around them is completely made up." Adding: "Could this high-wire act lead him to unite this family of wonderful weirdos and become an inspirational leader in service to us all in the process? Jury duty." The presentation offers the opportunity for some epic comedic moments, as the timing in the trailer looks perfect.
Lauren Anderson, head of AVOD Original Content and Unscripted Programming at Amazon Studios, said, "There are no guarantees, but there is ambition, creativity, pure comedy and a desire to do something different, but with a lot of focus. That's what drew us to the extraordinary inventiveness of this amazing production team." He reiterated the series' themes: "The weirdest moments happen when something as simple as jury duty happens. We hope that viewers will be surprised by what they see and happy with what the show has to say about humanity.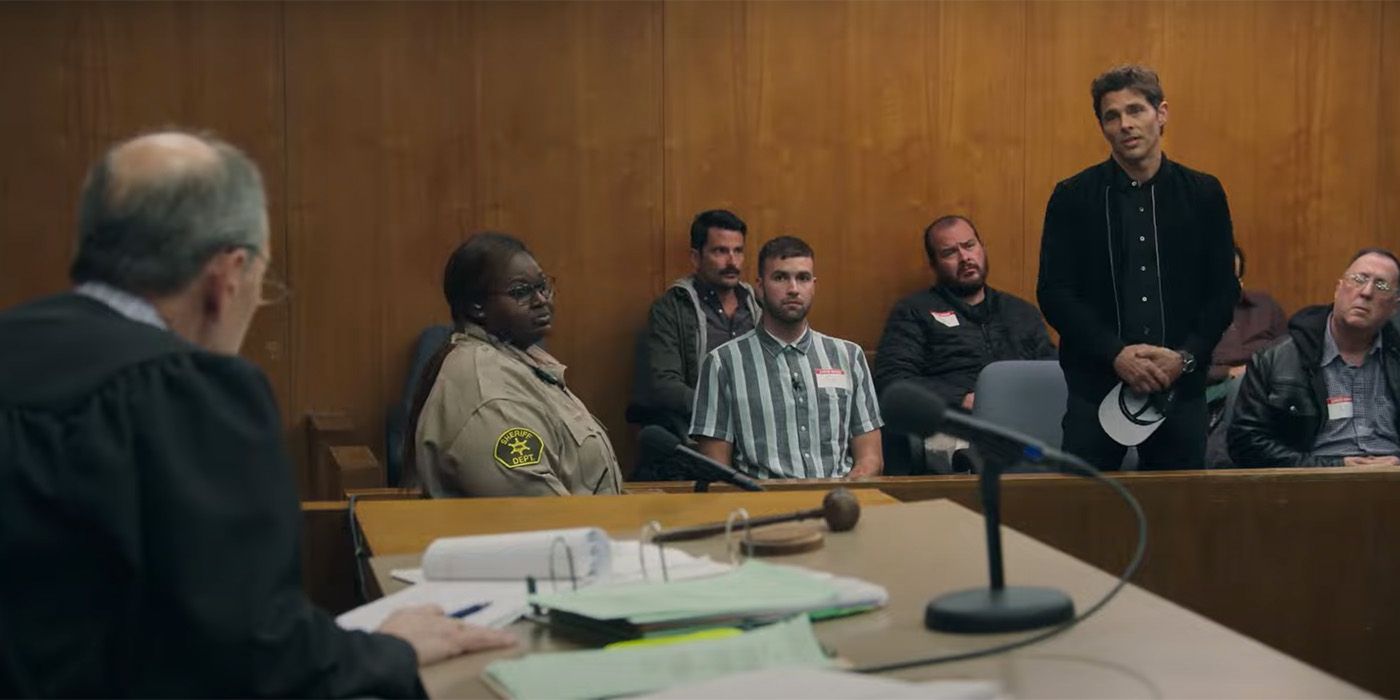 RELATIONSHIP: New Party Down Season 3 photos offer first look at Jennifer Garner and James Marsden
Who is behind Jury duty?
Marsden stars as an alternate version of himself, including with the ensemble cast Alan Barinholtz, Susan Berger, Cassandra Blair, David Brown, Kirk Fox, Ross Kimball, Pramod Kumar, Trisha LaFache, Mackie Leeper, Brandon Loeser, Eddie Modica, Rashida "Shidz" Olayiwola, Carrie O'Neill, Whitney Rice, Maria Russell, Ishmel Sahid, Ben Seaward, Ron Songand Evan Williams.
Executive producer Todd Shulman, details the disclosure of the idea"Jury duty arose with the question: is it possible to create a sitcom like this? Office about a trial, fill it with great comedy performers, and put a real person at the center of the show who doesn't realize he's surrounded by actors? He admits: "To be honest, we had no idea about it, but when we gave it to Freevy, we made it look like a sure thing. Thank God we removed it."
Lee Eisenberg and Gene Stupnitsky co-created the series Cody Heller serves as an indicator and Jake Szymanski manages. The series was executive produced David BernadEisenberg, Reuben Fleischer, Nicholas HuttonHeller, Schulman, Stupnitsky, Szymansky et al Andrew Weinberg.
The first four episodes Jury duty premieres on April 7 with two new episodes airing every Friday after. You can check out the trailer below: