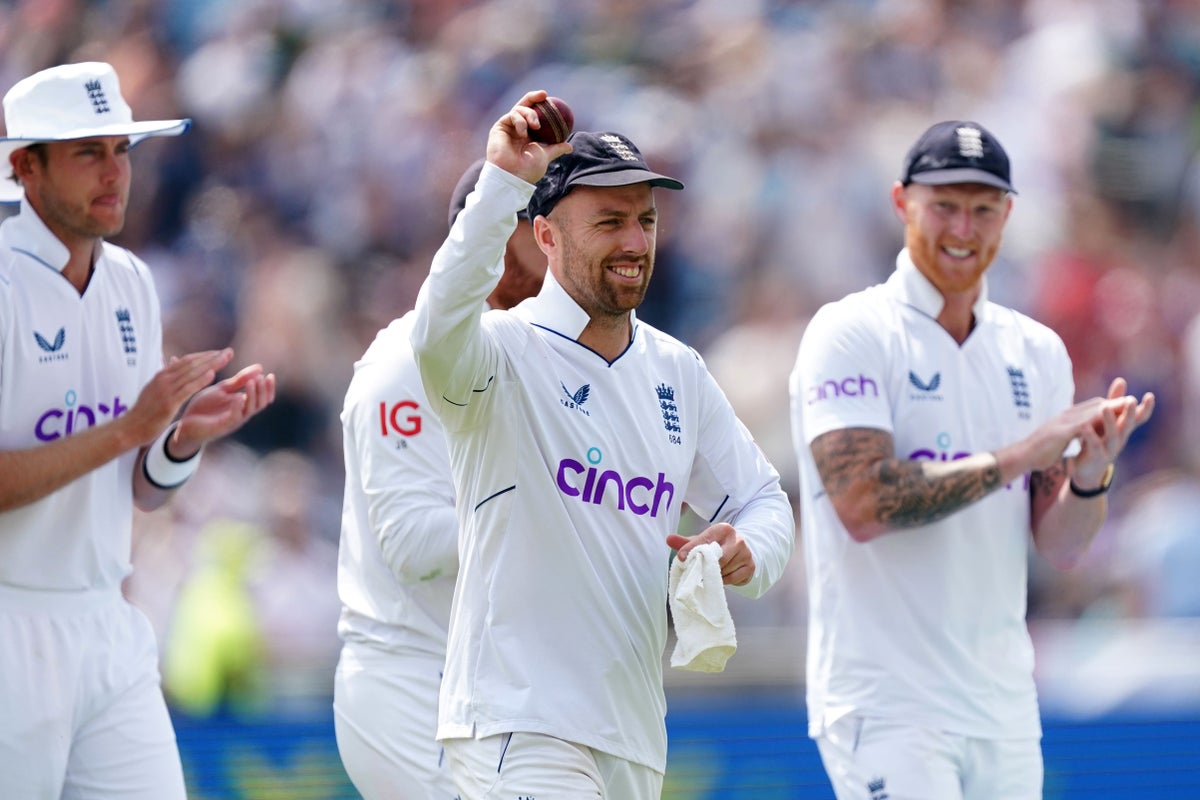 England This week they are angling for the seventh consecutive Test victory in Wellington, an achievement the last time was almost 20 years ago, but the spinner Jack Leach is not motivated by imitating past victories.
The summer of 2004 saw Michael Vaughan's team take their amazing seventh to the next level and pave the way for the next year's generation-defining team. Ashes earning.
Scanning the scorecard for the last of these matches reminds us how long it has been since an English team had such a winning streak. Marcus Trescothick currently batting coach, number three Rob Key, current cricket director, and pacemaker Steve Harmison as a radio commentator describes the current tour.
The tireless James Anderson – then a rookie, now the most seasoned bowler in Test history – acts as the connecting man between the two eras.
Old Trafford: beat South Africa by an innings and 85 runs
Oval: beat South Africa by 9 wickets
Rawalpindi: beat Pakistan by 74 runs
Multan: beat Pakistan by 26 runs
Karachi: beat Pakistan by eight wickets
Mount Maunganui: beat NZ by 267 runs
But for the England team, which has won 10 of its 11 games under its captaincy, matching the big names and the great successes of the past years is not a priority. Ben Stokes and head coach Brendon McCullum reliving the moment.
"The mentality we're in is just one game at a time and trying to play with nothing to lose. If we talk about records like this, we're playing with something to lose," Leach said before the decisive second Test against New Zealand on Friday.
"This was the team I grew up watching, they are all definitely my heroes. The 2005 Ashes were incredible and really took the country by storm. I guess it's a special thing to think about, but when you're about to play a Test match, you don't have to think too much.
"Once you've done it, you can scratch it out. We're in a good place, we're on a good track, and it's a pleasure and a privilege to be on this team."
Leach had a quiet time on his 267 runs on Mount Mauganui and settled for a wicket with every hit, as most of the damage was done by the sailors in the lighted day/night Test.
If the latest trends in the capital's Basin Reserve site are anything where speed is at the forefront and the turn is reduced to a supporting role, more of the same could happen in the coming days.
But Leach's place is beyond doubt, as Stokes is willing to support him in any situation and improve his range.
"It will be a tough challenge, but as a spinner it's really good for me to experience these fields, keep working on my craft and work hard," said the left ranger.
Stokesy talked to me about this. He wants me to experience all kinds of pitches and scenarios. The only way to improve is to be exposed to unfamiliar situations. This challenge can help you advance your game.
"It's great that the captain wanted to challenge me. I hope these experiences really accelerate my development and this will help me in the future.