Residents of mountain towns in the south California have continued to struggle to dig out and get supplies in the aftermath of a record blizzard last month that dumped so much snow that roads became impassable and roofs collapsed.
Here's a closer look at the situation:
Survival
Free food distribution centers have been set up in five locations, including the community of Crestline, which is at an elevation of approximately 4,600 feet (1,400 meters).
A line of people waited there Monday to pick up food and supplies, such as toilet paper, piled in a parking lot.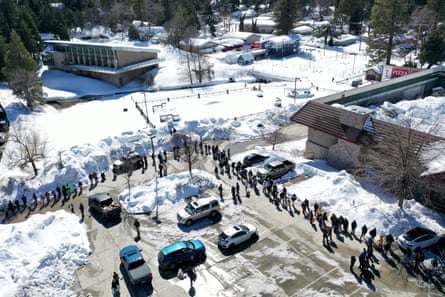 "Imagine not having any food in your house after being trapped for 13 days," resident Michelle Calkins told KTLA-TV.
Pablo Tello, another Crestline resident, picked up a replacement for a broken shovel so he could get back to helping shovel snow away from homes, paying particular attention to buried gas lines that have been linked to several fires.
Tello said his snowshoes used to be placed over his fireplace as decoration, but now he uses them to help his neighbors and the elderly stay in their homes.
The snowstorm
Rare blizzard warnings went into effect in late February in the Southern California mountain ranges as an arctic air mass plunged down the West Coast, plastering California's coastal areas and the Sierra Nevada.
In an extremely rare event, staggering amounts of snow fell east of Los Angeles in the San Bernardino Mountains and the adjacent San Gabriel Mountains, where thousands of people live or visit high-elevation communities reached by windy, steep highways.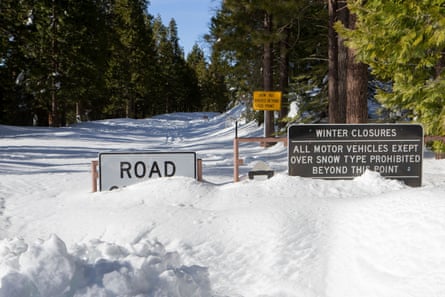 Both mountain ranges routinely receive winter snowfall, but what looked like the foundation for epic downhill days turned into a nightmare.
Big Bear City received 80 inches (203 cm) of snow in a seven-day period, the most since those records have been tracked, according to meteorologist Alex Tardy, with the National Weather Service in San Diego. Until now, the most snow recorded in a seven-day period there was 147 cm in 1979.
Gavin Newsom, the state's governor, declared states of emergency in 13 of California's 58 counties beginning March 1.
Snowed in
Residents found themselves unable to leave their homes or vacation homes, let alone free their vehicles.
San Bernardino County officials said the snowfall was so heavy that it outstripped the ability of plows to clear roads, requiring earth-moving equipment and dump trucks to pick up and move snow.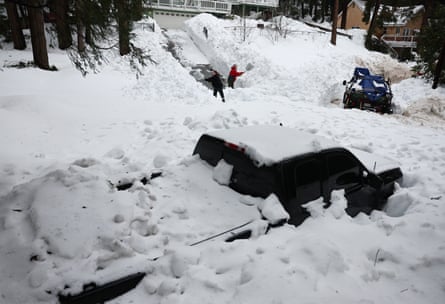 A lack of tire chains further hampered the response.
Freeways were closed to all but emergency vehicles, frustrating residents who had been away when the storm hit and were barred from returning to their homes.
Roof collapses due to the weight of the snow were reported, including at a grocery store in the community of Crestline.
Recovery
Authorities began bringing in more snow removal equipment, organized convoys of food trucks, set up distribution centers and solicited donations of non-perishable food, water and general supplies.
Andrew Braggins told the Associated Press he is one of the lucky ones. His street in Crestline was plowed and he was able to dig out his driveway. Most of his neighbors' properties were still buried.
Braggins and his wife have packed their Jeep with boxes of food from the distribution center and delivered them to neighbors. But it's not as simple as just dropping the boxes at the front doors, he said.
"We have to climb over 10-foot (3-meter) snow banks and carry them through deep snow down 60-foot (18-meter) driveways. It's exhausting," Braggins said.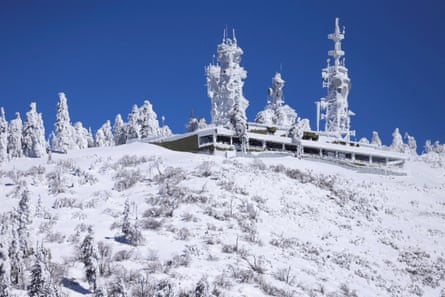 A National Guard unit that normally fights wildfires was called in to use their shovels to clear snow.
Clearing of state routes has been done by California Transportation Equipment.
Freeways have been intermittently open to residents as conditions permit, but authorities warn that anyone going down may not be allowed to back up.
As of Sunday, San Bernardino County estimated it had made nearly 80% of county-maintained roads in the area passable, meaning at least one lane was open. But the county noted that state and county plows are not allowed on private property and residents must call in contractors to do those jobs.
Forecast
Southern California has largely seen a lull since the blizzard, but heavy snow has continued to pile up in the north, including the Sierra, where totals so far this season are in the dozens of feet.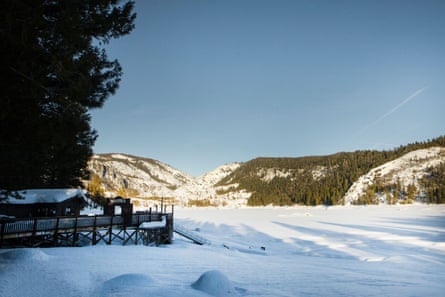 The stormy weather calmed down on Monday, but accumulations were forecast to continue through the middle of the week.
The National Weather Service said the next Pacific storm is expected to arrive in California late this week, and will be associated with a moderately strong atmospheric river, a long plume of moisture that stretches back over the ocean.
Heavy precipitation and a mild air mass could cause rapid snowmelt in some areas that have recently received several feet of snow, the service said.