Emergency Relief Coordinator Martin Griffiths said it was "imperative that we explore all options to reach civilians", stressing that all parties to the fighting must allow and facilitate "rapid and unimpeded passage of humanitarian aid".
"I call on the parties to strengthen facilitation efforts so that we can reach all civilians in need," he said.
Cut off from food, water, care
He noted that many communities along Ukraine's northeastern border with Russia and the frontline of the fighting were surrounded, without access to water, food and medical care.
"Just last week in Kherson, residential buildings, a school, an outpatient hospital and an elderly care facility were reportedly damaged, leaving scores of civilians in need of shelter and medical care. And missile strikes in Odesa hit a humanitarian warehouse. A Ukrainian Red Cross mobile hospital in Mykolaiv was hit too. Humanitarian supplies and life-saving medical equipment were destroyed."
He said no staff or volunteers were injured but threats remain. Civilians must not be targeted, he insisted, nor the homes, schools, hospitals and buildings where they live and work.
He again stressed the need for a political solution and the importance of peace for Ukraine, with civilian casualties under Russia's continued occupation of parts of the south and east "rising to their highest levels in months."
Over 20,000 dead or injured
United Nations Office for Human Rights, OHCHR," has now verified a staggering 23,600 civilian casualties since February 24, 2022; we all know the actual toll is likely to be much higher", said Mr Griffiths.
Despite the constant dangers, "the sheer bravery of humanitarian workersespecially local workers", for the UN and other NGOs, means that life-saving aid continues to be provided throughout the country.
He almost said 3.6 million people received humanitarian aid in Ukraine in the first quarter of 2023 with approximately 43 interagency convoys delivering food and vital supplies to approximately 278,000 people in frontline areas so far this year, "with local partners performing last-mile delivery and distribution."
But he said more is needed "to take our efforts to scale. The biggest challenge remains the barriers to reaches all areas in Donetsk, Luhansk, Kherson and Zaporizhzhia currently under the military control of the Russian Federation."
Full access to these areas "continues to be explored through engagement with both parties."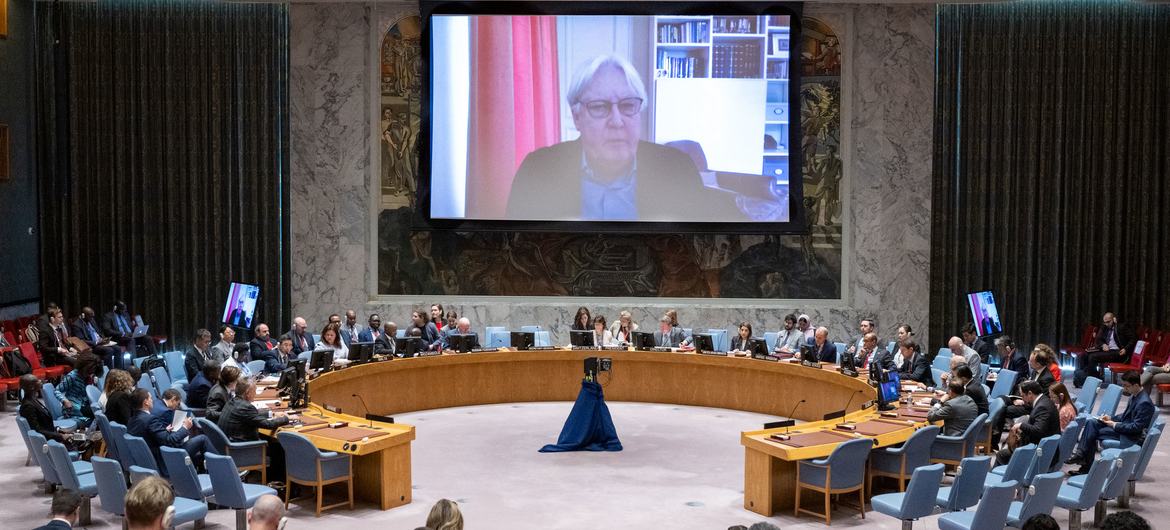 "Commitment" to the Black Sea Initiative
Foodstuffs exported under The Black Sea Initiativealong with food and fertilizer exports from Russia, continue to make a critical contribution to global food security, he told ambassadors.
More than 30 million tons of cargo has now been safely exported from Ukrainian ports, of which over 55 percent have gone to developing countries and close to six percent, directly to the least developed countries.
This includes just under 600,000 tonnes of wheat transported by the World Food Program (WFP), in direct support of humanitarian efforts in Afghanistan, Ethiopia, Kenya, Somalia and Yemen.
Despite the progress and falling food prices since last summer's peaks, "a lot more remains to be done".
"Predictable supplies for humanitarian food aid operations continue to be required. The initiative is for the export of ammonia, but this has not yet been possible.
Over the past month, there has been a sharp drop in exports moving through Ukraine's Black Sea ports, due to what the UN aid chief called "an increasingly challenging dynamic" within the Russian-run Joint Coordination Center (JCC). Ukraine, the United Nations and Türkiye, "and a related decline in business."
He assured that intensive talks "to secure agreement on the extension and the improvements needed to make it work efficiently and predictably", would continue over the next few days, with continued UN support for the "Memorandum of Understanding on the facilitate the export of Russian food and fertilizers."
"For the reasons I have stated, the continuation of the Black Sea Initiative is crucial, as well as the re-commitment of the parties for it to function smoothly and efficiently. We call on all parties to take responsibility in this regard."
"The world is watching", he underlined.
A war that no one can afford
He concluded by telling the council that it was clear that neither the people of Ukraine, nor the millions around the world who have suffered as a result of the economic chaos and supply chain problems, "can ill afford a continuation of this war."
Mr. Griffiths called Safety advice members and all nations, to support all efforts to end the "carnage and destruction".
"In the meantime, the UN and its humanitarian partners remain committed to protecting the lives and dignity of people affected by the war and to pursuing peace – today, tomorrow and for as long as it takes."
[pub1]