Key events
Okay, I'm done. Thanks for reading and for your emails and tweets. Congratulations to International. Say that five times fast.
Good night!
Milan director Paolo Maldini has spoken into a microphone after tonight's game.
The season is not over, because we have to try to qualify among the top four in Serie A and we will see what happens with Juventus, Maldini told Sport Mediaset. "To reach the semi-finals was a great achievement and unexpected, but of course if you lose against Inter it will make this seem more painful than it would otherwise have been. We have to remember that this journey was completely unexpected.

"In the last four games, it really wasn't much of a challenge. This game was better, but compromised by the poor performance in the first half. Maybe the way Inter play causes us problems, but in recent weeks we have struggled against teams which frankly are less prestigious and strong.

"I would say eight (out of ten for the season). As we said last season, we are not yet built to handle two tournaments. We said that to the media, but also to the club owners, so they know that very well. This journey that was established four years ago, which brought great results, both financial and sporting, built a young foundation for the squad and there is about a three-year difference in the average age of our squad to Inters and that the lack of experience tells at this level.

"You are never satisfied in Milan, that is not allowed. I think there are opportunities to be taken, so reaching the semi-finals of the Champions League is something we have to make the most of financially as well, so invest to finish in the top four and hope to repeat this journey again."
Maldini had some good news about Leao's contract.
We are really down to the last detail, it will be done for sure, that's for sure."
Jonathan's Liew's match report has landed
Lots of talk about Inter have no hope against Real or City in the final. I'm not sure that's true. I can imagine them nodding an early goal through a set situation and digging out a sneaky 1-0 win. It's a big ask, unlikely but not impossible. Inter are very comfortable in a low block and have some clinical finishers in their side.
Save a moment in the first half where a low shot narrowly flew past the far post, Leao was a passenger tonight. In retrospect, I think it is clear that he was not 100% fit. But Pioli had to roll the dice, and we should give a lot of credit to Inter for their form. Dumfries can empty their pockets now.
Back in BlightyLuton Town go to Wembley and could become a Premier League club before the month is out.
Scenes in the stands as the Inter fans go full time. Dzeko, 37, jumps around excitedly like a little boy. Martinez smiles wryly as he accepts the awards. Giroud and Leao look concerned, like Milan players applaud them in red high up on the terraces. There will be a new investigation after this. After the match, Milan failed to have a shot on goal in the second half.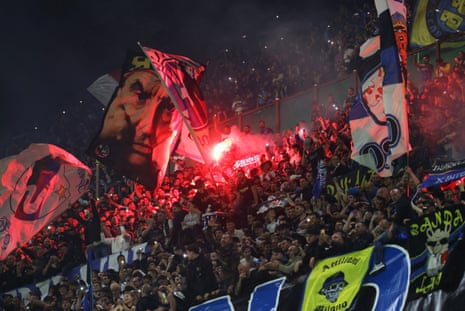 Full time: Internazionale 1-0 Milan (3-0 grudge)
Internazionale is on Champions League final! Very well deserved over the two legs.
90 min: Three more minutes of this. Inter's fans do "olés".
89 min: "Although I doubt either Ancelotti or Guardiola will take one Champions League final for granted, Inter's danger is generally underestimated," Kári Tulinius emails. "They have such a diverse range of strikers that even if Inzaghi doesn't get the frontline right from the start, he can radically change his team's attack. And they are unlikely to send a bucketload of goals."
I will say that Inter are unorthodox and have quality in the right areas. But I can't see them beating Real or City. But that's why we love football, there are lots of different ways to win. The same is simply not true for so many other sports.
87 min: The game is ending. Onana picks toenails in the Inter goal. Milan's subs have offered no change to a turgid second-half display.
85 min: Milan fans, would you like to sign Brahim Diaz on a permanent deal?
83 min: "Another fact that shows how the Italian football school is anything but dead," Giovanni Cafagna emails. Three out of four coaches in the CL semi-finals are Italian (plus the manager of the European champions). It can be argued as much as possible that Italian teams have not been successful in the CL for a long time but Italian football is not about the teams, it is about the managers and the philosophy and tactical knowledge and the winning mentality they can impose on teams made up of international players."
80 min: Inter make further changes. Martinez is withdrawn to a roar, with Correa entering in his place. It's smart again from Inzaghi, who can't afford to lose the booked Martinez to a suspension in the final. Gagliardini also comes in for Barella, who was also cautioned.
78 min: Krunic, who has been chasing shadows all night, is booked for a poor challenge on Calhanoglu in midfield. Some handbags follow, with (I think) Tomori and Martinez getting yellow cards as well.
Saelemaekers comes in for Messiah, and Origi – the eternal subject – replaces Diaz.
76 min: Martinez almost makes it 2-0 in the evening! He is again given too much space, this time on the edge of the Milan box, and the Argentine tries an audacious lob – a la Totti against Inter in 2005 – but Maignan is just long enough to get behind it. An inch or two away from being a spectacular goal.
GOAL! Internazionale 1-0 Milan (Martinez 73, 3-0 agg)
That's the killing blow, for sure! Martinez plays one-on-one with Lukaku in the Milan penalty box, gets Kalulu on goal and fires his shot low, hard and true past Maignan at his near post. Terrible defense from Milan, who allowed Inter's strikers to take far too many touches, and not the best goalkeeper, either. Maignan has kept Milan alive in this game, but he will be disappointed about that. Inter fans, meanwhile… well you know the rest.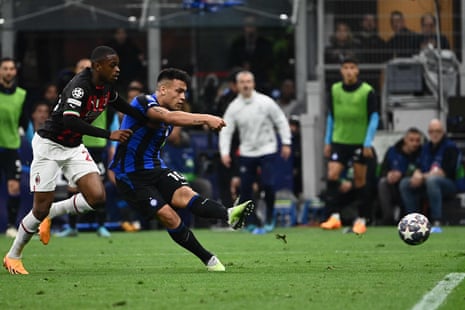 72 min: An email from Tim Smith.
"I've been waiting for Milan's Messiah to go through someone in midfield and get a yellow card, just so we can all say, 'He's not the Messiah, he's a very naughty boy.' Has to happen."
70 min: This is pretty uninspiring stuff. Diaz is too deep. Neither Messias nor Leao offer much outside, so Calabria and Hernandez throw hopeful balls to Giroud, who is swamped by Inter's three centre-backs.
67 min: Leao has no joy on the left wing, so switches to the right. He sets up Acerbi, but the Portuguese's cross is blocked, with the ball bouncing back off him for an Inter goal kick. The home fans cheer like a goal.
65 min: Inter respond with a couple of changes of their own. Lukaku comes in for Dzeko, and Gosens replaces Dimarco. Good changes from Inzaghi I think.
63 min: Thiaw leaves. The Milan the man was on a yellow, so seems like a sensible decision. On comes Kalulu.
61 min: Thiaw looks like he's pulled up with a cramp, with Kjaer and Kalulu prepared. But the German looks set to continue. A break in the game and Inter's fans are celebrating in the stands as if they have already won. Milan have offered very little in this second half.
59 min: I can't imagine Pep Guardiola or Carlo Ancelotti seeing this and shaking in their slippers.
57 min: The game sputters along. No flow here, with many fouls. Inter will be very pleased by the looks of it.
54 min: Our first booking for the second leg, and it has arrived. Thiaw books to bring down Martinez on the halfway line, following a neat turn from the Inter striker. Martinez bullies Milan back four, by the way. He wins every 50-50, chases every ball. A threat.
52 min: Play stops for an off-ball incident. Replays show Acerbi clearly stamping on Calabria's toes as the players wait for a cross to come in. It is deliberate, premeditated and a certain yellow card, but the VAR fails to intervene! How absolutely bizarre. Acerbi gets away with one.
51 min: Inter win a free kick. Calhanoglu throws himself to the turf after the smallest of pushes from the Messiah. It's a bit embarrassing.
49 min: Brahim Diaz just can't get a kick.
47 min: One of Milan's many problems here is that they don't have a strong bench to change things if we get to the hour mark goalless. De Ketelaere has failed to impress since his big move from Club Brugge, while Saelemaekers has flickered with talent, but failed to show a consistent end product. Inter, meanwhile, have already taken Brozovic off the bench and have, among other things, Lukaku, Gosens and Correa to call upon.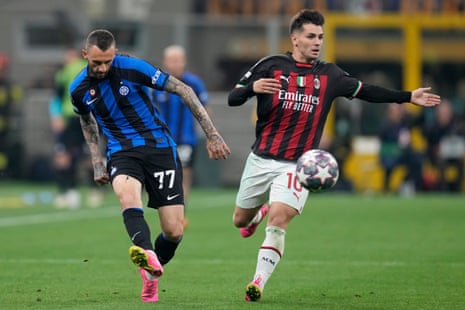 Peeeeeeeeeep! And we're off again for the second half.
Meanwhile, Luton are 45 minutes away from reaching the Championship play-off final at Wembley. They have gone up 2-0 against Sunderland in the second leg to lead the game 3-2.
Half-time reading:
Half time: Internazionale 0-0 Milan (2-0 grudge)
A good half of football.
47 min: Inter seem content to look the half and look comfortable in their compact defensive shape. Milan's best idea seems to be hopeful balls towards Giroud, hoping they pick up the scraps. Hmmm.
45 min: Three minutes added here. Both teams will fall far too easily and try to fool the referee. It does not make for a pleasant viewing.
43 min: Mkhitaryan will have to leave. The Inter man has suffered a knock and is replaced by Brozovic. Not a bad replacement to have. Some might even say an upgrade, although Mkhitaryan played very well in the first round and got the second goal.
42 min: Some nice details from Ian Darke, BT Sport commentator. Dimarco was in the Inter crowd 20 years ago to watch Champions League semi-final between these two.
[pub1]