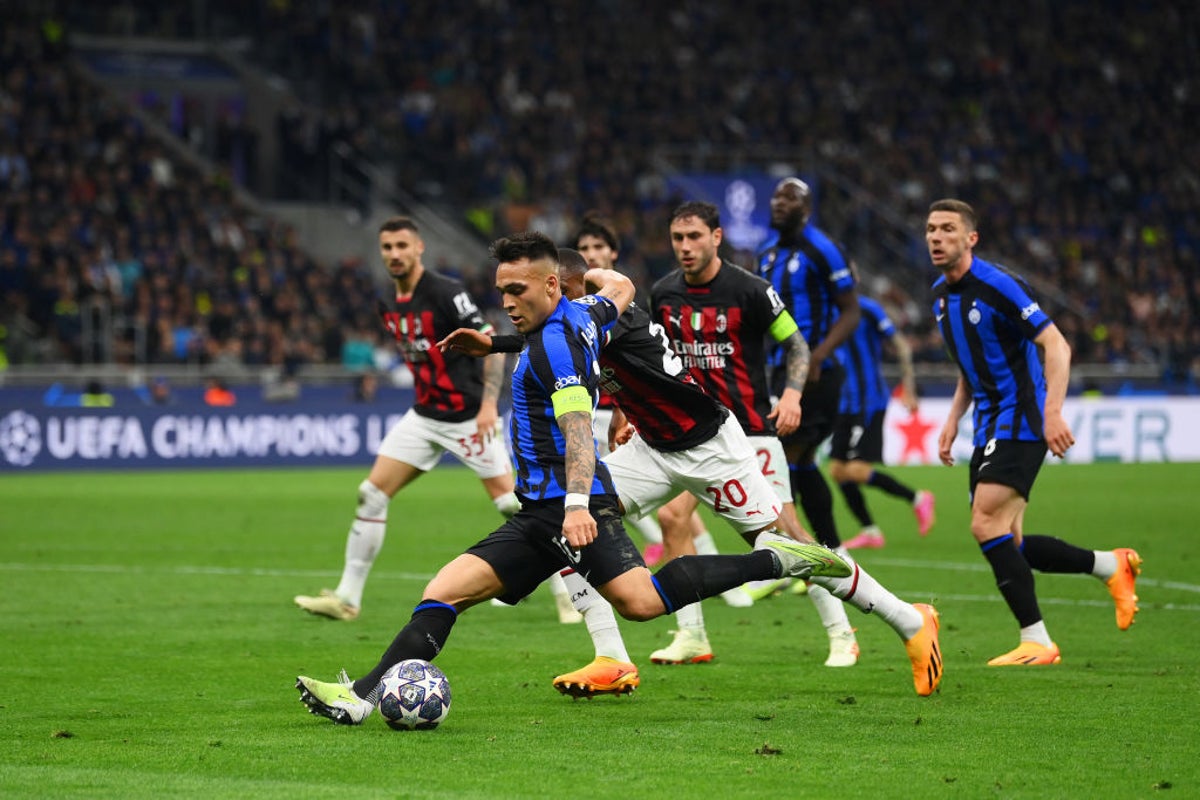 Inter Milan First club set for 2023 Champions League final, after knocking out city opponents Milan with a 1-0 win in the rematch.
The goalkeepers were the stars of the show in the first half, both making good stops, but the breakthrough finally came with just 15 minutes as Lautaro Martinez hit the close post to score a 3-0 overall win.
Here are the player ratings from the rematch played at San Siro:
Inter Milan
Andre Onana – 7. Diaz made a big save early. It's not too troublesome after that and it's always a safe pair of hands.
Matteo Darmian – 7. On his side of the defensive trio, he comfortably dealt with any threat.
Francesco Acerbi – 8. Robust, aggressive and dominant. Beat Giroud in mid-air every time. Still, it's a bit of luck not to get caught deliberately stepping on your opponent's feet.
Alessandro Bastoni – 7. Sturdy enough in the back. He wasn't really called for a large amount of one-on-one work, but his positional play, power, and deep passes meant that Milan couldn't do it easily.
Denzel Dumfries – 7. Another impressive trip as he covered the ground, dragged the game up the field and closed Leao when needed.
Nicolo Barella – 7. The usual mix of aggression, good work to support the channel and attack. He was a little pissed off, got a reservation and caused a few arguments.
Henrikh Mkhitaryan – 6. He carried the ball well a few times and got into several dangerous positions but was injured before halftime.
Hakan Çalhanoğlu – 6. Smooth in possession, logical in striker runs. He mostly played a defensive game in the center and let Barella pass him.
Federico Dimarco – 6. Not his best play with the ball but there were many times when he was a good starting point for the team and sped up the court.
Lautaro Martinez – 8. Clever touches in running and deep spaces. He came close in the first half and then found the breakthrough with a punctured, low shot that beat Maignan on the close post.
Edin Dzeko – 6. He was hardworking and had a few sights, but this time it's more about his conservative play than his skill in the penalty box.
refills: M Brozovic 6, R Lukaku 8, R Gosens 6, no J Correa, no R Gagliardini
Milan
Mike Maignan – 7. His two excellent saves in the first half highlighted his shooting ability and good positional work. He was beaten near the post for the goal, but it was a rocket at close range.
Davide Calabria – 5. Started the game well but never had much of an impact going forward.
Malick Thiaw – With better strength and speed on Channel 6, he outperformed Simon Kjaer in the first match, but needed to be replaced after a penalty.
Fikayo Tomori – 7. Again better than in the first game but the damage was already done there. He had a pretty good trip, but still couldn't help but keep a clean slate.
Theo Hernandez – 6. Considering what he's capable of, he's one of Milan's lowest performing players in two legs. He took an early shot and followed well many times, but ultimately got nowhere.
Sandro Tonali – 7. A brilliant drive from the left created Milan's best early opening. He was the one who really tried to push the team forward for most of the game, but few matched his effort.
Rade Krunic – 6. Harder than last week but not better at playing forward. It left huge gaps that Barella had just passed through.
Junior Messias – As with the rest of the 5th Attack, the Brazilian had a few good individual moments, but nowhere was there enough positive team play or combinations.
Brahim Diaz – 5. Great luck in the opening minutes, on target but saved. It was largely anonymous except for the first 15 minutes.
Rafael Leao – 5. He came in and out of the game in the 1st half but put a great shot on goal. He completely marginalized the second half and disappeared.
Olivier Giroud – 5. No serve, no real play, no chance to beat Acerbi and no goal threat.
refills: P Kalulu 5, A Saelemaekers 5, D Origi 5
[pub1]