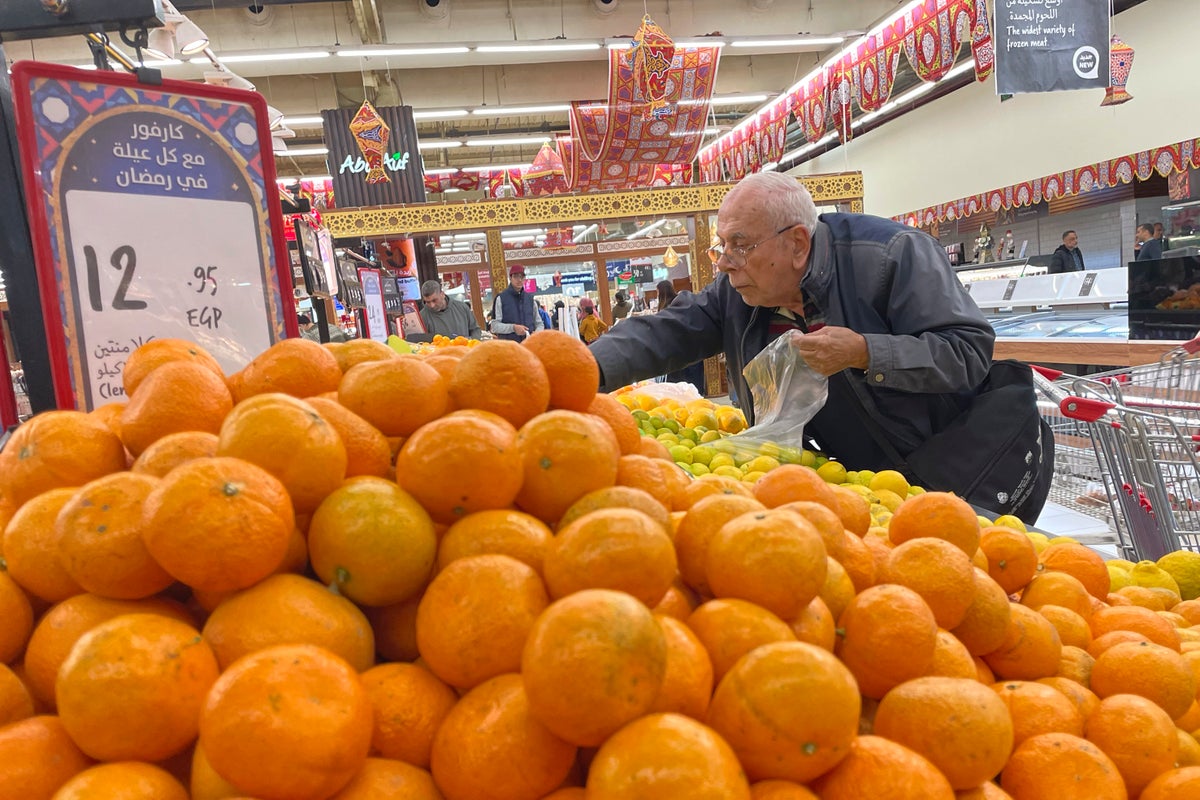 A group of women stand in front of a vegetable vendor at a street market in one of the Cairos oldest neighborhoods, screaming in frustration.
"Every day there are new awards," said one. "When will this war end?" cried another, cradling a baby in her arms.
Russias invasion of Ukraine, now in its second year, has pushed up food and energy prices worldwide, adding another layer to Egypt's economic crisis. Rising inflation, a sharply weakened currency and other problems have followed decades of government mismanagement and wider disruption, beginning with the turmoil of the 2011 Arab Spring popular uprising, then years of militant attacks, followed by the coronavirus pandemic and the war in Ukraine.
The crisis has driven many Egyptians out of the middle class, while the country's poor – about a third of the population – are cutting back on the essentials of life. Many ask how long they can survive like this.
Hany Hassan has struggled to feed her four school-age children. His salary from his job as a bartender in a cafe buys less and less.
"This year was the hardest of my life," said Hassan, 43, who earns about $110 a month and works 12-hour shifts seven days a week. "I'm afraid that one day I won't be able to feed the children."
Annual inflation hit 26.5% in January, the highest in five years, with urban food prices soaring 48%, according to official figures.
Many essentials including rice, cooking oil, bread and most recently eggs, have all doubled in cost in Cairo's supermarkets. Prices for 1 kilogram (about two pounds) of chicken or other meat have almost doubled from a year ago, reaching 300 Egyptian pounds (about $10) for meat and nearly 90 Egyptian pounds (about $3), for chicken.
The increase has made these proteins an unaffordable luxury for all but the richest.
The war in Ukraine, which rocked the global economy, hit Egypt where it is economically vulnerable. The most populous Arab country and the world's largest importer of wheat must buy a majority of its food from other countries to support its population of more than 104 million.
"It is therefore important to see Egypt's inflation problems in the context of its wider external position issues," said Callee Davis, economist at Oxford Economics Africa.
Egypt's import bill first rose because of higher global prices for commodities such as fuel and wheat bought in dollars, and this led to a shortage of foreign currency, Davis said. That forced Egypt's central bank to adopt policies to preserve the country's foreign exchange reserves, including restrictions on imports, pushing inflation even higher, Davis said.
The war has also slowed Egypt's economic growth. In February, the European Bank for Reconstruction and Development revised its forecasts for Egypt's growth this year to 4.3%, down from previous forecasts of 5%.
For many, the difficulties began in 2016 when President Abdel Fattah el-Sissi's government began a reform program intended to reverse longstanding distortions in Egypt's economy in exchange for loans from the International Monetary Fund. The program introduced new taxes and included significant cuts to government subsidies on basic goods – a policy that stretched back decades.
Western governments and international financial institutions hailed the austerity measures. But they have made life difficult for ordinary Egyptians. El-Sissi has blamed the war in Ukraine for the recent spike in inflation.
"Circumstances are difficult for the whole world. This crisis is not ours," he said in a recent speech.
To help poor and middle-class families face the consequences of the measures, the government strengthened welfare programs, raised wages for civil servants, and postponed cuts to subsidized bread and planned electricity price hikes.
It also established hundreds of government markets across the country that sell staples at cheaper prices.
Then the government turned to the IMF for another rescue loan last year, the fourth in six years. It is hoped that the $3 billion deal will help generate another $14 billion from Egypt's international and regional partners, including wealthy Gulf monarchies.
But the Arab Gulf states seem increasingly reluctant to help Egypt as they have done for the past decade.
– We must see reforms. We tax our people. We expect others to do the same, to make their efforts. We want to help, but we want you to do your part as well," Saudi Finance Minister Mohammed al-Jadaan said at the World Economic Forum's annual gathering in Davos, Switzerland, in January.
Egypt has pledged to uphold IMF-led reforms, including a freely floating exchange rate and reducing the military's powerful grip on the economy – a significant concession.
The government in December adopted a privatization initiative, saying it would pull out of industries not considered strategic by 2024. The policy aims to boost the private sector's contribution to the economy to 65% by 2025 from 30% in 2021.
Leaders face criticism for their handling of the economy and costly infrastructure projects, including a new $45 billion capital building, other development and highways. Many have taken to social media to complain, and some have called for the government to resign.
One of the country's richest people, billionaire businessman Naguib Sawiris, recently told a Lebanese newspaper that Egypt needs a political and economic overhaul.
The government has repeatedly defended such mega-projects as necessary to improve living conditions and create jobs for the growing population.
HA Hellyer, a geopolitical expert at the London-based Royal United Service Institute for Defense Studies, said the pressure on the Egyptian economy would be staggering for any government.
"Some good moves have been made, the question is whether these are sufficient to reverse the economic crisis or not, and if not, what other options are the authorities willing to entertain?" he said.
Meanwhile, the Egyptians grow more desperate.
Samira Abdel-Wahab, an accountant who works for the state electricity company, roamed from stall to stall at the Megharbleen street market in Cairo's Darb el-Ahmar neighborhood, looking for the cheapest prices.
"I fear the damage is beyond repair," said the 37-year-old mother of three.