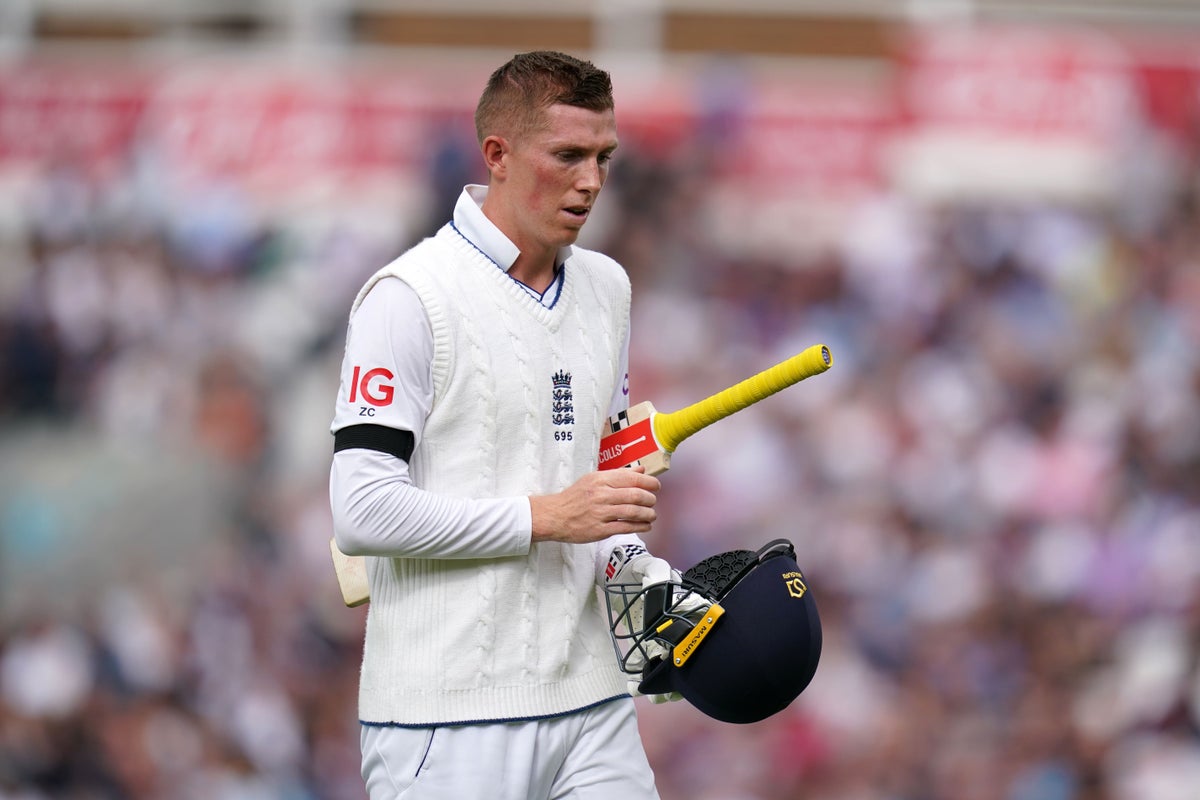 Zak Crawley He insists he "doesn't care" what critics think about the UK election, and believes some of it is "unjustified".
The Kent opener was selected in England's squad for the only Test against Ireland before this summer's Ashes, and unlike most of his teammates, he has been social media disapproval.
Crawley has constantly defended himself against the media. He insisted that he didn't need to work on defensive technique in the pre-season and was the subject of many selection debates.
"I don't see any of that[online criticism]," Crawley told BBC Sport.
"I talk to guys who have social media and they see it. They see Joe Bloggs messing with them.
"(Not being obvious) social media helps me get away from the average bookie and what they have to say, which of course I don't care anyway."
"Obviously I definitely see experts and higher level people. cricket And of course I didn't have to read the papers to know my place was under scrutiny."
At the State Championships this season, Crawley has run 350 laps against Essex, 170 of which averaged 38.88.
"I couldn't do the runs I was supposed to do, but I took a few good hits.
"My failures in international cricket come from putting too much pressure on myself. That's the only reason. When I got out there with the right attitude, I did a good job.
"I've been thinking a lot about my game, especially in the last few months. I look back at the times I played well and take the expectation away from myself and just try to play.
I want to go out and play well and the score will come after that."
The 25-year-old actor admitted that he admires Snooker great Ronnie O'Sullivan for his relaxed approach and mindset.
"He's definitely someone to imitate – his mentality," Crawley said.
"How strange, what was I saying, that's the first thing I heard from him.
"When he won the semi-final against Mark Selby in 2020, he gave an interview and was asked if he was happy to be in the world final and he said, 'I just want to get my cue back'.
"I thought that was very good. He removed all that noise and just wanted to play well. That's what I want to do."
Crawley's place, according to European Central Bank cricket general manager Rob Key is not significantly under threat, but admitted he "suffered" from handing the gloves over to Jonny Bairstow as a replacement for expert goalkeeper Ben Foakes.
When asked if he was considering changing the openings, Key said on Tuesday: "Honestly we never discussed it, so we just looked at the best way we thought we could do.
"We didn't consider using square pegs or any other annoying cliché in round holes, but we decided on this and saw that we honestly couldn't see anything else."
When asked specifically about Crawley, Key said: "We're not just looking at the bare stats. We're looking at how someone influences the game. It's a very key position, a very difficult position.
"Brendon (McCullum) used to say that the last two people who did this (good) were now the Masters, which is a good word but also true.
"We're looking at how people are helping out with cricket matches. And you can name many places where Zak has contributed to us winning matches."
[pub1]