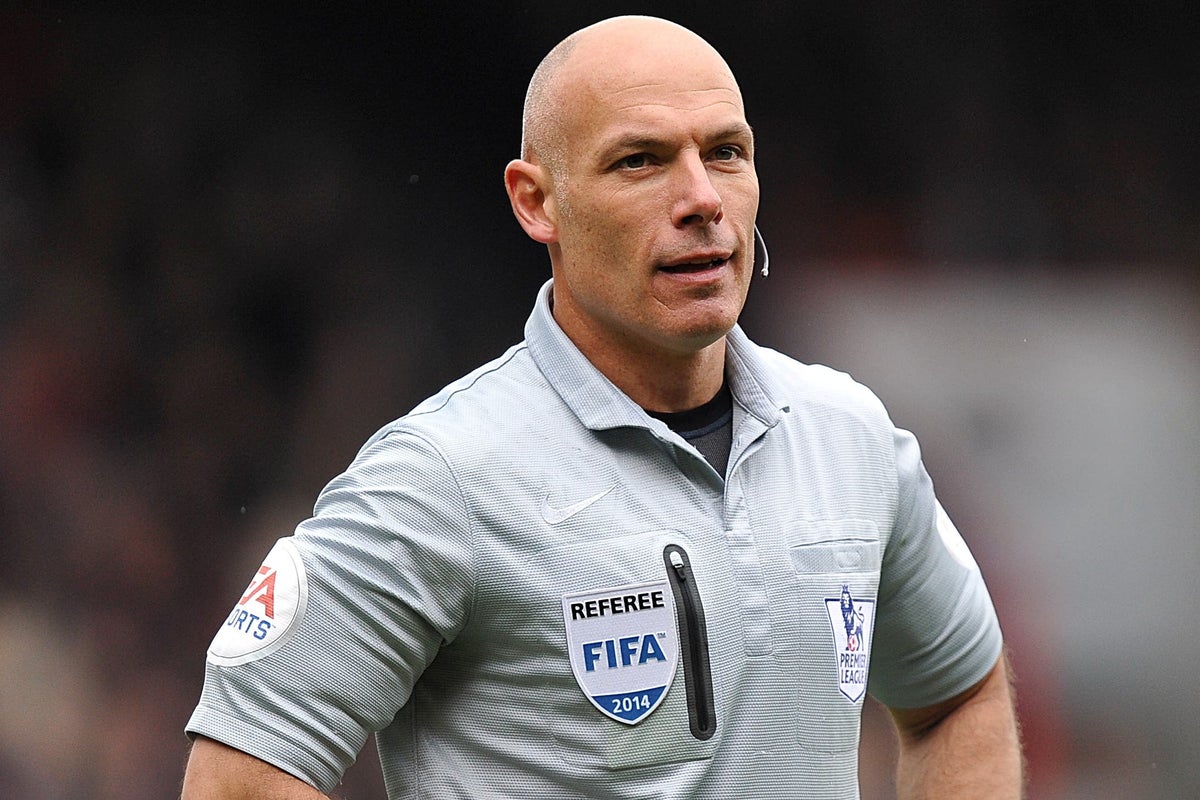 referee chief Howard Webb says conversations about important issues between match officials and VARs are broadcast Premier League events are likely to become commonplace.
Webb recounted some of the two-way audio discussions this season during a pilot movie Monday evening. sky sports experts Gary Neville and Jamie Carragher.
Incidents reviewed by the trio include the disallowed goals against Liverpool by Chelsea's Kai Havertz and Arsenal's Leandro Trossard and Leicesterrespectively, plus the overturning of a handball penalty adjudicated by Gunners defender Jakub Kiwior in the 2-0 win at Newcastle last week.
"We're trying to do that as best we can, and frankly, there's going to be something new tonight," said Webb, chief referee for Professional Game Match Officials Limited.
"We're taking a small step forward. As we move into next season, we will try to do more of the same.
"We can't play live, it's not allowed by the laws of the game, FIFA doesn't allow us to play it during the game. Who knows where this will go in the future?
"But there is nothing stopping us from doing what we did tonight and showing it later.
"I hope it was a good idea tonight as we pull back the curtain to reveal the way the authorities worked together as a team and the rationale for some of the decisions that were made.
"We've tried to show you a number of situations and we want to do more of the same in the future."
The events chosen for the program reflected almost unanimously positively on the use of VAR.
Viewers could hear the ongoing dialogue between officials on the ground and those at Stockley Park as decisions were discussed and reviewed.
Other events analyzed were the offside break against Joelinton in Newcastle's 5-1 win over West Ham last month, and the penalty against Brentford in their 2-0 win over Bournemouth in January.
The kick given by referee Jarred Gillett for Marcos Year's to tug on Ivan Toney was the only contentious event analyzed.
Webb admitted the decision was wrong as Bees forward Toney initially fouled Cherries defender Senesi. He blamed the process, rather than the judiciary, for the footage reviewed by the VAR not starting early enough.
"In this case, we see a foul by Ivan Toney on Senesi just before Senesi put her arm over Ivan Toney," Webb said.
"It was controlled by VAR but actually this was already happening when it started, that the sequence VAR was looking at didn't start early enough, it didn't show exactly how that contact happened.
"This is a matter of process as opposed to judgment. This should have been penalized with a free kick to Bournemouth.
"As VAR, we have to do it right. We have this tool to see that, and that's clear, and so we need to step in."
[pub1]