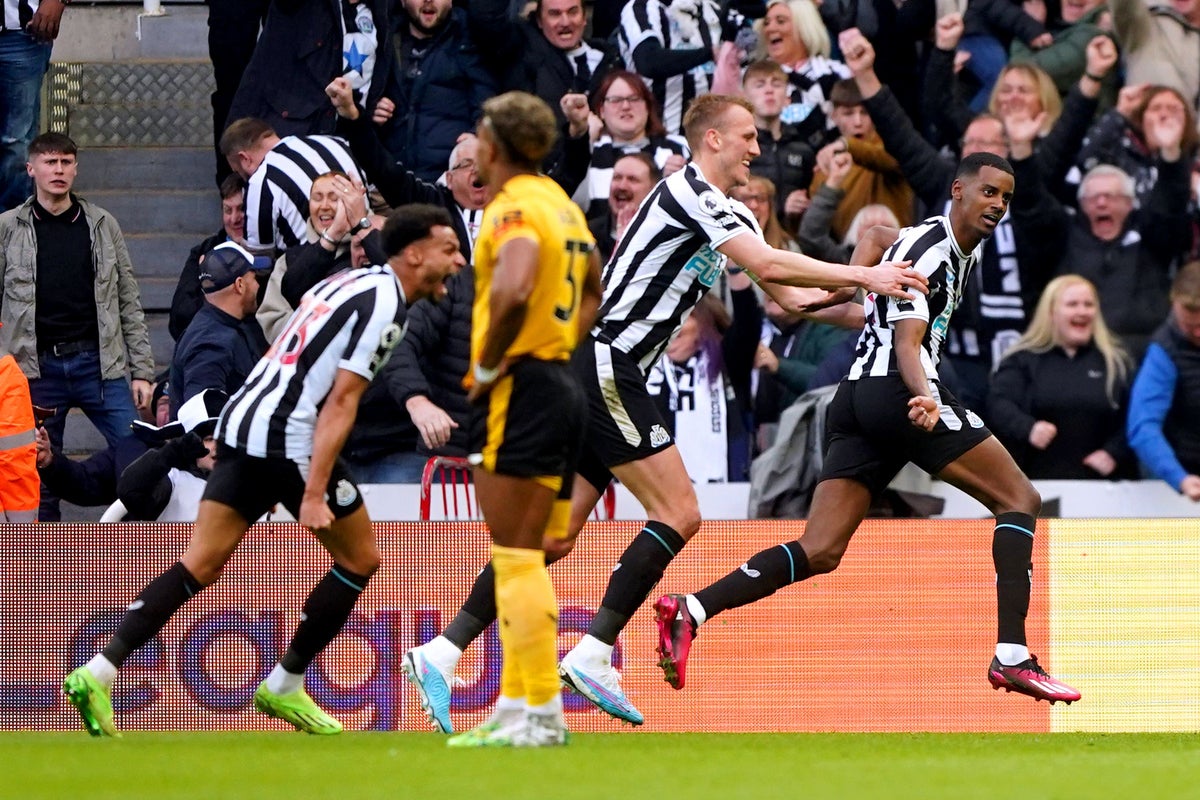 Newcastle boss Eddie Howe believes more will come without signing the record Alexander Isak For reckoning with Newcastle's high-octane football brand.
The £60m lead singer of the Magpies scored his fourth goal for the club in Sunday's 2-1 match. Premier League to win wolves at St James' Park after preferred callum wilsonwho had descended due to illness during the week.
When asked about his contribution, head coach Howe said: "I think he has everything a striker needs. He has the speed, the technique, the power, and then I'm delighted to score a goal because that's not his hallmark, but he needs to score all kinds of goals.
"It was a really good ball and a really good header. I think he can do great things – it's up to us now to keep him in a good place and nurturing him in the right spaces."
Isak hit the 68th minute tooth and nail after following Howe's instruction to throw himself down, and the Newcastle boss later revealed his pre-match comments that the Swedish international was not yet ready to play a regular 90 minutes. basis.
Confirming that he had signed Anthony Gordon in January, Howe confirmed he was facing a side spell with an ankle injury: "He's fit to play 90 minutes for another team.
"There is no concern about his condition. I need to make this clear: It's okay to play 90 minutes, like how I want him to play and what I demand from my players.
"This doesn't take him lightly, he just adapts to the league and my playing style. He's very, very fit and has a little more time to be fit for 90 minutes for us, but that's because we're demanding a lot from our players. That doesn't take him lightly.
"I thought he was very impressive and he showed what his game was with his pace and technique. The goal is a traditional Newcastle ninth finish and I'm very happy to have scored that kind of goal.
As Isak stood out, it was substitute Miguel Almiron's 11th goal of the season, clinching the win 11 minutes after substitute Hwang Hee-chan threatened to ruin Newcastle's day with the 70th-minute equalizer.
Isak gave the home team a lead at 26 minutes, only minutes after goalkeeper Nick Pope knocked Raul Jimenez inside the box after he mishandled a back pass.
However, referee Andy Madley waived the game and VAR official Tony Harrington conceded, avoiding a second red card in three games, despite the anger of the visitors and the disbelief of Wolves boss Julen Lopetegui.
When asked if he should have been given a penalty, Lopetegui replied, "Yes. It was very, very, very clear to me and it was not just a penalty but maybe a red card.
"But he (Madley) didn't whistle for the penalty and VAR didn't go to the referee, I don't know why. But it's a pity.
"After having to push hard against a great team. We deserved more, that's true, but we didn't get a penalty. It was very clear today.
"VAR might be more helpful in this situation."