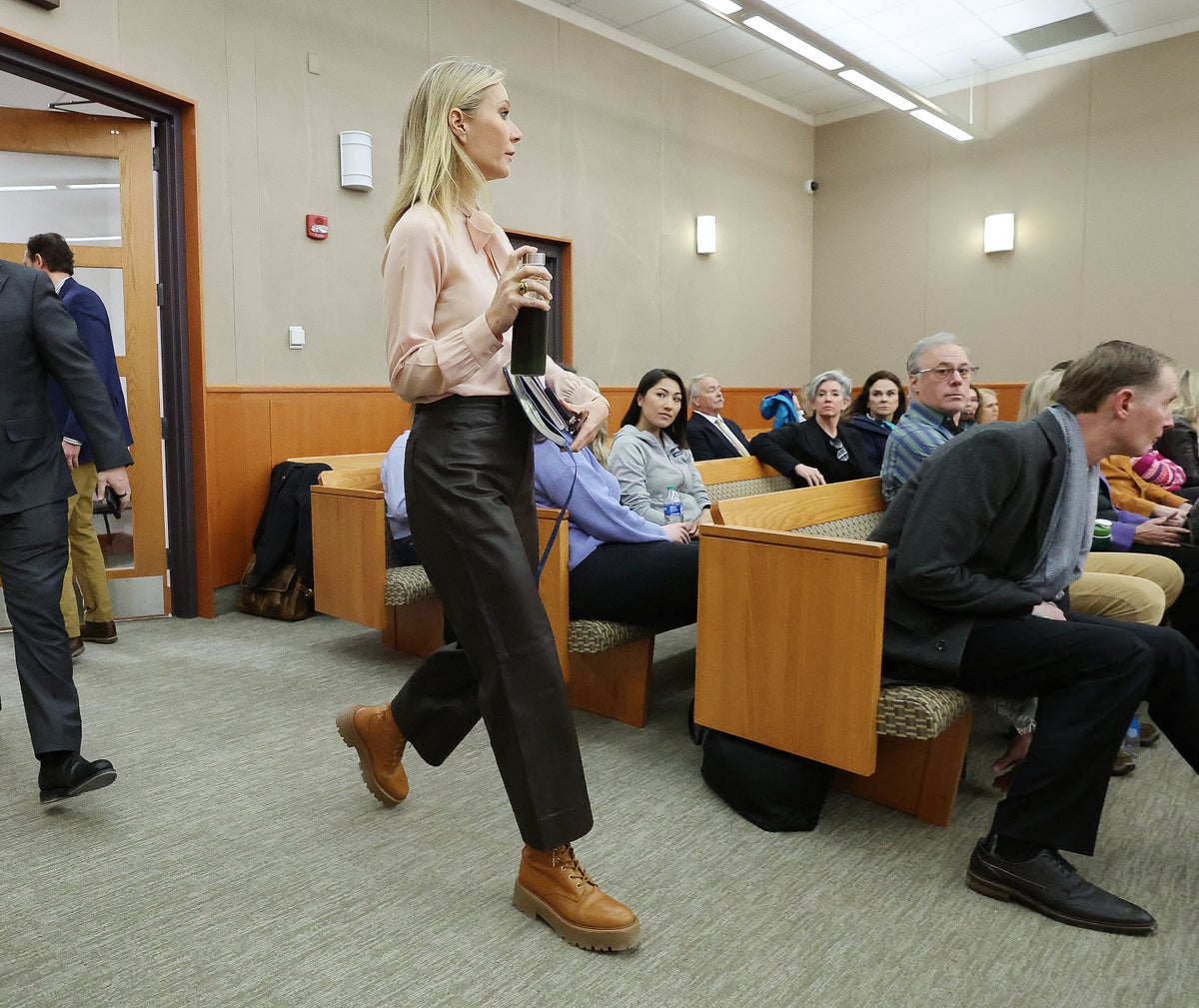 Experts who testified for Paltrow in her skiing collision trial have said the man suing her had brain damage before he crashed with the Hollywood star seven years ago.
Terry Sanderson, 76, claims Paltrow plowed into him on the slopes of Flagstaff Mountain at Deer Valley Resort on February 26, 2016. He claims Ms. Paltrow's "Full Body Reunion" left him with permanent traumatic brain damage that has robbed him of "his enjoyment for life" – Paltrow claims it was Mr Sanderson who crashed into her.
Expert neuroradiologist Dr. Carl Black testified for the defense Wednesday that after reviewing Sanderson's 2009 MRI, he concluded that his brain damage — including microvascular disease and hydrocephalus — was present before the 2016 skiing crash.
"These findings are pre-accident and date back to 2009," Dr Black, who reviewed Sanderson's scans before and after the skiing collision, told jurors.
Neurologist Dr. Robert Hoesch also testified that Sanderson's complaints about his cognitive decline and personality change did not stem from the crash.
Dr. Hoesch said there was no evidence the concussion caused permanent damage to Sanderson's brain and that it would have resolved within months. Instead, Dr. Hoesch testified, it is more likely that Sanderson's symptoms were caused by his previous pathologies.
"… The skiing injury caused a mild concussion and his symptoms are more likely to be due to pre-existing conditions or new conditions," Dr Hoesch.
Experts testifying for Mr Sanderson earlier in the trial introduced a scale of his cognitive impairment, where he averaged "low or below" for most categories such as flexibility, organisation, planning and self-control.
When asked her opinion on the report, neuropsychologist Dr. Eastvold said she could not speak to its validity because it is not often used in a clinical setting.
"This is a really good quantification of the patient's subjective complaints, it's not evidence of objective deficiencies," Dr. Eastvold testified for the defense. "It's just a summary and quantification of what the patient reports."
Ms Paltrow's lawyers have tried to paint Mr Sanderson as a 76-year-old whose decline followed a normal course of aging rather than the result of crashing into their celebrity client. Paltrow previously said she felt "very sorry" for Sanderson but reiterated that she was not "to blame" for the crash.
Sanderson said he had become a "self-imposed recluse" after the incident and had been advised never to ski again in case of further injury.
Sanderson filed for damages in January 2019, seeking $300,000 in damages for the injuries he suffered, prompting the actress to file a countersuit asking for a symbolic $1 if she wins and for her legal fees to be covered.