"I am here on a visit of solidarity to underline the commitment of the United Nations to support Iraq in consolidation of its democratic institutions and advances peace, sustainable development and human rights for all Iraqis," Guterres told reporters in Baghdad after landing late on Tuesday.
After "decades of oppression, war, terrorism, sectarianism and foreign interference" in Iraq affairs – just days before the 20thTh anniversary of the 2003 invasion – Mr Guterres acknowledged that the challenges facing the country could not be brushed aside.
Appropriate moment
And amid reports that Iraqi Prime Minister Mohammed Shia al-Sudani continues to face potential political obstacles to reviving national fortunes, the UN chief, in a joint press conference with Al-Sudani, expressed his hope that Iraq "can breaking cycles of instability and fragility".
He added: "I applaud the Prime Minister for his commitment to addressing the most pressing challenges front to the country – inclusive fight corruption, improve public services and diversify the economy to reduce unemployment and create opportunities, especially for young people.
"Such a structural change requires system reform, stronger institutions, greater accountability and better governance at all levels – and the UN stands ready to support these important efforts."
Citing reported divisions over the distribution of Iraqi oil revenues between the central government in the capital and the provincial government in the north, Guterres encouraged all parties to build on "recent positive steps" between Baghdad and Erbil. "Sustainable agreements" and dialogue should be the long-term goal, the UN secretary-general said.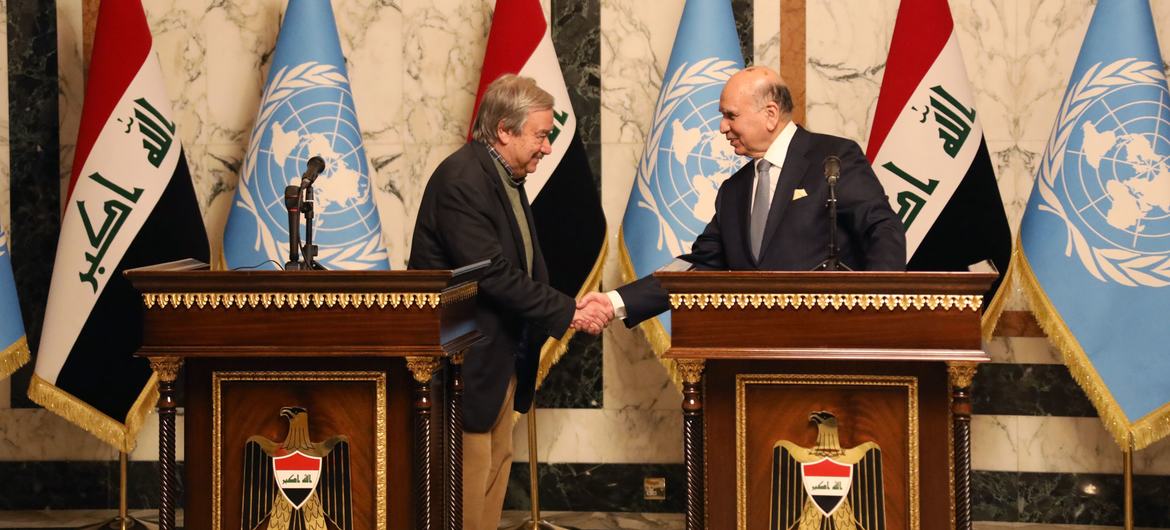 The dignity of the displaced in Iraq
IN previous comments shortly after landing, Mr. Guterres also spoke of his "huge admiration" for the Iraqi people, and highlighted how on previous visits he had witnessed the courage of the displaced in the country several times.
The UN Secretary-General also highlighted how Iraqi refugees in Jordan and Syria had shown that they could "live in solidarity with each other, to help each other in the spirit that, in my opinion, is the best hope for the country's future".
Iraq's efforts to repatriate its citizens from northeastern Syria – including from the notorious Al Hol camp – had been "exemplary," Guterres said, before noting Prime Minister Al-Sudani's commitment to allow safe and dignified return of ethnic Yazidis to their homes in northern Iraq, after suffering genocide at the hands of Daesh in 2014.
Water emergency
Addressing another key challenge facing Iraq, water scarcity, Guterres noted that the issue required international attention before flagging the UN Water Conference 2023 from March 22-24 in New York.
The mighty Tigris and Euphrates rivers were drying up and the impact on agriculture has been dramatic, the UN chief said, adding that "it breaks my heart" to see farmers who have been forced to abandon land where crops have been grown for thousands of years.
Iraq is one of the countries worst affected by climate changewhich has driven displacement, threatened food security, destroyed livelihoods, undermined conflict and undermined human rights, Guterres argued.
Coupled with a volatile security situation and governance challenges, "it could put stability at risk… so now is the time for the international community to support Iraq to address its environmental challenges, diversify its economy and harness its potential for sustainable growth," the Secretary-General insisted.