With countless objects that shed new light on some of history's darkest pages, Slavery: Ten True Stories of Dutch Colonial Slavery has been brought to the United Nations by Amsterdam's Rijksmuseum.
"It's baffling to me that there are many countries that still apologize for slavery," Daniela Paredes, 18, of Cancun, Mexico, told UN News after a class visit. "Governments are working not to overlook slavery and how it is today. It shows that it is possible for society to learn from our mistakes. It gives me hope for humanity."
The exhibit revolves around a single artifact: a heavy wooden plank brace, known as a "tronco"—Portuguese for tree trunk. Used to restrain enslaved people for sleep or corporal punishment to prevent their escape, the ominous contraption – carbon dated to between 1700 and 1850 ¬ was discovered in the 1960s in a barn in Zeeland, a town in the Netherlands.
Tronco remains a stark material reminder that 15 million men, women and children were victims of a despicable legalized system for centuries, said United Nations Outreach Program on Transatlantic Slave Trade and Slaveryestablished by the General Assembly in 2007, which coordinated the event.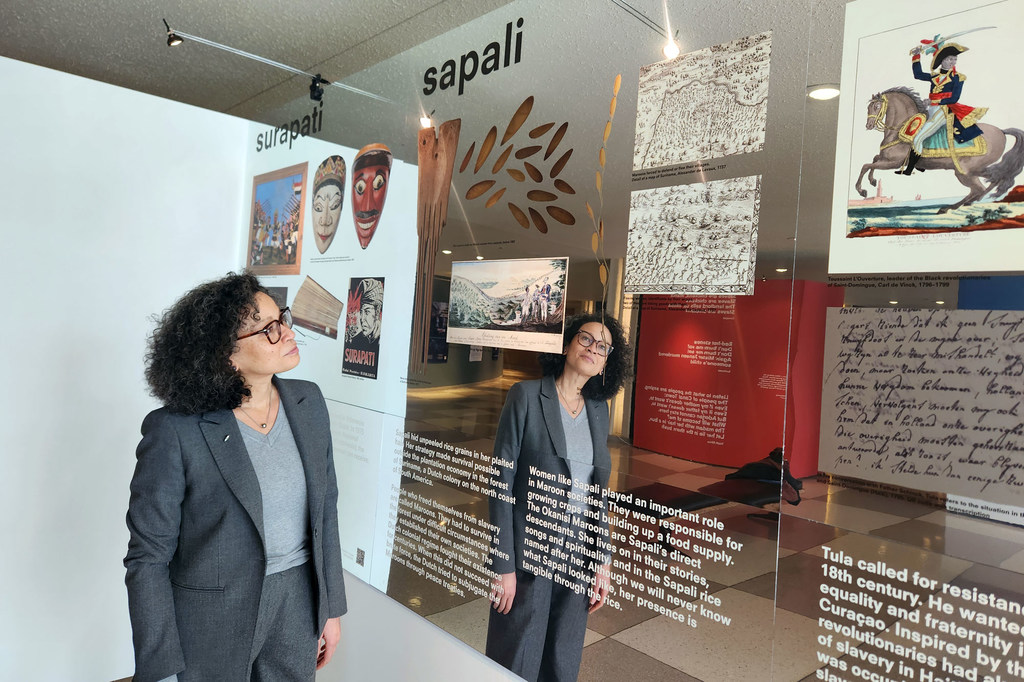 "Bringing the exhibition here to the UN connects it all," Valika Smeulders, one of the exhibition's four curators and head of history at the museum, told UN News. "We thought it would be important for the Netherlands to come to terms with the fact that it has had a big role in colonial history. We wanted to connect everyone in the Netherlands to the bigger story by making the exhibition really personal."
Paredes' classmate, Alexa Bejar, 17, marveled at learning about the world through the exhibit's zoom lens.
"It's great that governments and countries are willing to talk openly and truthfully," she said.
Profiteers to freedom fighters
Around the trunk, interactive panels tell the stories of people coming from Bangladesh, Brazil, the Netherlands, South Africa, Suriname and the Caribbean and West African regions, intertwined with the Dutch slave trade, which enslaved around a million people worldwide between the 17th and 19th centuries. the speeches.
Visitors can swipe QR codes on each of the panels to link to today's recordings of descendants and others connected to profiteers, victims and freedom fighters. Smeulders said the stories were carefully "researched and re-researched", drawn up by a host of experts, including historians, a theater manager, interior designers, artists and a biologist who performed DNA analysis.
However, the curators had a hard time choosing just 10 floors out of more than a million, she said.
"There are millions of stories, of course, but what we wanted the 10 stories to do was give an insight into the system," she said.
From the lifestyle of the rich to the escape to freedom, the exhibition tells the story of Surapti, from Indonesia, who went from enslavement to freedom fighter. Another explains that Oopjen, the frothing wife of a Dutch sugar magnate who profited from slavery, had her portrait painted by Rembrandt himself.
Then there is the brave Sapani, who hid in her braided hair small grains of rice from West Africa when she was forced aboard a ship bound for Suriname. She escaped enslavement on a plantation and used these seeds, which became an important food source in newly established communities and a symbol of hard-won freedom.
"Not just about history"
The exhibition comes at a time when world leaders are reckoning with the colonial past and trying to make amends by, among other things, repatriating artifacts looted during the colonial era. In December, Dutch Prime Minister Mark Rutte issued a formal apology for the country's role in the slave trade.
"It's not just about history; it is also about our common future," said Smeulders. "The legacy of slavery is with us every day. We have to deal with it, especially all kinds of discrimination and racism that still exist."
Having that conversation going on here at the UN and having the exhibit as a "talking stick" to continue that conversation "is really important to us," she said.
"Part of the solution is to realize that it is connected to the past and that by understanding the past we understand today's society as well," she added.
At the exhibit's opening, Melissa Fleming, Director of the United Nations Department of Global Communications, who hosted the event, said that teaching, learning and understanding this history "helps us in our work to end racism and injustice and to build inclusive societies based on dignity and human rights for all."