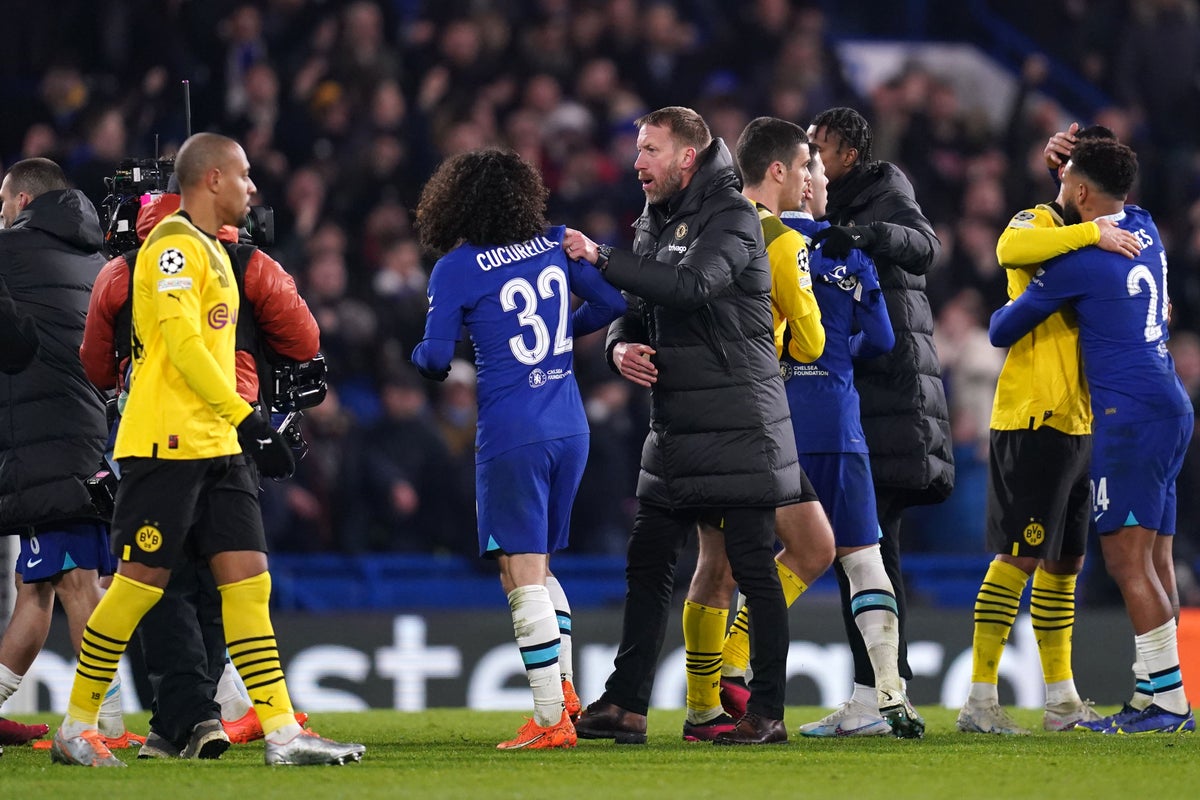 Graham Potter praised Marc Cucurella After the decision to return him to Chelsea's defense, he was justified with an excellent individual display against Borussia Dortmund.
The Blues scored a stunning win, reversing a 1-0 deficit in the first game in Germany. Champions League fight and give Potter his best night as manager Stamford Bridge.
Cucurella had been left out of the manager's last three matchday squads, but was brought in to start in the back three with Thiago Silva and Benoit Badiashile out of use.
Goals from Raheem Sterling and a retaken penalty from Kai Havertz at halftime won for the Blues after bombing the Bundesliga's second-ranked side in a first half where they dominated and could disappear. .
It was a performance that finally showed off the team's potential following owner Todd Boehly's whirlwind transfer spend in January, with Joao Felix dominating the left side of Chelsea's attack and English record Enzo Fernandez having almost complete control of midfield.
But Cucurella, who Potter admitted was a risk to be included after a difficult personal spell, was the one who fit the situation best with an energetic, focused high-pressure show.
"I think Marc is the man of the match," said Potter, who agreed with UEFA when the Spanish took the official award.
"If the result didn't go the way we wanted, I'm not sure about the results. I was happy for him.
When you have a bad time like we did, you accept criticism and Marc handled it well. We tried to protect it a little bit and at the same time chose the moment (to bring it back).
"We thought the crowd would be behind us tonight because this is the Champions League. With Benoit gone, I thought it gave us some left foot stability in the back three. Fortunately, he gave his best performance."
Chelsea had their mark on Dortmund's goal in the first period, Felix and Havertz came close, the latter hitting the pole with a poor drive late in the half.
Sterling's 43-minute goal paid off with loud support from the crowd at Stamford Bridge, before Havertz completed a two-time penalty turn, hitting the post for the first time, but seizing his second chance after Dortmund's players encroached on him.
It provided much-needed breathing room for Potter, especially after Saturday's unconvincing 1-0 win against Leeds that ended the team's six-game undefeated streak. This time the performance matched the magnitude of the result.
"It was an important game, it was a special atmosphere," Potter said. "It was a passionate evening.
"The Stamford Bridge was shaking, I thought it would. Our performance helped with that. We press high, we tried to win some fights. We tried to attack them and play good stuff against a top team.
"Not just tonight. We had a tough time. We had to respond to Leeds. We played a good away game against Dortmund (in the first game) and lost. At the moment, nobody wants to hear that we played well, we had some chances and we had to score. .
"We had a bad first half (losing) against Southampton and it could have been an unpleasant situation. Everyone had to stay together, suffer together and find a way out."
Dortmund boss Edin Terzic felt that the VAR penalty imposed on his team for handballing Marius Wolf was the decision that eventually turned the draw in his direction.
"If it takes you five or six minutes to realize that a decision is not an easy one," Terzic said.
"I am the manager, I am responsible for the performances. But not for the referee's performance.
"It was a very tight game on both legs. Inches decide whether you advance to the next round. We've been unlucky in the moments but that's part of the game.
"We knew we had to give our two best performances. Both teams deserved to pass but Chelsea scored two goals, we didn't get it, so we can't complain about being knocked out."