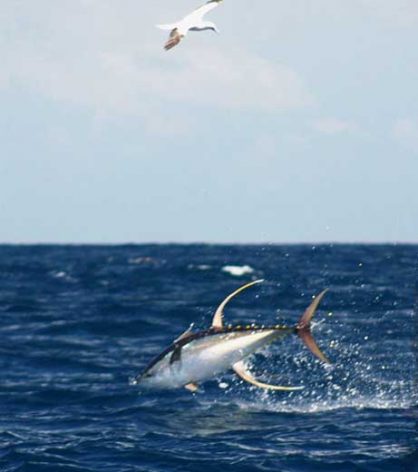 Opinion

by Grantly Galland (

Washington DC

)
Interpress service
WASHINGTON DC, May 23 (IPS) – Global fisheries are worth more than US$140 billion each year, according to the UN's Food and Agriculture Organization (FAO). But this hefty sum does not capture the true value of fish to ocean health and to the food security and cultures of communities around the world.
Unfortunately, many important populations were allowed to be overfished for decades by the same Regional Fisheries Management Organizations (RFMOs) responsible for their conservation and sustainable use, and in some regions this continues.
At the same time, demand for fish continues to grow – from consumers of high-end bluefin tuna sushi to coastal communities that depend on shellfish as their primary source of protein. So RFMOs and governments must do more to ensure sustainable fisheries and long-term ocean health.
More than 20 years ago, the United Nations Fish Stocks Agreement (UNFSA) came into force as the only global, binding instrument that holds governments accountable for managing the common fish stocks of the high seas.
According to the agreement, the fish must be managed sustainably and in accordance with the best available science. Governments party to this treaty – and to RFMOs – must comply with their stewardship obligations and work towards greater sustainability of straddling species, including tuna and sharks, which are vital to the ocean and economies.
Five of these RFMOs focus specifically on tuna management, one each in the Atlantic, Eastern Pacific, Western and Central Pacific, Indian and Southern Oceans. They operate independently and although there is some overlap among their stock members, each sets its own rules for tuna fishing in its waters.
This makes UNFSA critical to the successful management of tuna fisheries. And because tuna RFMOs manage some of the world's most iconic species, they often set the tone for how other similar bodies operate.
All of this is relevant now as UNFSA member governments meet in New York on 22-26 May to assess whether RFMOs are performing in accordance with their commitments. A similar review was carried out in 2016, and although management has improved over time, some areas require more work, particularly when it comes to ending overfishing and taking into account the health and biodiversity of the entire ecosystem.
Since 2016, the proportion of highly migratory stocks that are overfished has increased from 36% to 40%, making it all the more urgent for governments to act quickly.
UNFSA urges RFMOs to exercise caution in how they regulate fisheries, although that guidance is not always followed. There are several examples of extensive overfishing of target species, such as bluefin tuna in the Atlantic and Pacific; yellowfin tuna in the Indian Ocean; and mako, oceanic whitetip sharks and other bycatch species.
Although the regional fisheries organizations that manage these fisheries have stopped overfishing in some cases, in others they have not. But there are signs of progress. Over the past decade, a new precautionary strategy known as harvesting strategies has gained traction among RFMOs.
These strategies (or management practices) are science-based rules that automatically adjust catch limits based on several factors, such as population status. If implemented widely, they should stop overfishing and prevent it from threatening these populations again.
Harvesting strategies have already been successful, particularly in the South and Atlantic, where they have been adopted for several species, including bluefin tuna and cod, fish stocks for which precautionary management has historically been difficult, or even controversial.
While these advances are important, UNFSA members still fall short in one area they have agreed is critically important: taking an ecosystem approach to management. For generations, fisheries managers focused on individual fish stocks – adopting catch limits and other measures without regard to the wider ecosystem.
Science shows that maintaining the health of ecosystems is crucial for sustainable fishing. Yet, to date, RFMOs have largely not consistently assessed or addressed the broader impacts of fisheries on ecosystems, including predator-prey relationships, target and non-target species habitats, and other factors.
Instead, most measures have been limited to reducing the effects of bycatch on individual shark species. Better data collection and sharing, and more monitoring of fishing activities, could help integrate stronger ecosystem considerations into management. The more RFMOs can incorporate the entire ecosystem into their decisions, the better off their fisheries will be.
For example, in the western and central Pacific, the $10 billion tuna fishery is a huge economic driver for island nations threatened by climate change. But the harvest strategy that is there is non-binding and not implemented.
For a fishery facing changes in stock distribution due to warming waters, as well as increased market pressures, delays in implementation – and the lack of an ecosystem approach – could make matters worse.
At this week's UNFSA meeting, RFMOs should be commended for the work they have done in the seven years since the last review. Good progress has been made, including improvements in enforcement efforts and monitoring and enforcement to combat illegal fishing.
But many of the legal obligations of the treaty remain unfulfilled. As such, sustainability remains out of reach for some critically important stocks, and almost no ecosystem-based protections are in place.
When governments meet this week, they should look to the lessons of the past – when poor decision-making threatened the future of some fisheries – and seize the opportunity to modernize management and stick to the conservation promises they have made. Biodiversity in the world's oceans should not have to wait another seven years for measures to be taken.
Grantly Galland leads policy work related to regional fisheries management organizations for The Pew Charitable Trust's International Fisheries Project.
IPS UN agency
Follow @IPSNewsUNBureau
Follow IPS News UN Bureau on Instagram
© Inter Press Service (2023) — All rights reservedOriginal source: Inter Press Service
[pub1]