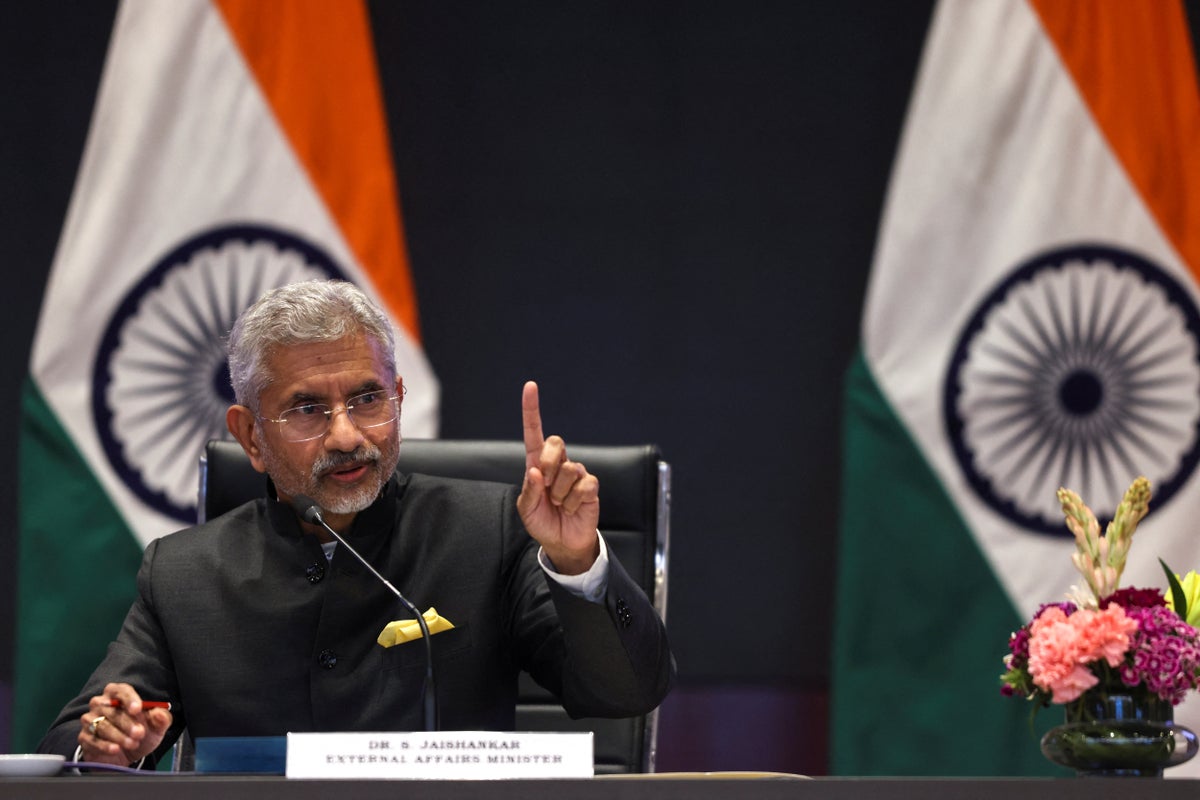 A meeting of G20 foreign ministers in Delhi have ended without a joint statement due to "differences" of opinion on the conflict in Ukrainehost nation India have said.
Addressing a press conference at the end of the two-day gathering, Indian Foreign Minister Subrahmanyam Jaishankar said a "chairman's summary" would be issued rather than a communication agreed upon by all the assembled nations "because there were differences of opinion on the Ukraine issue that we could not reconcile ".
US Secretary of State Antony Blinken accused Russia of derailing the meeting and urged the G20 to urge Moscow to withdraw its forces from Ukraine.
"Unfortunately, this meeting has once again been marred by Russia's unprovoked and unjustified war against Ukraine, its campaign of deliberate destruction against civilian targets and its attack on the core principles of the UN Charter," he told the meeting.
Sergei Lavrov, who held a press conference on his own shortly before Jaishankar's, said the meeting failed to reach an agreement because of the "emotional" attitude towards Ukraine by Western nations.
It is the second year in a row that the G20 foreign ministers' meeting has failed to produce a joint statement, as last year's in Bali ended in bitter disagreements over the war and Russia's very presence at the gathering. The leaders' summit later in December agreed on a communique, but only after Russia's Vladimir Putin stayed away.
This week, Delhi became the diplomatic capital of the world as 40 foreign ministers and delegates from leading economies arrived in India's national capital for what has been billed as the largest such gathering in G20 history.
Indian Prime Minister Narendra Modi opened the meeting with a video address urging those gathered to "rise above (their) differences". "We should not allow issues that we cannot solve together to come in the way of those that we can," Modi said.
In his closing remarks, Jaishankar said there was agreement at the gathering on "95 percent" of the issues, citing "a significant meeting of minds" on areas ranging from counter-terrorism to the climate crisis. The full details of what was discussed and his chairman's summary would be released later, he said.
"There were two pieces where we couldn't get everyone on the same page," he said. "There are times in diplomacy when you get 20 countries to agree on something, (and) there are times when you don't."
Sushant Singh, senior fellow at the Center for Policy Research, said The independent that the failure to produce a communique was "a setback for India" after it invested so much in the G20 chairmanship and its unique position as a neutral party in neither the Western nor Russian blocs when it comes to Ukraine.
"The Ukraine war and the China-US relationship are casting a shadow over this meeting and unless things change, India's presidency of the G20 will not be the success that Modi expected it to be," he said.
Suhasini Haider, Diplomatic Editor of the Indian Daily The Hindusaid India certainly has a lot of heavy lifting to do between now and September when the entire G20 summit takes place in Delhi.
"(Mr. Jaishankar) said himself that there were two paragraphs where some countries could not reach agreement. I think it is disappointing for India for the reason that a meeting of foreign ministers does not have to have a joint communique. The fact that India tried to create a joint communiqué itself is puzzling given the polarization (between world powers), she says.
"If (September's) G20 summit ends without a joint statement, it would really set a precedent, and India will do everything they can to avoid that. Indonesia was successful last year with India's help – the question is, can India succeed this time time?"
The prospect of a failed summit is currently "likely" if "the current situation continues," warned Harsh V Pant of the Delhi-based Observer Research Foundation. "India needs to ensure that its communication channel is open with all sides so that they can pursue their concerns and (find a) consensus," he said.