DCMS tells people 'please don't move to queue'
People have been warned not to leave their homes to queue for the Queen's gift, as it closes later.
PA Media reports that the Department for Culture, Media and Sport (DCMS) said in a statement:
A decision will be made today on when the queue will close for Her Majesty the Queen's cemetery when it reaches capacity. Queue time is already 13.5 hours and could increase. To avoid disappointment, don't stand in line.
Key events
There are a few more quotes from the New Zealand Prime Minister Jacinda ArdernThis morning's BBC interview. She said she had no intention of encouraging the process of New Zealand becoming a republic, although she had previously suggested it would happen in her lifetime. She said:
I think even the Queen herself has noticed and acknowledged the evolution of our relationship over time. My observation is that there will continue to be evolution in our relationship. I don't believe it will be soon or soon, but during my lifetime.

We have complex arrangements, the Treaty of Waitangi – a very important foundational document for Aotearoa, New Zealand, signed between Māori and the Crown. Because of this, it's not a process I intend to encourage, but if and when it happens, it will take time and it will need to be worked out very carefully.
PA Media also quoted her as saying the transition from queen to king would not be "upsetting", explaining "He shares many of the same passions and interests as New Zealanders, and I think that means that connection is already there."
DCMS tells people 'please don't move to queue'
People have been warned not to leave their homes to queue for the Queen's gift, as it closes later.
PA Media reports that the Department for Culture, Media and Sport (DCMS) said in a statement:
A decision will be made today on when the queue will close for Her Majesty the Queen's cemetery when it reaches capacity. Queue time is already 13.5 hours and could increase. To avoid disappointment, don't stand in line.
Prime Minister of New Zealand Jacinda Ardern she told the BBC that in a conversation with King Charles, he expressed his gratitude for the condolences of the people who came to participate in the events this week. PA Media reports that she said:
I will keep my comments here very, very general as we always try to keep the conversations we are lucky enough to have with His Majesty strictly confidential.

But the overriding feeling was just one of gratitude for the great effort people made to come and pay their respects, and by that I don't just mean the leaders, but the people as well.

You could see that it meant a lot to see the sheer scale and outpouring of people's love and affection for her late majesty.
Ardern also expressed surprise that it has become such a talking point that world leaders will travel together by bus to the funeral on Monday.
She said: "I don't think the bus deserves too much fuss. When we came here for the Commonwealth Heads of Government meeting we used buses for transport. It just makes sense. We are a very practical people."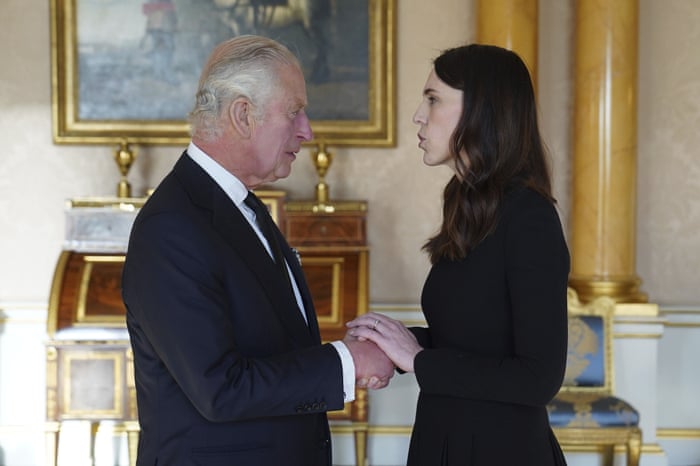 Former Archbishop of York, Lord Sentamu, was interviewed this morning on the BBC as part of the Sunday program with Laura Kuenssberg. PA Media reports he told viewers the Queen did not want a "boring" funeral service, saying:
What you will expect is the best of funeral services, the service of the prayer book, the words that inspired Shakespeare.

You will hear this beautiful English at its best, you will also hear the angelic voices of the Abbey Choir plus the Chapels Royal, you will really hear voices singing the glory of God.

The Queen did not want and did not want what you call long, boring services, you will not be bored, but you will be lifted up to glory as you hear the service. People's hearts and hips will be warmed.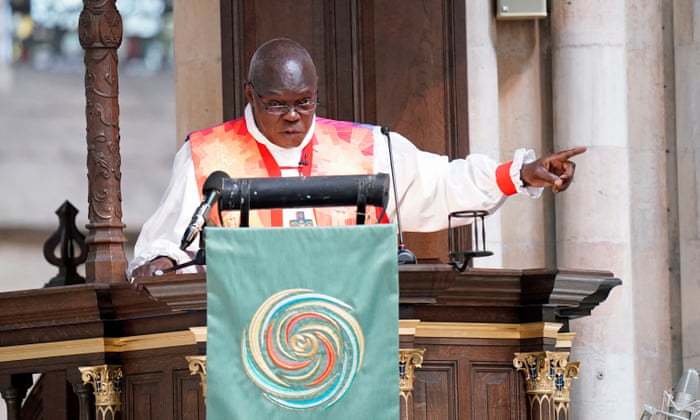 If you were planning on doing something other than watching the funeral tomorrow in the UK, you might find your choices a little limited.
PA Media reports that a number of the country's biggest retailers have said they will close their stores so workers can pay their respects to the Queen, including Tesco, Sainsbury's, Morrisons, Lidl and Aldi. Marks & Spencer and Primark also said they would close for the day, while cinema chains Cineworld and Odeon announced plans to close their theatres.
Tesco says it will open its Express stores from 5 p.m. Asda said it would close its stores for the funeral, but all its supermarkets would be open from 5pm, with colleagues working on Monday night to receive double pay.
The government has issued advice for citizens on how they can watch some of the ceremonial parts of tomorrow's state funeral. He says:
At 10.44am the Queen's coffin will be moved from the Palace of Westminster to Westminster Abbey. The arrival of two thousand guests is expected, which will start at 11 o'clock [be] which was followed by a national two-minute silence at 11:55.

A public procession will begin at 12.15pm as Her Majesty's coffin travels from Westminster Abbey to Wellington Arch in London.

The procession will go along Broad Sanctuary, Parliament Square, Whitehall, Horse Guards Parade, Horse Guards Road, The Mall, Constitution Hill and end at London's Wellington Arch.

Space for people with accessibility requirements is available on the Green Park side of the shopping center and on the St James's Park side of the shopping centre. Viewing areas of the Albert Memorial will have British Sign Language interpreters and a hearing loop.
Outside of London, many events are held today to commemorate the life of Queen Elizabeth II.
These include memorial services held at various times in cathedrals including Blackburn, Bradford, Canterbury, Chichester, Durham, Gloucester, Lichfield, Liverpool, Manchester, Norwich, Sheffield and Worcester.
The government website has provided a list of events taking place today here.
Peter Stanford, author of How to Read a Cemetery: Journeys in the Company of the Dead, wrote for the Observer today about death rituals and the meaning of grief. In it he says:
No matter how much we feel at the peak of life, with full diaries and all the possibilities before us, the ritual of attending a funeral – or watching a funeral on our screens on a day designated for it as a public holiday – is also an unconditional invitation to think about our own mortality and opportunities. to openly remember those who have left in our lives, to mourn them again. We will remember, as we watch the Queen's children and grandchildren trying to hold back tears, how we did the same in similar circumstances.
And the sadness for those we loved, whose death leaves a space never filled in our lives, never goes away. We just get used to living with it, we learn to shed tears for lost parents, siblings, partners, children, friends, privately, not publicly. The Queen's funeral will lift that veil for at least one day.
You can read more about Peter Stanford's article here: The Ritual of Life – Mourning the Queen We Face Our Own Mortality
What has been described as a "national moment of reflection" is scheduled for 8pm in the UK tonight, with people being urged to observe a minute's silence. It will follow a pre-recorded televised address by the Queen Consort, as Nadeem Badshah reports:
The Queen Consort will pay a televised tribute to the Queen on Sunday, praising her for playing her part alone for years while in the "difficult position" of being a "lone woman" in a male-dominated world.
In pre-recorded words, he will also remember the late monarch's "wonderful blue eyes" and say: "I will always remember her smile."
The Queen Consort pays tribute to her mother-in-law will be broadcast just before the national minute's silence at 8pm.
Camilla will say: "She has been a part of our lives forever. I'm 75 now and don't remember anyone but the Queen being there. It must have been so hard for her to be a loner.
"There were no women prime ministers or presidents. She was the only one, so I think she carved out her own role."
Remembering the late monarch, Camilla will add: "She has these wonderful blue eyes, which, when she smiles, light up her whole face. I will always remember her smile. That smile is unforgettable."
You can read more of Nadeem Badshah's report here: Camilla to pay tribute to Queen on TV
Just a note, if you missed the news, there was an accessible route during this process, starting at Tate Britain, which had time slots for people with access requirements to play their part in national mourning.
It has now closed permanently, with all time slots and wristbands allocated, and the Department for Digital, Culture, Media and Sport said:
The reclining access queue has reached full capacity and is now permanently closed. Wristbands for all dates are distributed so that as many people as possible can pay their respects. Please do not queue at Tate Britain. Thank you for understanding.
You can read more about this in Charlie Moloney's report here: Queen's Coffin queue to close permanently after 'full capacity' is reached
Current monitoring from the DCMS says people should expect to queue for 13-and-a-half hours to pay their respects to the late monarch.
With the lay-in due to end at 6.30am on Monday morning, it suggests that at some point later in the afternoon – now that would be around 5pm – the authorities will have to start stopping people from queuing.
Good morning from London. Today is the last full day of laying in front of the queen's coffin, ahead of tomorrow's state funeral.
Heads of state and members of foreign royal families are expected to begin arriving in London later for the funeral.
The king is also due to hold an audience with Liz Truss at Buckingham Palace, while the king and queen will host heads of state and official foreign guests at the palace in what a royal spokesman described as an "official state event".
A memorial service will be held for the Queen at the Kelpies Sculptures near Falkirk, Scotland, and members of the public are invited to observe a minute's silence in memory of the Queen at 8pm.
We'll bring you all the latest happenings throughout the day. I'm Martin Belam and you can contact me at martin.belam@theguardian.com