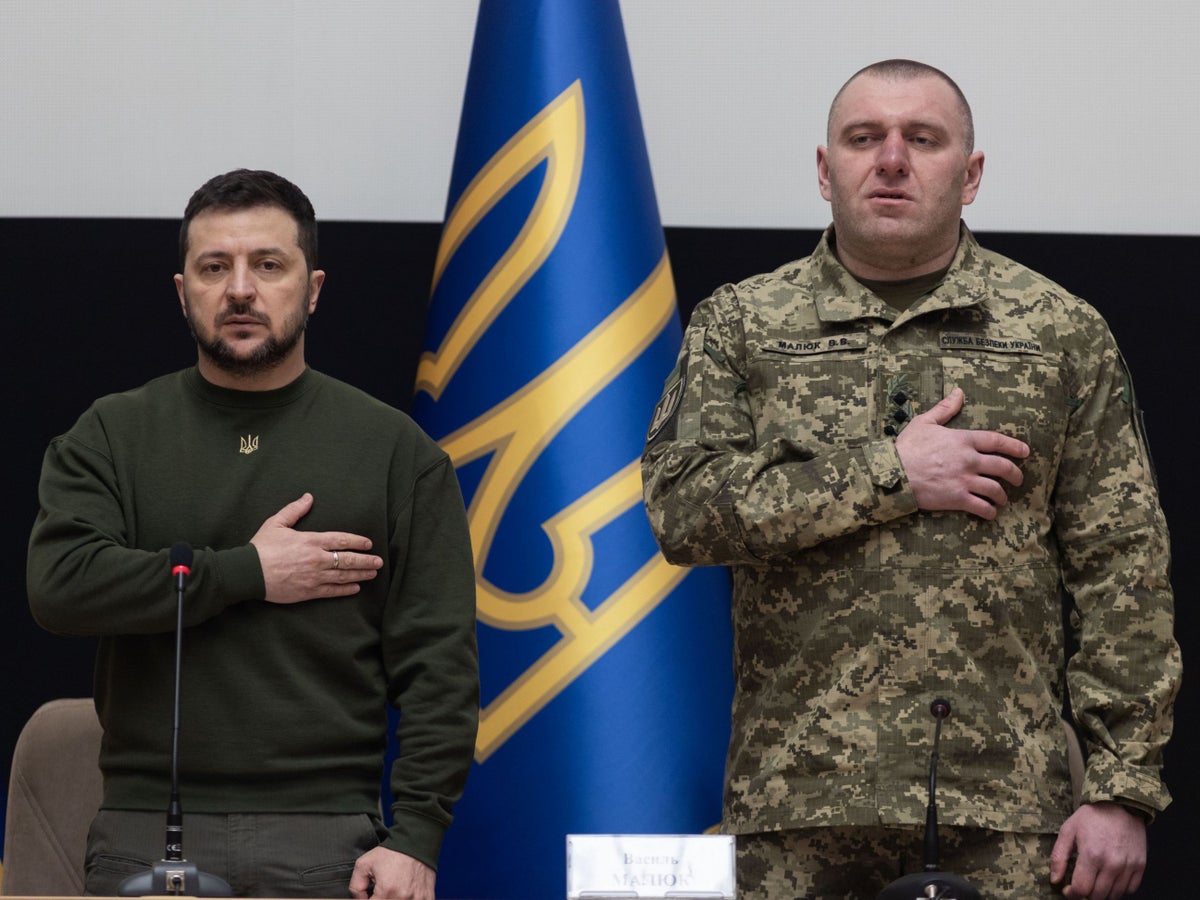 Maj Gen. Vasyl Malyuk, Ukraines domestic spy chief, makes it clear that the threat from Russia coming from all directions. From the battlefield, his Security Service of Ukraine (SBU) has launched more than 64,000 criminal proceedings against Moscow's forces – almost half of them war crimes case. He says the SBU has also exposed or detained 360 enemy agents since the invasion broke out last February. And the country has averted thousands of cyberattacks.
Speaks exclusively to The independentMaj Gen Malyuk said the SBU's investigative department has launched public investigations and also covert operations into alleged war crimes committed by Russia's forces and their proxies in the country.
Russia has been accused by UN Secretary-General Antonio Guterres of "the most massive violations of human rights" at the start of a meeting of the UN Human Rights Council where countries want to step up scrutiny of Moscow's alleged crimes.
Maj Gen Malyuk, 39, said: "We have opened more than 64,000 criminal cases related to Russian military aggression against Ukraine. More than 24,600 of them are based on violations of the laws and customs of war," he continued.
"It is of great importance for us to show the world not just emotion, but procedural evidence of Russia's illegal actions," he added.
Maj Gen Malyuk, who has led the Ukrainian equivalent of the M15 since July, says the war-torn nation has increasingly struggled on two fronts: "Control the enemy in cyberspace," as well as on the battlefield.
Ukraine is battling a surge in cyber attacks, with Russia launching at least 10 a day, the country's domestic spy chief has warned as the country faces the grim one-year milestone in Moscow's invasion.
In 2020, the SBU had registered 800 cyber attacks, in 2021 it was about 2,000. But after the invasion, they have registered more than 4,500.
"These are different types of attacks, sometimes really massive, sometimes quite sophisticated," says the spy chief from Kiev.
"Currently, on average, Russia provides more than 10 cyberattacks daily… Their targets are different: state resources, critical infrastructure, etc. But we are successfully fighting the enemy in cyberspace as well," he says.
Ukraine is eager to anticipate a new wave of violence from Russia in the wake of the one-year anniversary of the war that began on February 24 last year.
In recent weeks Vladimir Putin has increased violent attacks in the east and north of the country, in an attempt to recoup territorial losses and save face at home.
When the war broke out last year, Major General Malyuk had briefly left the security services to become deputy interior minister. He was reinstated and made acting director of the powerful Homeland Security Agency in July of Volodymyr Zelensky when the Ukrainian president abruptly fired the former chief amid a flurry of allegations that spy officials had colluded with Russia. On February 7, the parliament voted him in as head of the SBU.
Rooting out Russian agents has since become a large part of Major General Malyuk's focus. He says the SBU had exposed or detained 360 enemy agents.
The targets have ranged from prominent figures such as Vicktor Medvedchuk, a pro-Kremlin Ukrainian politician and personal friend of President Putin, to citizens gathering information on the whereabouts of Ukrainian forces, he adds.
"For decades, Russia has saturated our country with its agents in the state bodies, in the church, in the military-industrial complex," he continues.
He says against the unprecedented variety of attacks from Russia, the SBU has had to be "completely reorganized" to counter the threat.
"(SBU) officers literally live on the front lines," he says. "Our cyber specialists are working vigorously day and night to repel enemy cyber attacks," he said, adding that work in cyberspace "has increased significantly."
The country's cyber security agency said earlier this month that the number of recorded cyber incidents had tripled in 2022 compared to 2021. It said hacking was used in connection with missile strikes.
The SBU says that energy, logistics, military facilities, as well as databases of government agencies and information resources have all been attacked.
Maj Gen Malyuk says that despite the attacks across various fronts, both physical and digital, Ukraine will win. "I, like any Ukrainian, have no illusions about Putin and his motives in this war."
"Therefore, my message (to him) is simple: you will never break us down or destroy us," he says. "We are fighting not only for the future of Ukraine, but for the safe future of the entire civilized world."