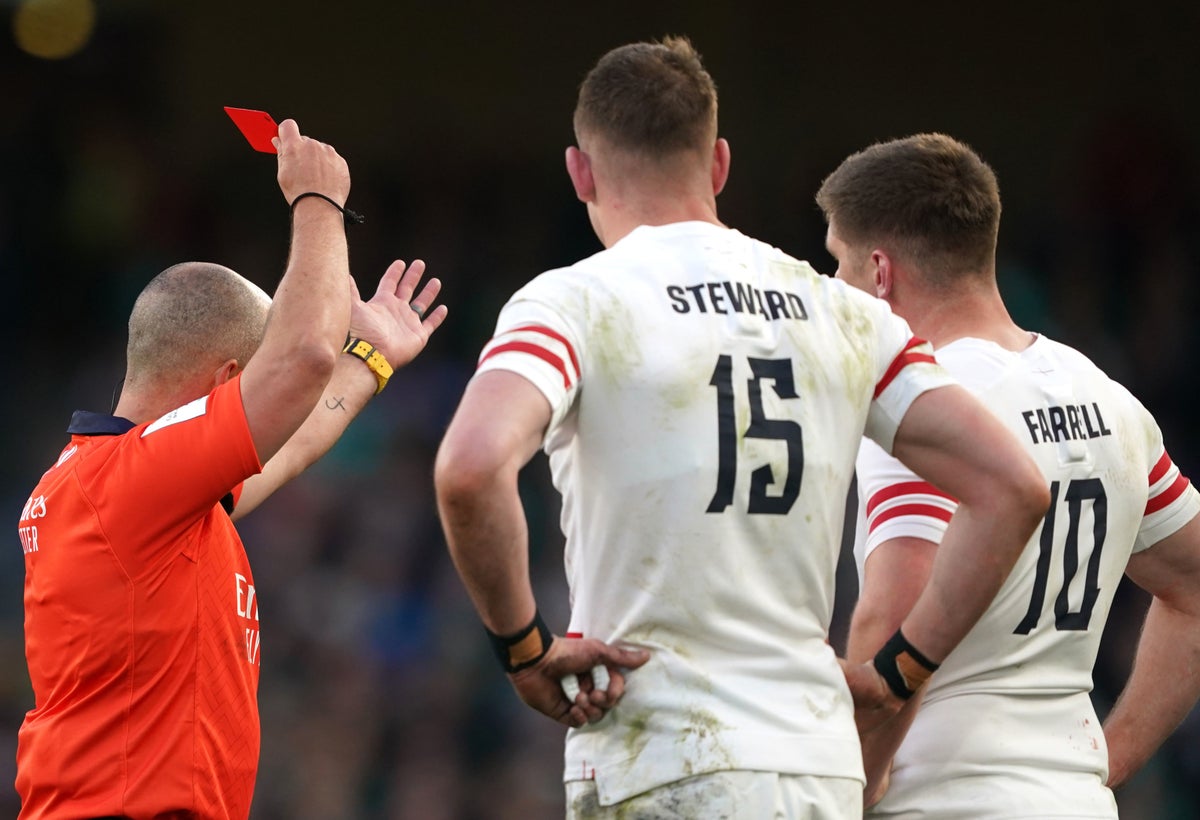 Ben Stokes was among the celebrities who reacted to a controversial red card During the Irish rugby vs England rugby grand slam decision at the Six Nations on Saturday.
Ireland entered the match in Dublin as heavy favorites to seal a grand slam – awarded for winning all five of your matches during the Six Nations campaign – against an England side that suffered a historic humiliation against France at Twickenham just seven days ago. lose 53-10 for the biggest home losses ever.
However, England started strong at the Aviva Stadium, putting in a much improved performance, trailing just 10-6 towards the end of the first half. However, their task became much more difficult when star-back Freddie Steward was shown a harsh red card.
In the 40th minute, Irishman Hugo Keenan uncomfortably slammed into Steward's elbow as the referee bent over to take the shot. The commissioner turned to support Keenan, who was in an unnatural position as he whistled and accidentally touched his head. Referee Jaco Peyper argued that the British man had a duty to be careful with his opponent and should do more to avoid contact, which resulted in a red card that surprised the England players.
Twitter immediately reacted to the decision, including some famous faces and England cricket captain Ben Stokes was one of them, tweeting: "Red card???????????? Messed up. Rugby is falling apart."
Stokes later tweeted a second time, saying: "Anyone trying to defend a red card decision at halftime is just trying to fend for themselves"
England fan Joe Marler, who was not selected in the squad during this Six Nations, echoed this distrust.
He wrote: "Ludicrous. It's totally ridiculous. She's actually a total and complete bitch."
Old England blew half of Andy Goode Additional: "Terrible decision from Jaco Peyper, this is a rugby thing, not a red card for Steward."
Welsh comedian Mike Bubbins also weighedsays: "This is really incredibly tough for Freddie Steward. I'm a big advocate of making the game safer but I don't see what else he can do there. He's become one of the best players in England. #SixNations more."
Former Scotland international and current rugby expert Jim Hamilton said: "Absolutely wrong decision. Very wrong. It's a "rugby thing" #IREvENG"
Another former British international, Ben Foden, also supports the almost universal calls to suggest that the decision was wrong.
fodene tweeted"Anyone who thinks this is a red card has never played rugby. It would have been much worse for Keenan if Steward hadn't pulled out. Worse still, it's yellow. A forward pass, a bouncing ball, and a snap judgment of which referee did the right thing. "