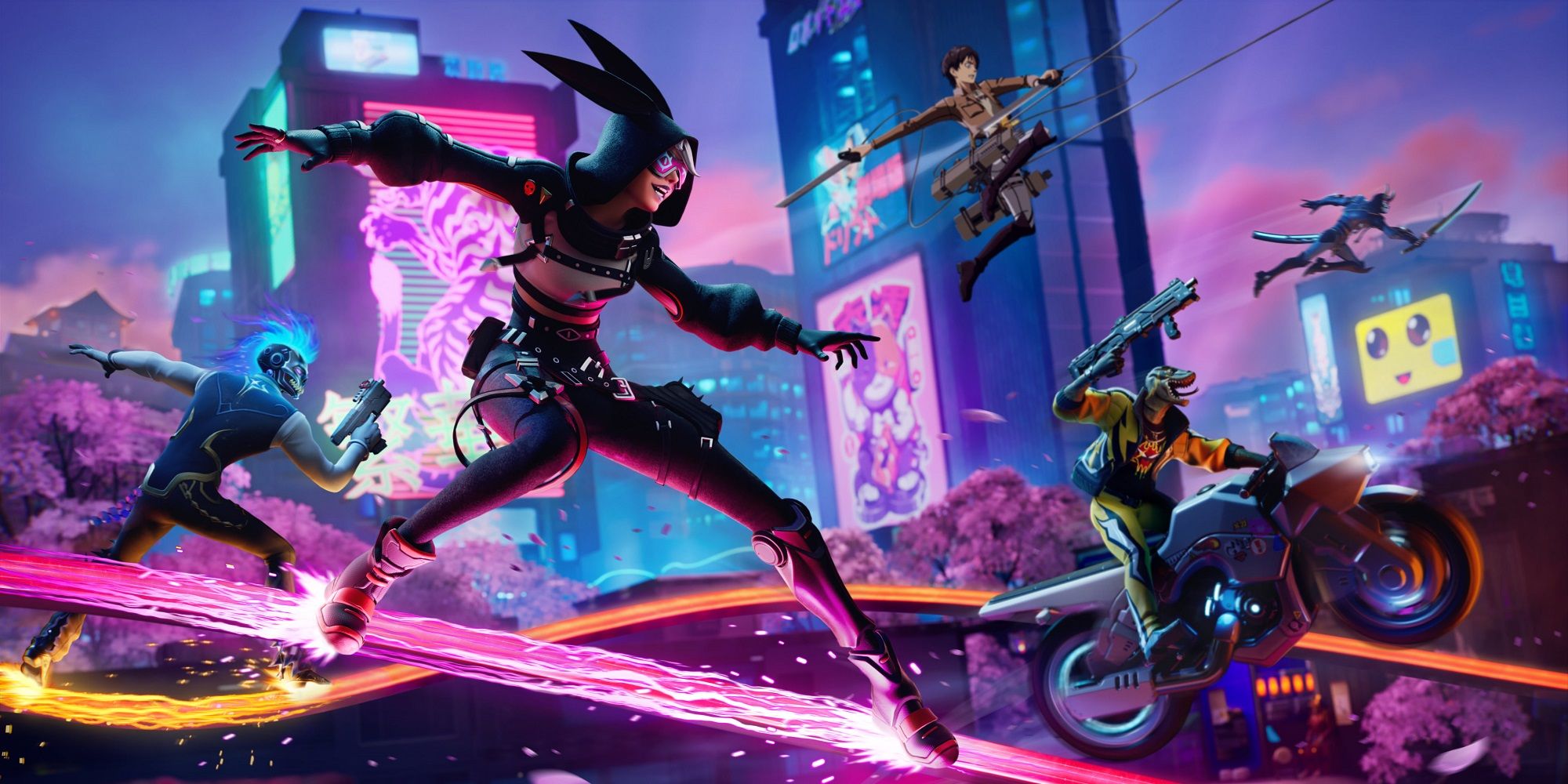 After a short delay, Fortnite has confirmed that update 3.90, better known as v24.40, will be released today after a brief server downtime. The update will add a new ranked mode, new cosmetics, lots of big balance adjustments, and more.
Today's update will be the fourth major content update for Fortnite Chapter 4 Season 2, and possibly one of Fortnite's biggest updates yet. As confirmed late last week, Epic games will finally add an official ranked mode to the game with today's update, allowing more competitive players to face each other and climb the ranks.
READ MORE: Fortnite: How to Level Up Battle Pass Fast
But if the new ranked mode isn't for you, there's still plenty of content in today's update. Here's everything you need to know about the Fortnite v24.40 update.
Fortnite servers are down due to the 24.40 update
Epic Games has confirmed that the downtime for today's update will begin at 3am ET / 8am EDT. It remains to be seen how long Fortnite's servers will be down, but players can expect them to be back up within an hour or two.
Fortnite 3.90 update notes for v24.40
Below, you'll find the official notes for Fortnite's May 17th update, which not only includes the long-awaited ranked mode, but also tons of new cosmetics and bug fixes.
COMING IN V24.40: BALANCE CHANGES
As mentioned above, in version 24.40 we will make the following balance changes:
Material limit will be reduced from 999 to 500.
The pace of collection will increase somewhat.
Players will drop 50 units of each material when they are eliminated.
Also, in case you missed it, we made the following balance changes in the May 3rd ET patch:
Increased damage from Lock-On Pistol and Thunder Spears.
Increased the locking speed of the locked gun and the firing speed between rounds.
Lightning Javelins now detonate faster after pulling the fuse.
Forecast Reality Augment was used in tournaments.
MAJOR BUG FIXES IN V24.40
We are continuing to improve some of the big stones on Battle Royale Island without providing as many materials as planned.
Fixed an issue where players could not heal with Slurp Juice after DBNO.
Back Blings equipped with the Clone Trooper Outfit will no longer appear detached.
Clone Trooper Outfit head movements will no longer be static.
Fixed an issue that caused some costumes to appear glossy.
TRIO VAULT
Please note that Trios mode will be available in Battle Royale and Zero Build in version 24.40.
COSMETIC STREAMING FOR MOBILE AND PC
On mobile and PC, we've expanded our high-resolution texture settings to give players more control over what content they download and when.
By default, players will broadcast most cosmetic items when they are encountered, rather than installing or patching them beforehand. This will allow players to get into Fortnite faster and reduce the size of the Fortnite installation.
Please note that we are still improving this feature. In version 24.40, PC players will be able to optionally load all high-res textures at once. PC players can opt out of streaming by selecting "Turn off cosmetics streaming" in the Options menu on the Fortnite tile in the Epic Games launcher.
Some things to keep in mind about high resolution textures:
Players may notice an increase in network bandwidth when streaming in high resolution textures.
If you select the Off option, the visual effects of some cosmetics may appear lower quality, and future patches may be larger.
More information about today's Fortnite update can be found on the official site Epic Games website.
FURTHER: Fortnite Chapter 4 Season 2 Challenges, Quests and Rewards