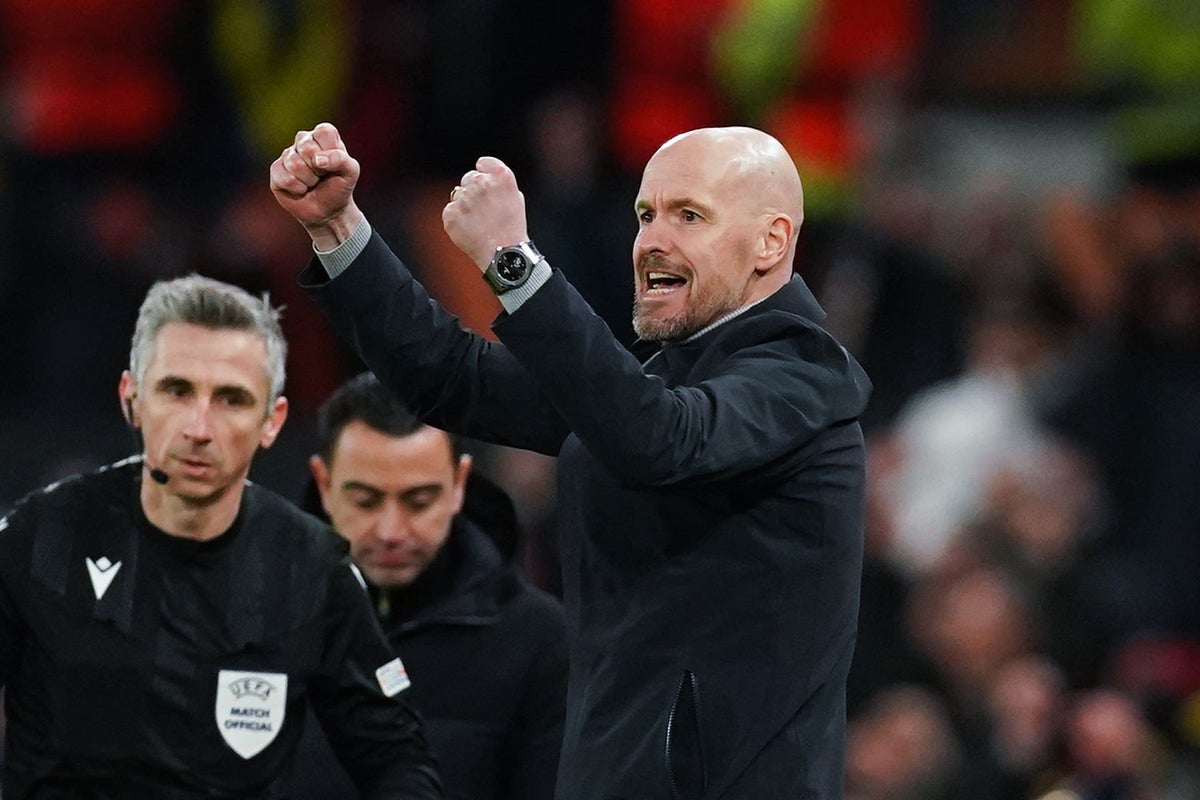 Plum skin Witch He is not afraid to leave his players after Manchester United Carabao Cup He wins in the locker room because he feels hungry rather than satisfied.
The Dutch player has turned things around impressively since he took over the staggering Old Trafford giants nine months ago, leading the club to a trophy for the first time in six years at Wembley on Sunday.
The 2-0 win against Newcastle in the Carabao Cup final felt like a big moment for a group that wanted more as they continued to fight in the Premier League. Europa League and the FA Cup.
Ten Hag told the group to "get back to work" as they prepare to welcome West Ham in Wednesday's second match, and doesn't think performance levels will drop after Sunday's trophy success.
"I think first and foremost the players should take responsibility for this," said the United manager. "They need to take responsibility for their performance.
"But I can't see that (performance drop coming). It's a trophy but it's not the end of the season.
"So when I heard the comments around me, when I saw the comments (from the players) in the media, when I saw the fight in the locker room yesterday, it's not like we're content with that.
"We want to do better and I think that's pretty clear, so it's inspiring and this is not the end. Absolutely not."
Ten Hag tossed their foursome talk to the side, saying their only focus was on Wednesday's FA Cup fifth-round draw with West Ham at Old Trafford.
Still, the former Ajax boss knows a thing or two about fighting on multiple fronts, and he believes the excitement of playing every few days can keep one side going.
When asked if players found extra energy from winning games and trophies in a run like this, Ten Hag replied, "Very good question. It's true.
"In my experience at Ajax, the levels dropped when we left Europe. It's energizing when you're inside."
United have already played 40 games in a season that is unlike any other due to the winter schedule of the World Cup in Qatar.
There's potential for another 25 games to be played – just one of the club record of 66 in 2008-09 – but Ten Hag is confident they have the deep power to survive the show.
"Yes (the team can handle it)" he said. "I think so because we've handled it pretty well so far and I think we can do it until the end of the season. I'm happy.
"So, except Anthony FightAll players have availability.
"First of all, they are really ambitious mentally. It is something and it gives energy.
"Secondly, I think we have the kind of players who can handle the load, the physical load."
The aforementioned Martial was a key part of the preseason and United manager's plans for the season, but an injured campaign limited him to just 14 games in all competitions.
The French forward is currently being overlooked due to a hip complaint and Ten Hag are unwilling to say whether the forward will be able to play before the international break in March.
"I hope so, but I don't have any expectations about it," he said about his return date. "Let him do his job. A few times he does back off very quickly now and then, so give him time.
"Of course he agrees with me, but we're doing really well with this setup right now.
"When it's available, we have an extra option and a good one. Then we'll be happy because hopefully we'll have an extra quality option for the rest of the season."
Martial's troubles compounded the dramatic departure of Cristiano Ronaldo, and Wout Weghorst arrived on loan from Burnley in January and United brought a surprise change.
Marcel Sabitzer later joined on a last-day loan following Christian Eriksen's ankle injury, but it's not for Ten Hag to talk about extended stays at this point.
"I think it's too early, too early to talk about that," he added.
"For one, we are in this season. This is where the focus should be alone. There's nothing to distract from what's going to happen next season."