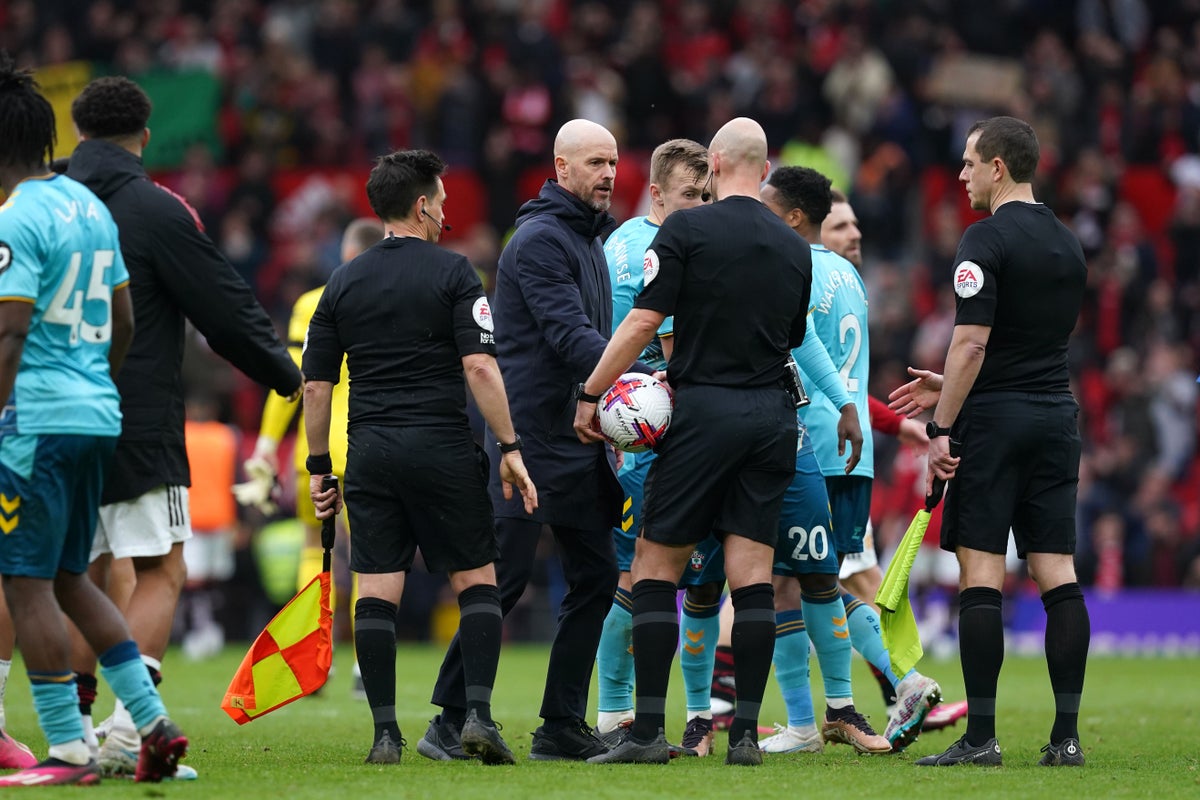 Plum skin Witch Furious about inconsistent refereeing after Casemiro's second red card in five weeks Manchester United holding on to a point against Southampton, which has hit rock bottom.
After beating Liverpool 4-1 in the Europa League and beating Real Betis 7-1, the Red Devils had to show their character again.
Casemiro VAR Andre Marriner was sent off in the 34th minute after advising the referee Anthony Taylor To review the fight over the Saints midfielder carlos alcaraz on the fieldside monitor.
Ten Hag was angry at this decision and demanded punishment – a possible foul from Kyle Walker-Peters and a handball claim against Armel Bella-Kotchap – as United went deep to fend off Southampton's impressive threat with a tough 0-0 draw.
Upon Casemiro's dismissal, the United boss said, "Inconsistency (meaning) players no longer know what politics is."
"I think everything is clear. I mean, you see Leicester-Chelsea yesterday, then VAR doesn't kick in.
"Today he comes to the line and then there are two penalties but they do not come to the line.
"I think the first one in particular was clear and obvious handball to me, but what is politics?"
Ten Hag said he had "some questions" about refereeing on Sunday, when Casemiro received his second red card as a United player.
The 31-year-old saw the red for the first time of his time in Europe's top leagues in a 2-1 win against Crystal Palace last month and is now facing a four-game ban.
"There's another one that's inconsistent," Ten Hag said. "Refereeing comes with the policy of 'we are the Premier League, we are strong here, we want intensity' at the beginning of the season.
Casemiro plays in the European leagues, has never received a red card in over 500 games and has now been shown two red cards.
"He plays hard but he plays fair, he plays fair in that too. It's the same as Crystal Palace, so it's very controversial.
"It looks bad when you freeze it, but anyone who knows anything about football, who plays the best football, knows what is bad and what is not, what is fair.
"I'm telling you that Casemiro is a really fair player. It's tough but fair and he's shown 500+ games in the big leagues, he was never sent off.
Casemiro understandably sighed, and Ten Hag said "we have to think about it overnight" how we're going to play without him in the next four home games.
When asked if Ten Hag would appeal a decision that resulted in United playing the best part of an hour with 10 men, he replied "we'll see".
"Once again, this team showed great spirit, team spirit, good fighting spirit and supported each other," said the Dutch player, who underestimated Alejandro Garnacho's injury after he was seen leaving Old Trafford with a boot on his right foot on crutches.
"I think we played really well with 11 and 10.
"We played during the week, they didn't play. We were 10 and we defended well, counterattacked well, attacked well, had good opportunities.
"Bruno (Fernandes) goal from the post. Of course I also saw their shot from the post and that was a mistake from us on the counter from a one-on-one corner when David (De Gea) saved.
"But overall the performance was pretty good, then you'd be disappointed because you only got one point."
The Saints shared this disappointment after Ruben Selles' side-fight to beat the fall failed to turn a largely dominant performance into a victory.
"We're taking the game in two parts," said the Southampton manager. "The first part is about the result. We are not happy. We're talking about coming here and winning the game and trying our best to win the game.
"That's what we did, so we're not happy with the point.
But we are really happy with the performance we put on the field and we showed our character against 11 against 11 and against 10 people.
"We showed who we are, the principles we have in our game, and we saw a team working together, wanting to be together, wanting to get something out of the game.
"So I'm disappointed with the score, but I'm very happy with the performance."