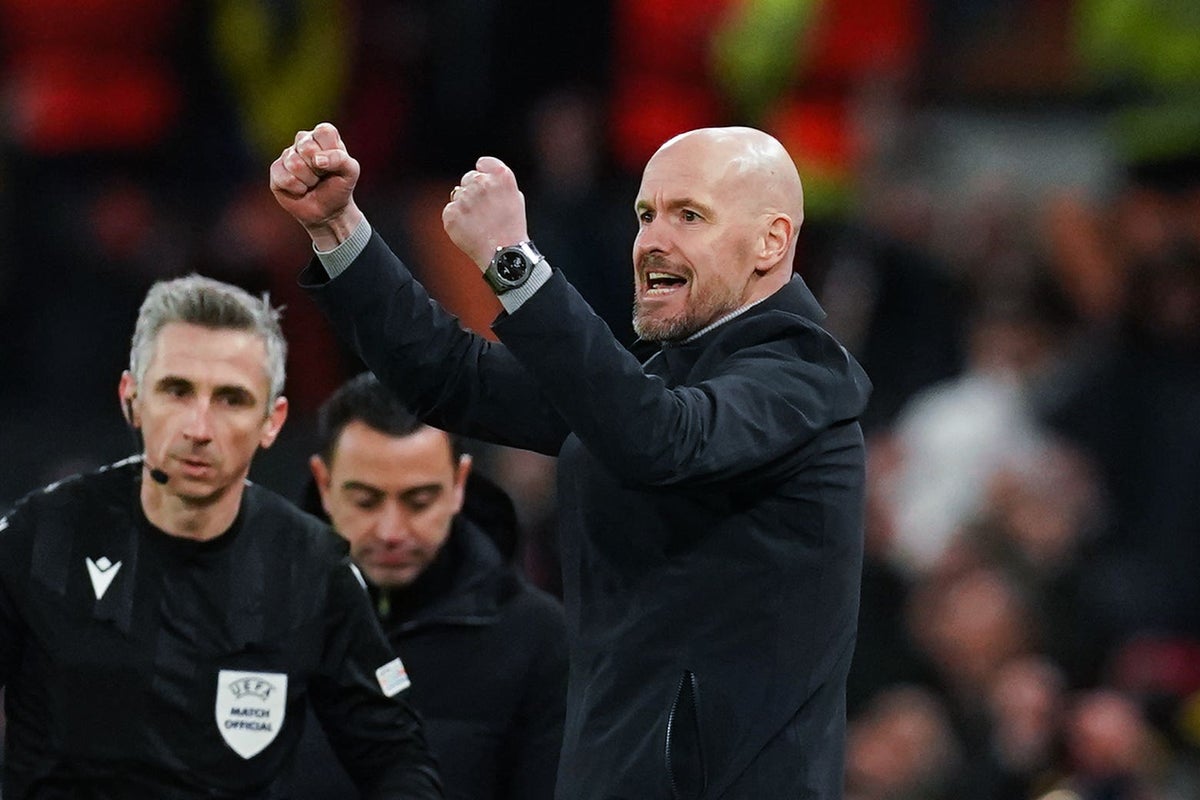 Manchester United boss Plum skin Witch sings of his side's exciting comeback victory against Barcelona Europa League It shows that they can beat anyone.
United looked like they were heading back to the Spanish opposition from Europe when Robert Lewandowski's halftime penalty put Barca up 3-2 on aggregate and took control of Old Trafford.
But I saw a beautiful revival fred to equalize before the halftime change after only 82 seconds of the second half Antony He drove the home fans crazy with a hit at the 73rd minute to seal a 2-1 win over the night and a 4-3 overall win.
The victory, which sent United into the last 16, sees them still competing on four fronts and is the perfect tonic ahead of Sunday's Carabao Cup final against Newcastle.
Barca are the runaway leaders in LaLiga, which leads Ten Hag to believe their team can match anyone in Europe.
He said it was a wonderful night. "I think it's great when you can beat Barcelona eight points ahead of Real Madrid in LaLiga and we saw Real Madrid playing this week.
"We have the potential to beat big teams, we showed that we can beat City, we can beat Arsenal, we can beat Liverpool. If we do the right things, if we follow the rules, if we follow the principles, if we show discipline and team spirit, I think this team will achieve a lot.
"You need a strategy to build it, but you also need results to get that strong belief. I think it's another step because when you can beat Barcelona, ​​one of the best teams in Europe right now, your faith can be really strong because then I think you can beat anybody."
It was a big moment for Antony, who was introduced at halftime after recent criticism of his performances.
But her arrival helped change the game, and the Ten Witches know what she brought with her.
"I know you can handle this," the Dutchman said. "He's brave, he's fearless, so I think what he brought in the second half was what we needed, running from behind and dribbling and scoring.
"He's brave and will go for it and attack when he gets the chance. He adds a lot to this team."
In the first half, Barcelona drew one leg in the last 16 and controlled the first half, but only Lewandowski was penalized for that.
They couldn't keep up with United's intensity after the break, but the boss Xavi It didn't disappoint very much.
"I think we lacked that composure and patience, we started the second half very badly, we were dominating and controlling the game," he said.
"We needed more patience and more game management, we lost some duels and fine details in the second half.
"We could have been more intense, we lost a few duels but for me we were a bit lacking in our game. We were without Gavi and Pedro and you saw the difference in the second half.
"Overall, we can be proud of how we compete against a really big side and how we show our face. It's a shame because we had an excellent first half. Now we need to concentrate on the league and the cup."