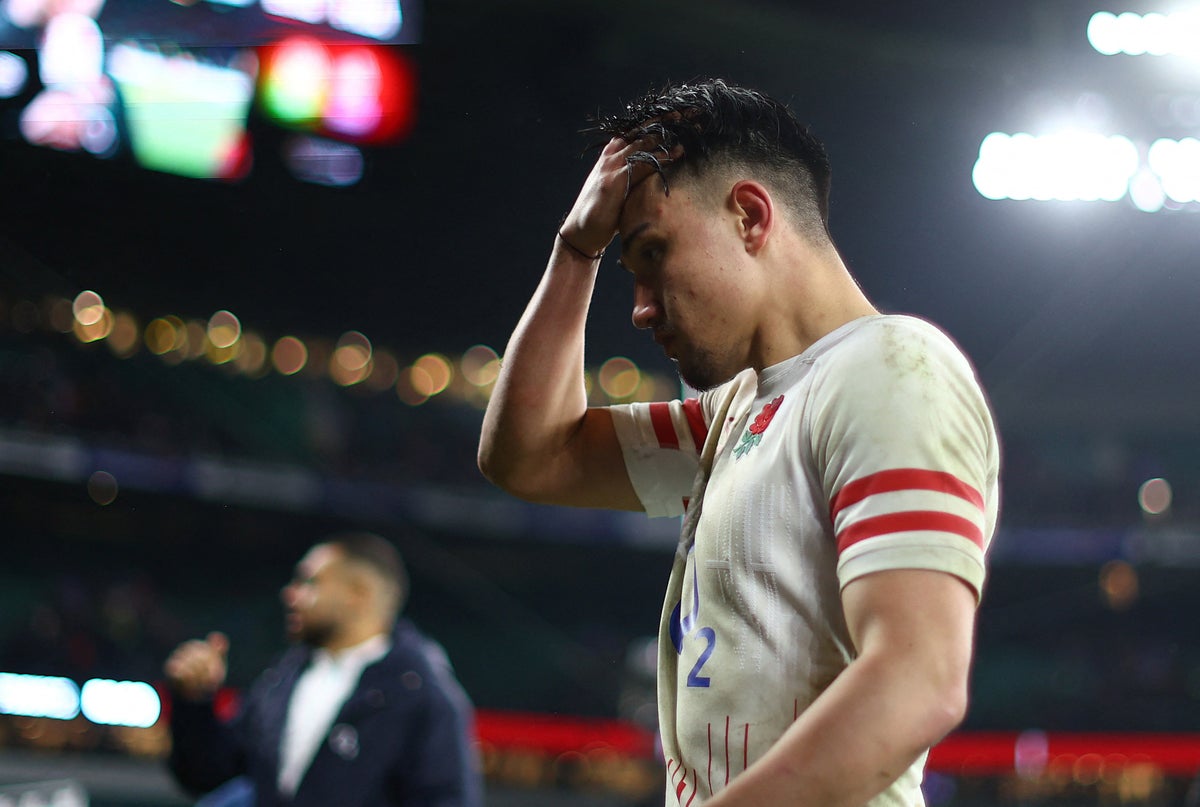 If there was a nagging feeling England's previous two wins against Italy and Wales had covered some of the cracks in this restructuring. Steve Borthwickthen the most humiliating day in Twickenham history tore them up, revealing the shameful core underneath.
Never before in 152 years of international rugby match had an England team suffered such a heavy defeat at home. France defeated South Africa 42-6 in 2008, beating the hosts 53-10 to humbly remind Borthwick's men exactly where they stand in the standings just six months after a World Cup.
As a reminder, France They're not even the best team at this Six Nations. That split belongs to Ireland, and luckily the UK is heading to Dublin next week to complete its campaign. Get your calculators ready – based on this performance, the 76-0 loss to Australia in the 'round from hell' 1998 might be under threat.
England were in shambles as their opponents dominated every aspect of the game and scored goals seemingly at will. All of Borthwick's reputation as a former England captain with an impressive coaching résumé early in his career and an outspoken man, ideal for following the drama of the unpopular Eddie Jones era, has likely eroded. He'll need to find the answers quickly because another show like this and knives is coming soon.
The gray, bleak skies mirrored England's performance, and if this were a British GCSE article, the opportunity to say that the rain hitting Twickenham was a pathetic misconception reflecting England's mood would be too good to be denied. Certainly, the positives of the previous two games were wiped out in a fright in the first half.
The guard Freddie Steward was the only Englishman to come out of the opening guard with any reputation, as a few exploding kicks helped clear up early pressure, and his tryout after a strong carry in the second half wasn't more than his performance deserved. However, as it sums up the futility of England's day, even he was surpassed by Romain Ntamack in structuring another France try in the second 40.
The pre-match talk was on Borthwick's decision to start. marcus smith instead of half flight Owen FarrellIt's unlikely that the England coach will be any closer to knowing if this is the optimal setup going forward. The Harlequins quarterback showed the athleticism glitches we've come to expect; Passing several halftime and French defenders, he offered compelling glimpses of what his explosive skills could provide in anything resembling a functioning attack.
Instead, England couldn't get out of their way, as the loosest performances in the first half ensured the match ended as a 40-minute competition. It didn't matter if Smith, Farrell or first-class Jonny Wilkinson wore the number 10 jersey, no one could have driven this infamous version of England into a winning show.
The British pack was consistently dominated from minute one. Don't take anything away from the French back line of François Cros, Charles Ollivon and Gregory Alldritt, they were all fantastic, but met minimal resistance as the home forward passed.
Ollivon was effective on the first try, with just three minutes left, with his quick break and his glorious dumping on Thibaud Flament eventually allowing Ethan Dumortier to pull the last defender and send Thomas Ramos for a simple match.
Scores second and third saw it all come together, firstly – after Antoine Dupont's excellent 50:22 box kick that provided his side of the scrimmage line – the flock made their way forward and allowed Flament to topple. Then, at halftime, Les Bleus's attack smashed England's front row, Alldritt had an acre of room on the blind side and loaded onto Ollivon to try. The 27-3 deficit England faced at the timeout was the largest in the fixture's 117-year history. If Britain had hoped this would be the lowest level, they were sorely mistaken.
Alldritt and Cros, in particular, minced the opponent at the time of the breakdown and earned a ruck penalty after crossing the top of the ball, as they went over the top of the ball much faster than their English counterparts.
With a lot of backwards moving, England had very few quality balls, but when they did, the rears always squandered the ball. As it rained and conditions got slippery, the bumps were a depressingly regular sight. Anthony Watson poured a high ball just outside his own 22, with Jack van Poortvliet failing forward on multiple faults and making a skilled 22 entry right after a blocked shot.
Van Poortvliet – who was asked to play the part Danny Care played for the Harlequins – to bring out Smith's full potential – went on to Six Nations. A box kick sliced ​​deep within his own half after 15 minutes after demanding players join the run to create the protective pips epitomized his lack of invention and the bug-ridden nature of his screen.
He was caught by Borthwick in just five minutes of the second half, and by a cruel twist of fate, his replacement Alex Mitchell threw the ball perfectly at a scavenging Commissioner for England's only try. The only bright spot on the darkest days. Former club coach Borthwick rightly believes in the talented young Number 9, but Van Poortvliet's recent performances suggest that Mitchell will likely start the final against Ireland.
Steward's score did not signal any reversal. Instead, Flament went for his second try, Ollivon cleverly knocked the ball down after England was driven back over his own line, and Damian Penaud swam twice from the right with a questionable interception to get the score over 50 and complete the humiliation.
The turmoil England found itself in was neatly summed up when backup hooker Jack Walker was forced to replace Ollie Lawrence in the middle of the second half when there was no proper support left. Number 8 Alex Dombrandt played as a kind of winger and went to the back line. He was the man to miss an interception at Penaud for the French flyer's first score, but if it's a coach's job to put his players in a position to be successful, then Dombrandt may rightfully be frustrated by Borthwick. Something went horribly wrong when he was left one-on-one with one of the most prolific wingers in world rugby.
It was almost unfair that this was Ellis Genge's debut as captain – a permanent black mark on his international career, in fact, it wasn't really his fault. There was little he could do to stop the tide of embarrassment and referee Ben O'Keefe's management was generally good. Even the most scrupulous critics, who say that England should kick the points early 10-0 rather than go into the corner and turn the odds down, have to admit that it was irrelevant in the final showdown.
Where is England going from here – who knows? Well, the real answer is that Dublin has to face the unstoppable power of the world's #1 team in seven days, but much bigger philosophical questions arise and it's hard to believe they know the answers.