Key events
Half time: England 1-0 Norway
The Lionesses were not at their best, with Norway causing plenty of problems on the break – but they took the lead after Rachel Daly's header on the break. I'll be back soon.
44 minutes: Engen cleared Chloe Kelly's cross for a corner. A delivery flies over everyone, Bright tries to return it to the danger area, and a foul by Parris ends the first half.
42 minutes: We're approaching half-time, with Norway's defensive game plan somewhat compromised by the goal conceded.
40 minutes: Ella Toone, playing a deeper role than usual, tries to pick Parris and jumps in place in frustration as her pass is cut.
"Anyone else surprised to see Salmon on the England bench but not on the Norway bench?" Peter Oh asks.
37 minutes: A switch between Kelly and Parris worked wonders, with the latter turning outside her marker to cross for Daly, who nods under pressure.
36 minutes: Wiegman will feel better after a rocky first half-hour, with Daly almost making it two, her deflected shot skimming wide and Mikalsen looking uncertain.
Norway looked the more likely, but here they were undone by a great ball into the box from Chloe Kelly. Daly anticipates this, steps over his marker and heads wide of Mikalsen!
GOAL! England 1-0 Norway (Daly 32′)
England took the lead, and Rachel Daly scored again!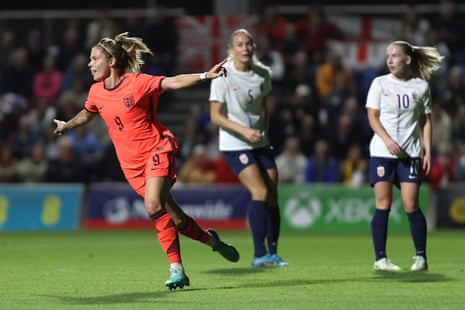 31 minutes: Haavi, who plays her football with Roma in Serie A, causing problems for Le Tisser on his debut. She breaks free from the right-back again and crosses dangerously into the square, only for the ball to slip past Eikeland in the middle. Naalsund has time to shoot from the edge of the penalty area, but her attempt goes wide.
30 minutes: Kelly switches to the right flank and her searching center falls over Parris and Daly in the middle. He responded to James, whose shot from 20 meters pierced Mikalsen's palms.
28 minutes: England now try to press the Norwegian defenders in possession and almost succeed here as Keira Walsh takes the ball away but can't find the right pass forward.
26 minutes: Norway are happy to sit back and let England try and find holes, and after Kelly and Daly link up on the edge of the area, Parris finds himself out of options and surrounded by white shirts.
24 minutes: Most of the game was played in Norway's half, but Hege Riise's team had two clear chances. They almost created another here with Engen finding Lisa Naalsund, but the striker chases down her shot from distance.
22 minutes: Norway broke away there though and should really be ahead! Haavi beats Le Tissier on the left and cuts down Guro Reiten, reaches the area – but her side-footed shot goes wide of the far post.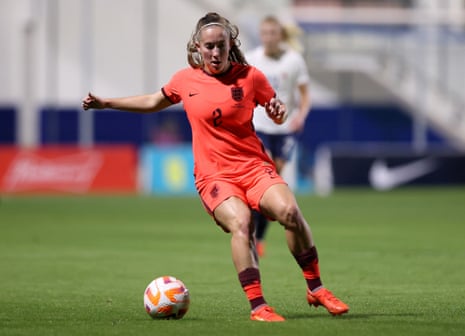 21 minutes: England continue to turn the screw, Parris advances again before Le Tissier swoops in to stop Norway's break…
20 minutes: Nikita Parris scrambles with Harviken on the edge of the penalty area, but the defender comes out with the ball.
18 minutes: Maya Le Tissier and Parris link up well down the right flank, and another nervy Norway kicks out Lauren James. Nikita Parris sends his shot pretty far from a tight angle and replays suggest James should have been penalized for handball.
16 minutes: Bright starts the attack by moving the ball forward, before Kelly's cross towards Daly is swept past the keeper.
14 minutes: Kelly's pass is intercepted and played back to Mikalsen, who is under pressure from Daly and sees her clearance bounce off the striker, but deflects wide.
12 minutes: England now control possession better, keeping the ball mostly in the opposition half.
11 minutes: First corner for England, but nothing of the kind.
9 minutes: England, meanwhile, are lined up in a 4-2-3-1 formation, with Ella Toone in central midfield and Nikita Parris on the right and occasionally pushed to join Daly.
8 minutes: Ingrid Engen returns to form a back five for Norway, and that helps contain England's attacking line-up so far.
6 minutes: Another Norwegian attack ends when Haavi misplaces an ambitious shot from the edge of the penalty area. However, they made a better start.
5 minutes: Norway are ready to test England's high line and Bright must be ready to prevent Reiten from breaking through on goal.
4 minutes: England went forward for the first time but Nikita Parris was marked in the backfield.
3 minutes: The corner bounces around the box for a moment, before Millie Bright gets a reliable boot to the ball and clears it away.
2 minutes: An early chance for Norway as Reiten's ball catches the English defence. Emilie Haavi goes through on goal but Roebuck saves her shot well near the post and Maya Le Tissier gets back well to put pressure on the striker.
Let's go. England are in their divisive pink and orange kit, with Norway in white shirts and navy blue shorts.
Before we start, both captains pose for a photo with assistant referee Marija Sukenikova. The Slovak official is retiring after 20 years of playing, and before the start of the match he was presented with flowers and a personalized England shirt.
Both teams sing anthems, in front of a raucous crowd – lots of English flags and Viking helmets. Kickoff is imminent.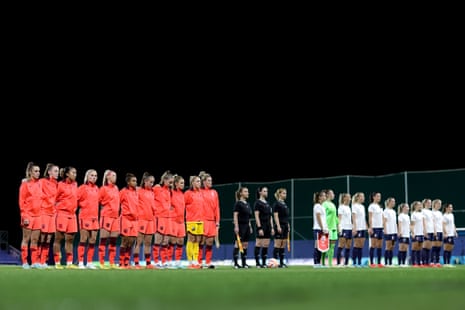 Norwegian coach, Hege Riise, gives his thoughts before the match: "It's fun for us, we have to play with the best teams – it's a good challenge for us. I'm happy, it was nice to see people [from her England days]. They have quality players, a good culture, they support each other on the field."
Frida Maanum and Julie Blakstad are on the bench tonight, while Ada Hegerberg, Maren Mjelde and Caroline Graham Hansen are absent. "The team worked well [in Friday's 2-1 loss] against France, so it's more about seeing the players I need to see. I'm focused on the players I have."
If you would like to receive our excellent women's soccer newsletter, Moving the GoalStaps, delivered to your inbox every week, just sign up below. The next edition comes out tomorrow…
Rachel Daly gets a chance in attack for England tonight, reward for a good recent run of goals – eight goals in 10 games for club and country. The Aston Villa player was in the position of left back during the Euros, and right back against Japan.
"I'm happy to play anywhere, as long as I can pull on a shirt and play," she tells ITV. As Ian Wright points out, the number 9 position vacated by Ellen White is still open, with Lauren Hemp and Alessia Russo recently playing in that spot.
Some recommendations for watching before the game:
England (4-3-3): Buck; Le Tissier, Bright (c), Greenwood, Charles; Walsh, Toone, James; Parris, Daly, Kelly.
Subs: Earps, Stanway, Zelem, Morgan, Salmon, Park, Russo, Robinson, MacIver, George.
Norway (4-3-3): Mikalsen; Bjelde, Bergsvand, Harviken, Sønstevold; Naalsund, Engen, Reiten (c); Eikeland, Haug, Haavi.
Substitutes: Pettersen, Lund, Maanum, Blakstad, Thorisdóttir, Bøe Risa, Skoglund, Ildhusøy, Lindbak Hørte, Terland, Jøsendal, Sævik.
Below is England's starting lineup, with Lauren James starting, Manchester United's Maya Le Tissier making her defensive debut and Ellie Roebuck in goal. Beth Mead is not on the team tonight as she flew home early for family reasons.
England play their final game of 2022 tonight at the Pinatar Arena in southern Spain, ending a calendar year that has exceeded all expectations. The Lionesses are still unbeaten under Sarina Wiegman, winning 16 and drawing three of their 19 games this year – a run that includes a historic home triumph at the summer Euros.
While the dramatic extra-time victories over Spain and then Germany in the final will remain in the memory for a long time, the defeat of Norway in the group stage was the first to show what this English team is capable of. 8[EIGHT]The -0 win sent shockwaves through the women's game – not least in Norway, where coach Martin Sjödgren was quickly shown the door.
His replacement is a familiar name to England fans – Hege Riise, the interim coach who began picking up the pieces after Phil Neville's departure and also managed the Great Britain team at last year's Olympics. Wiegman expects to face a much stronger Norwegian defense tonight and may see this game as an opportunity for England's new attacking talent to show what they can do. Kick-off is at 19:00 (GMT), and team news will follow.