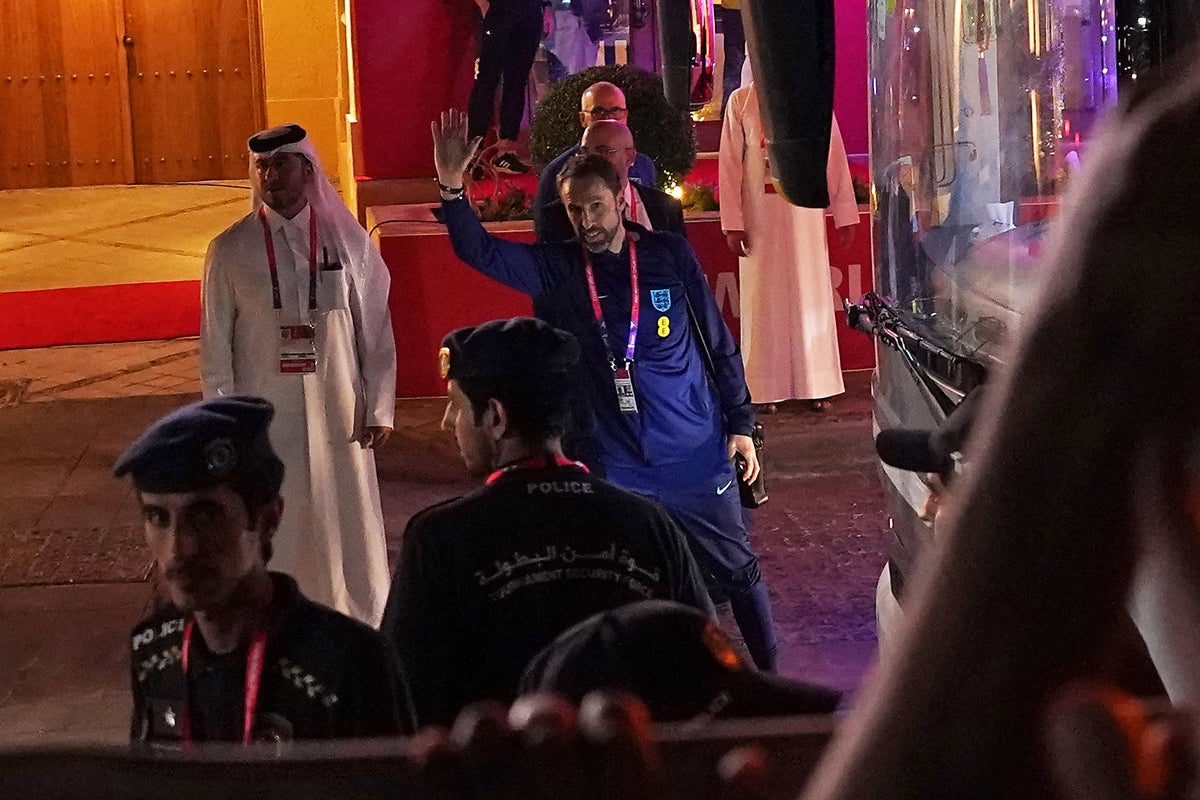 Gareth Southgate waved to excited fans as he arrived at the World Cup base to step up England's quest for a Qatari victory.
Three Lions, who finished second in the European Championship last summer after reaching the semi-finals in Russia four years ago, is among the favorites for the victory in the Middle East.
Southgate's 26-man squad just came out of a Premier League break at St George's Park on Monday and flew to Qatar on Tuesday after a stormy day of duty.
England flew a plane called 'Rain Bow', which is remarkable considering the host country's oppressive laws and treatment of LGBTQ+ people, and landed in Doha around 20:00 local time.
The Three Lions were passionately welcomed by several hundred people in the coastal city of Al Wakrah, which they hope to make home for the next four weeks.
England stays at the five-star Souq Al Wakra Hotel on the Persian Gulf coast, where fans teem with replica jerseys and fly St George's flags.
"Coming home" and the less familiar "Gareth Southgate super coach" were among the cheers of fans, mostly of Indian descent.
Fans vehemently rejected any suggestion that they were paid by the organizers to welcome the team.
"We weren't paid," said one fan, who wanted to remain anonymous. "Even if someone offered us money to love England, we'd rather tell them to fuck off."
Another backer cited the 'UK Fans Qatar' group on WhatsApp, which has 535 members. He said five more similar conversations were going on.
Fans have said their support for England stems from their love for the Premier League, citing the likes of former stars Wayne Rooney, David Beckham and John Terry.
The current roster received an enthusiastic welcome when they assembled. A barrier erected within the main fence quickly fell as fans rushed to see their hero.
Southgate waved to the waiting fans from the bus and came over to thank them for coming.
England will begin training at the nearby Al Wakrah SC Stadium on Wednesday after leaving their home base in St George's Park, where Harry Kane spoke about the band's delight in competing on the world stage.
"I'm excited, the World Cup is a special event," said the captain.
"I think for most pros it's the biggest tournament you can play as a player and I was lucky enough to do a tournament and it was one of the greatest experiences of my life.
"(Fan support) is going to be tremendous. I remember when we were in our own little bubble in Russia.
"We've seen all the videos from home go crazy, it makes a huge difference, it motivates us to succeed. We want to make the fans proud and happy.
"Of course there will be someone in the stadiums, we always have great support but most of them will be at home and we want to make them proud."
England opened Group B against Iran on Monday, before the US and their neighbor Wales took over.
That means a whirlwind return from club action and the need to quickly acclimate to the weather in Qatar, with temperatures in the thirties throughout the day.
"This is something we need to be aware of, we're playing on Monday and it's going to be a really important game," Kane told Lions' Den on England's YouTube channel.
"Everyone is fit for the game and ready to go, we should be ready on Monday."