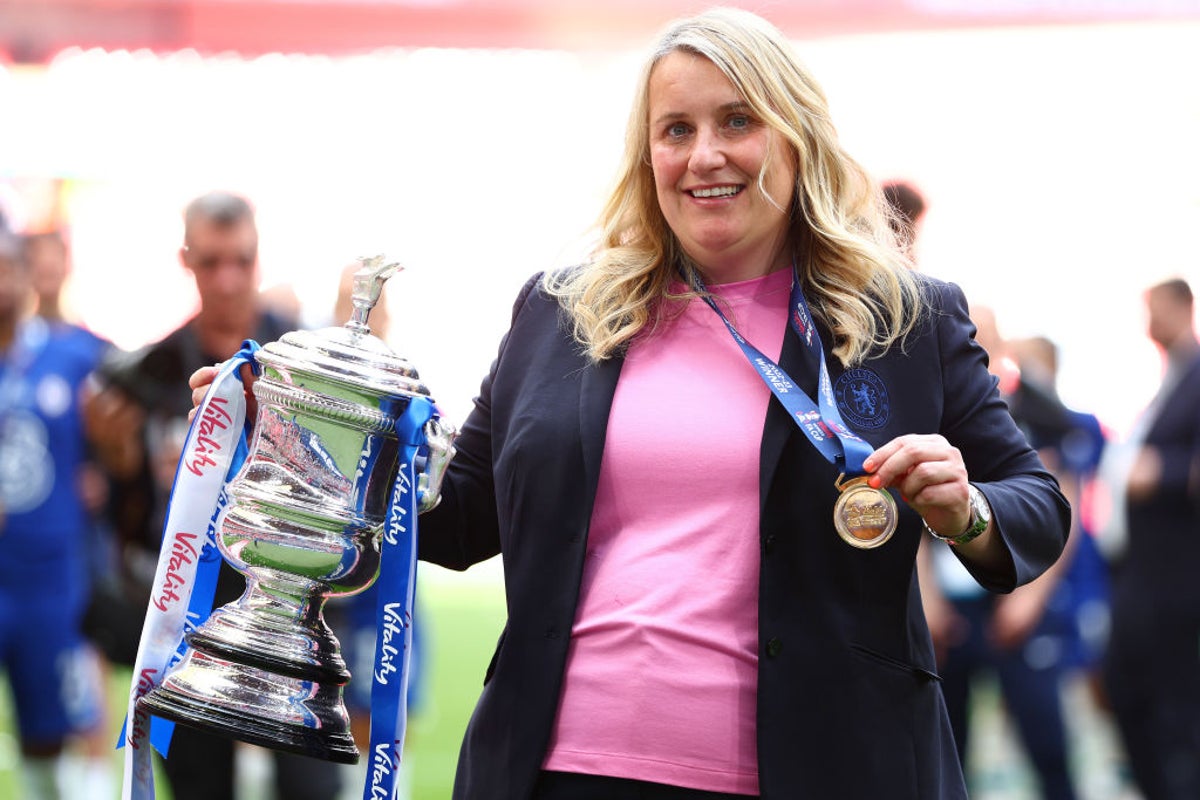 Emma Hayes dedicated her team's victory in the Women's FA Cup final to: chelseaNew owners and supporters after admitting that the club has "suffered" this year.
Chelsea beat Manchester United Thanks to the winner at Wembley, Sam Kerr, who scored his third consecutive FA Cup victory for the Blues. Hayes' team could add a fourth straight Women's Super League title if they win their remaining three fixtures.
The men's side, meanwhile, had a miserable season – having sacked two managers at Thomas Tuchel and Graham Potter, while guard boss Frank Lampard has only had one win and one draw in eight games since taking office.
She pushed Chelsea to finish in the Premier League in the final half, but Hayes said the women's side's continued successes have instilled a sense of pride in the club, including co-owners Todd Boehly and Clearlake Capital's Behdad Eghbali.
Hayes said: "I am a football fan and have seen how much this club has suffered with ownership changes this year and the men's team is not very bright. Chelsea fans, this is for you.
"I hope we've given you something to smile about, including the owners."
Hayes praised the mentality of their players after a long season with Chelsea fighting on many fronts. Hayes admitted Chelsea's halftime performance was one of the "worst" performances he's ever seen in the FA Cup, but his side improved after the hiatus and the introduction of Pernille Harder and Sophie Ingle.
"Don't underestimate how difficult this is," the manager said. "It's very impressive. We dig, we dig and we dig. We grew in the second half. A great team came together.
"I think our team is in a transition period with six different players until last year's final. The important thing to me is, 'How can we continue to win while transitioning?'
"So this is by far my most memorable FA Cup final this year, as we try to turn as many players as possible into opportunities and continue to develop their experience in all areas of the court and win knowing we are at that stage."
For the fifth time in nine years, Chelsea scored a flamboyant victory, and it was another game-changing moment from Australian international Kerr, who locked onto Harder's point-and-shoot pass to take home the winner in the 68th minute.
"I have never coached a player like him," Hayes said. "It's the way a player has such beliefs, such confidence, such courage, to attack everything.
"What I love about Sam is that he's willing to take charge of the team at the top of the pitch, but I think it's important to mention Pernille Harder because without Pernille Harder he wouldn't have gotten that goal. So I congratulate the team, the staff."
Additional reporting by PA
[pub1]