"My father told me that I was the one who would lift the family up," says Eduardo Camavinga. He was 11 then; he's 20 now and he's smiling. He is always smiling.
He was in the fifth year of school and can imagine the fire engines driving by. Born in a refugee camp in Miconge, Angola, to Congolese parents, the third of six children, he was a small child when they moved to France: first Lille, then Fougères, a beautiful little town of 20,000 in Brittany where they built a Home. That day it burned down. They had been in it for a year.
They live in Madrid now and he is looking for the word: first in French, then in English, which he speaks with Antonio Rüdiger and sometimes helps here, then Spanish. At least he hopes it's Spanish. "Orgulloso? It is, isn't it? Or is it Portuguese? Proud? They are proud of me."
That smile again. "I'm glad my family is happy," he says.
The youngest footballer to play for Rennes, aged 16 years and four months, the youngest to make his debut for France since World War II, aged 17. He came to Madrid as an 18-year-old and was European champion at 19. "I live life as it happens," he says. "I'll think about where I came from years from now."
Through patio doors, the sun shines on the pitch at Valdebebas. In the distance, four giant towers built on Madrid's old training ground look out over the city. On the shelves are photos, medals, old boots, shirts, tickets, ID cards: Alfredo Di Stéfano, Ferenc Puskas, Zinedine Zidane. There are posters from the club's 14 European Cups, even a giant, elaborately embroidered sombrero with Carlo Ancelotti's name stitched in gold thread.
"I'm not going to say it's normal, but I'm here," Camavinga says. "I wouldn't say winning is normal Champions League, but I just enjoyed the moment. I'll think about it more when I'm older: my first year and we won the Champions League. But there is a culture here that you win a lot of them.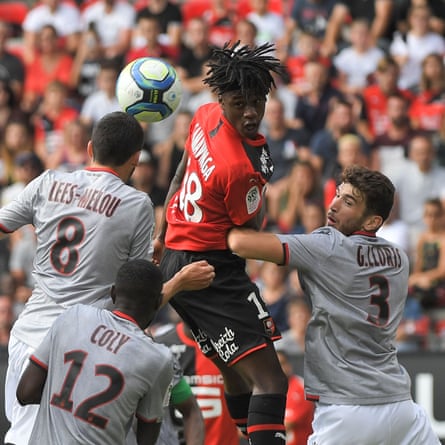 "I wasn't even two when we went to France: I don't remember anything about it and we haven't talked much about it. When I ask…" There is a pause.
"It was difficult in Angola; my family came to France to have a better life. There were lots of wars: that's all my dad tells me. I have seen pictures from when we came to France, some of me still a baby in Angola. My first memory is Lille, then Fougères, then Rennes."
Camavinga describes football as an escape; he believes the hardships the family faced made them stronger and gave him a purpose, a place. "Football is my life," he says. "All the friends I've made in life have been made through football. I got my school diploma thanks to football too. I have so much to thank football for. My mum and dad are proud of me. Partly, I am who I am because of football.
"I started young. But I didn't want to play. At first I just wanted to do judo. My brother did judo and I wanted to be like him. I liked to fight a bit too."
He starts laughing, which he does a lot, and then he brings up his mother, Sofia, and his father, Celestino, which he also does a lot. "I never fought at school but at home. My mother wouldn't let me do judo. She wanted me to play soccer. What do you call it? Fate? It is thanks to my mother – and a woman at school called Fatima."
"There was this competition against another school and I did this roulette and my team won the competition. Fatima talked to my mum and said: 'You have to get him into football: he can play.' The next week she had me on the team.
"When I was a kid it would be: YouTube, 'Zidane skills'. I was Madrid; my brother was Barcelona. And my dad tells me if he thinks I'm playing badly. I know when I get home he'll be waiting and want to talk about it. My mom too. But my dad always says what he thinks."
Celestino's guidance appears often when he speaks. When Camavinga talks about the riches that come with the game, cars and watches and things, he says: "It's not for me and my dad around. If I buy too many things, he will kill me."
Addressing how he never seems to tire, he says: "It's a mental thing: I don't think I'm dead on my feet and I'm not. I can hear my dad's voice saying, 'It's not your body, it's your mind.'"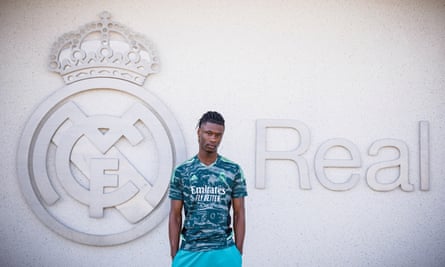 So does he really know the game? Camavinga cracks open. "It depends," he says. "He played in Africa and France. I used to go with him on Sundays in Fougères. He played everywhere: midfield, right wing, forward, every position…"
Left back, like you? "Like me?" Camavinga giggles. He's been called upon to fill in there for club and country, but being good at it doesn't mean you want to end up there. "I can play at the back, but he couldn't. He likes to attack."
Does he miss your discipline? Another burst of laughter. "I can't tell, he'll kill me. He might, but I've never seen it.
"They tell me the truth. On more than one occasion I have not had a good game and thought my mother would say, 'Don't worry, it's normal: you can't always play well.' But my mom looks at me like this…" He pulls a face and cracks. "Oh, man, I'm dead today.
"But it's good that they tell me the truth: that's how I'm going to get better. I don't like it right now. At first I'm angry, but then all my anger comes out on the pitch in a positive way."
Camavinga says that when Ancelotti sent him on against Paris Saint-Germain in last season's Champions League, he asked for energy and made a gesture that said run at them, carry us forward.
It was 57 minutes in, the first change with Madrid 1-0 down, 2-0 on aggregate and he was transformative, impact immediately. He was also everywhere, common to that collection of comebacks. Last season's drive was felt ridiculous. But if you're looking for logic, an explanation, it makes sense to linger a bit at Camavinga.
In their three home games against PSG, Chelsea and Manchester City, he came on with Madrid staring into the abyss; when he left they had.
Here's a statistic, Eduardo. Without you on the pitch: three losses. 0-1, 0-2 and 0-1. With you on the field: three wins. 3-0, 2-1, 3-0. From an aggregate score of 0-4 to an aggregate score of 8-1. He laughs. "I don't know what to say. It's good, it's good."
"But it's just a statistic and I'm just worried about the team. We won, that's what makes me happy. I'm there (on the bench), it's to play. When I go on, it's to help , so I'm happy.
"What happened will stay with me forever. If there's a moment for me, it's Vinis' (Vinícius Júnior's) goal in the final, but it's the whole season, a very, very, very good season.
"People said we were dead. I saw a stat on TV later. It's in The (Manchester) City game and it comes on the screen: 99% City are done, 1% Madrid. People think Madrid are dead, but Madrid are never, ever dead."
The other statistics were this: 89:20, 0-1, 3-5 overall. And then this: 94:14, 3-1, 6-5 overall. Into the final minute, Madrid didn't just need one; they needed three. But that one, from a move Camavinga started, was all they needed, the place suddenly knew.
"The story starts against PSG and after that there is a belief that no matter what happens we can turn things around. Against City we lose, but when Rodrygo scored we believed. Things can happen."
A photo is submitted: fans waiting before the PSG match, large crowds along the way to the Bernabéu. Halfway up a lamppost stands a supporter with "Camavinga" on his back. "I am," he says, laughing.
"I've never seen so many people in my life. I felt like the whole world was there. It doesn't make me nervous – I'm quite relaxed – but it makes you feel like you have to give it your all. Anfield is a special ground, mythical , and it's good to be able to play there at least once in your life. But there's nothing like ours.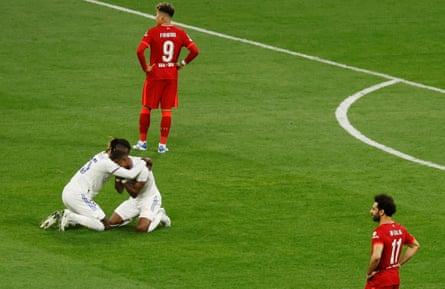 "Afterwards there is a party in the dressing room – Karim (Benzema) does the music – and then the (formal) celebration (at the cathedral, with the city council, in Cibeles). It was my first time so I really enjoyed it. Maybe players who have won five times are a bit tired of it, but I asked Karim: 'Where do we go now? What do we do next?'
"Karim is special to me. Ferland (Mendy) as well. When I first arrived he was the first to give advice. And they tell me straight away if I play badly. Then Ancelotti is very close to us. He has played, makes things fun ."
What is it about midfield, one to emulate and succeed, Camavinga says: "I would love to have a mix of what they have. I love the way Case (Casemiro) defends, the way Luka (Modric) runs with the ball and Toni's (Krooss) passing." And Fede Valverde's lungs? "He's incredible. We did these physical tests and he's the only one left, running all by himself.
"The relationship is good: we are young and we know we are here to learn and the legends know that too. They help us and we young players have huge respect for them."
Ancelotti has described this season as one of transition. "We have to ask the older players for understanding and the younger players for patience," he said.
Is it hard? "It might be because I'm not someone who likes to spend too much time on the bench," says Camavinga. "It's normal. Players want to play. I haven't very much patience. But I know I have to. You watch, wait, be ready."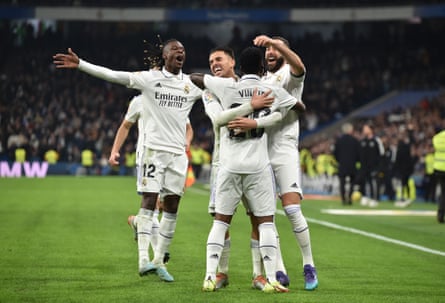 You can always give Ancelotti that stat. 0-4, 8-1, remember? Camavinga cracks open. "No no. I have so much respect for him. I don't tell him that. I'm not going to do that. I have to stay calm and when he puts me on the field do everything I can to play more."
Furthermore, he was decisive last season and now Camavinga is increasingly involved, starting at Liverpool on Tuesday in the first leg of the round of 16. He has started 12 games in a row and played every minute of the last 10, although some have been at fullback.
At 20, time is on his side, even though it's all happened so quickly, he's barely had a chance to reflect on how far he's come. He was too busy living his life, enthusiasm unbound.
"When I'm on the pitch I want to win, but football is my passion so I also want to enjoy it. If I'm not having fun, I won't play well. You have to enjoy it," he says. The smile says more.