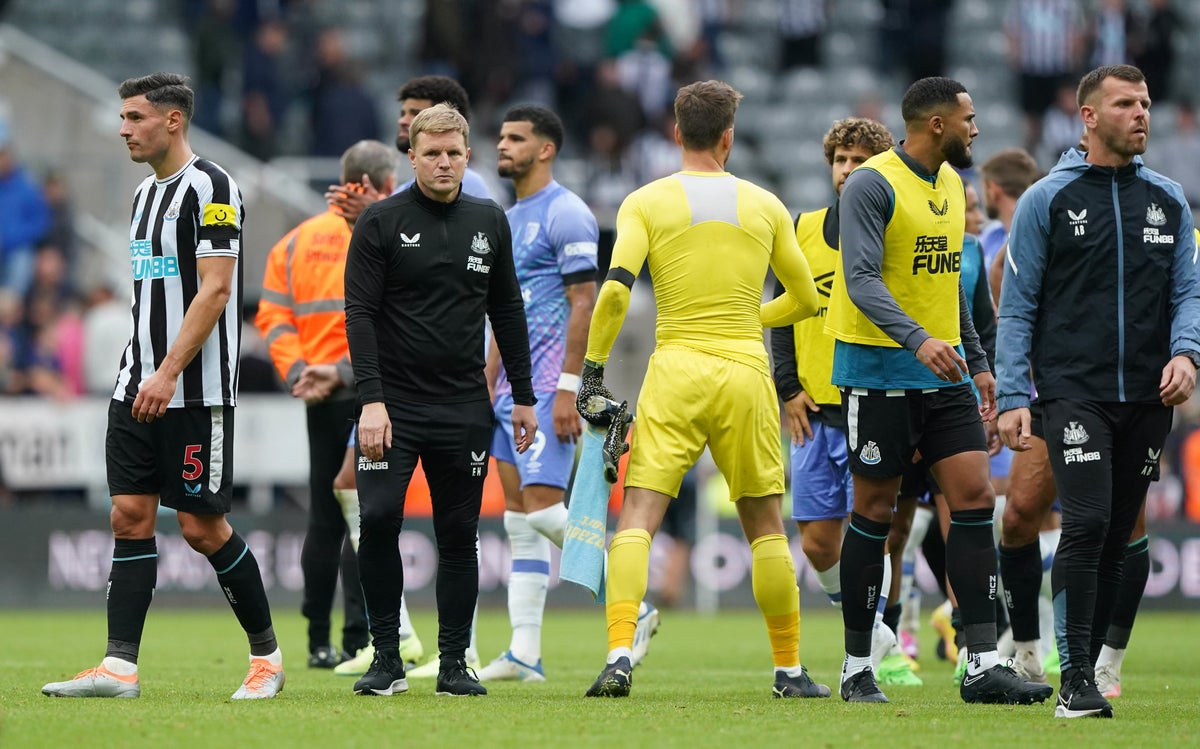 After Newcastle had to settle for a frustrating 1-1 draw against Bournemouth at St James' Park, Eddie Howe made no excuses for his side's below-average performance.
Howe's first game of management against his former club threatened to turn into a nightmare as Philip Billing kicked the Cherries forward in the 62nd minute.
The Magpies were unable to turn their regional positions to luck, but three minutes later they got a lifeline when VAR made a handball call against Jefferson Lerma, allowing Alexander Isak to place the equalizer home from the penalty spot.
Howe said: "Today was disappointing – I thought it was a performance below the levels we set ourselves, and it's probably our first time down this season.
"Right now it's hard to know why – they defended so deeply and it was our responsibility to break them and I felt like we were a little lacking in every aspect of our game.
"It was probably the summary of the last 20 minutes we scored and it looked like we were ready to win, but it left us to decide. It was a tough hour – we could have won the game and it slipped away."
Their draw has left the Magpies looking for their first Premier League win since opening day of the season, but with a single defeat on their record as well, Howe won't panic as he enters the international timeout.
"I think it was a disappointment in terms of points because most of our performances were strong and we deserved more, but the truth is we didn't win those games," Howe added.
"There was a lot of things we didn't do well today but the most pleasing thing is we conceded a goal and we didn't lose the game. There is a lot we can add to the future challenges from today because it's still a bit new for the group."
Bournemouth's guard-boss O'Neil admitted it was a disappointment that his team didn't score all three points, and criticized referee Craig Pawson's penalty decision against Lerma.
"I understand it was difficult and the referee went to the monitor, but I was surprised by his conclusion," O'Neil said.
"Jefferson is in front of the ball and his arm is swinging as he moves, he doesn't look at him. If I had looked at the VAR footage, I wouldn't have given the penalty at that moment. I thought it was tough."
O'Neil stressed that although his star continues to rise after another resilient performance extending his undefeated streak since replacing the sacked Scott Parker, he still has "no thought" about the possibility of taking over on a permanent basis.
"We went to Nottingham Forest two weeks ago and were hit hard by a VAR penalty that put us back 2-0 at halftime and everyone watching thinks the kids are dead and buried," O'Neil said.
"When you go 1-1 today you hear the ground shake and I'm coming so I thought let's see what you have and they stood up. We talked about managing the crowd and atmosphere and they were excellent at it."