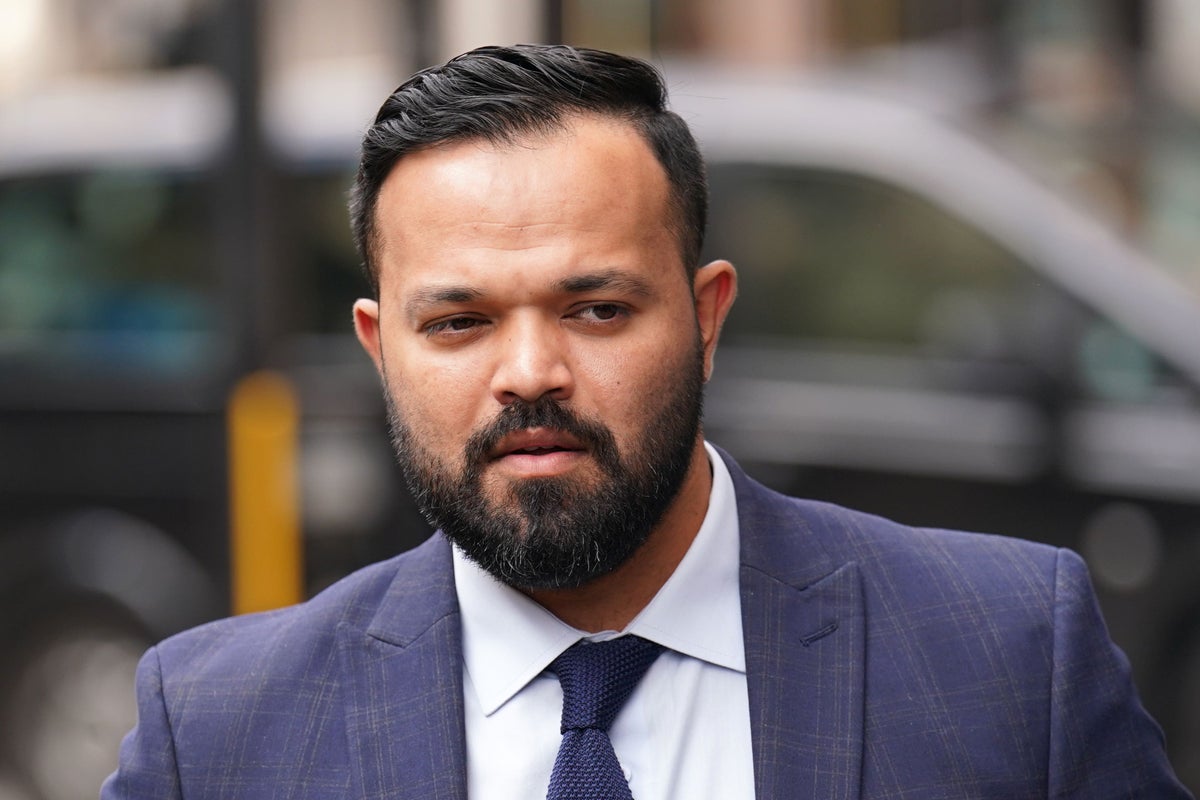 England and Wales Cricket Board denies allegations Matthew HoggardTim Bresnan and others Azeem Rafik they were not invited to be investigated in the racism case.
Public Cricket Disciplinary Commission listens to old racism allegations Yorkshire player Rafiq started London Wednesday morning
Former England captains Michael Vaughan, Hoggard, Bresnan, John Blain, Andrew Gale and Richard Pyrah are facing charges for using racially discriminatory language.
European Central Bank Attorney Jane Mulcahy KC has filed allegations against former British bowler Hoggard, including creating and using the term "Rafa the Kaffir", the repeated use of the word "P***", referring to Rafiq and other players as "you". and the use of the term "CPC" (token black man) for his teammate Ismail Dawood.
Mulcahy then took action to "correct a series of misrepresentations" made by Hoggard, Bresnan, and Pyrah, who, along with Blain and Gale, refused to attend the hearing.
He said former Yorkshire all-rounder Pyrah had "never been accused or questioned of any particular point of racism against me during the ECB investigation". I later learned that I had been accused by the ECB of points of racism that I had never heard of or questioned before'.
Mulcahy explained that the ECB wrote a letter to Pyrah on February 9 last year and received a response on February 20 with "some important details".
Mulcahy said Pyrah later requested an April 8 interview in which the allegations were leveled.
Former all-rounder Bresnan also claimed not to have been interviewed and said "without speaking to me … they blamed me", the ECB insists it is "clearly false" as it has a transcript of the interview.
Hoggard made a similar claim, saying that the ECB "was given the opportunity to respond in writing to the allegations before informing the ECB that it has no intention to respond any further."
Hoggard claimed the ECB "refused to provide evidence", but the governing body insists this is false, stating that it "provided defendants with hundreds of documents and voluntarily waived privilege on all communications it had with non-witnesses." these transactions".
The ECB also stressed that the five people who did not attend the meeting withdrew from the process, "refusing the opportunity to challenge Rafiq's allegations."
Rafiq, 32, first spoke about his experience of racial abuse and bullying during two spells in Yorkshire in 2020.
The ECB filed charges against seven individuals and Yorkshire in June last year, and Rafiq was able to take the case publicly by an independent board (CDC).
The trial against Vaughan was confirmed to begin on Thursday. The former captain of England denies the accusations.
Another former actor, Gary Ballance, has already admitted to an accusation of using racially discriminatory language. Yorkshire also pleaded guilty to four charges.
The CDC panel consists of former Derbyshire batsman Tim O'Gorman (chairman), Mark Milliken-Smith KC and Dr Seema Patel.