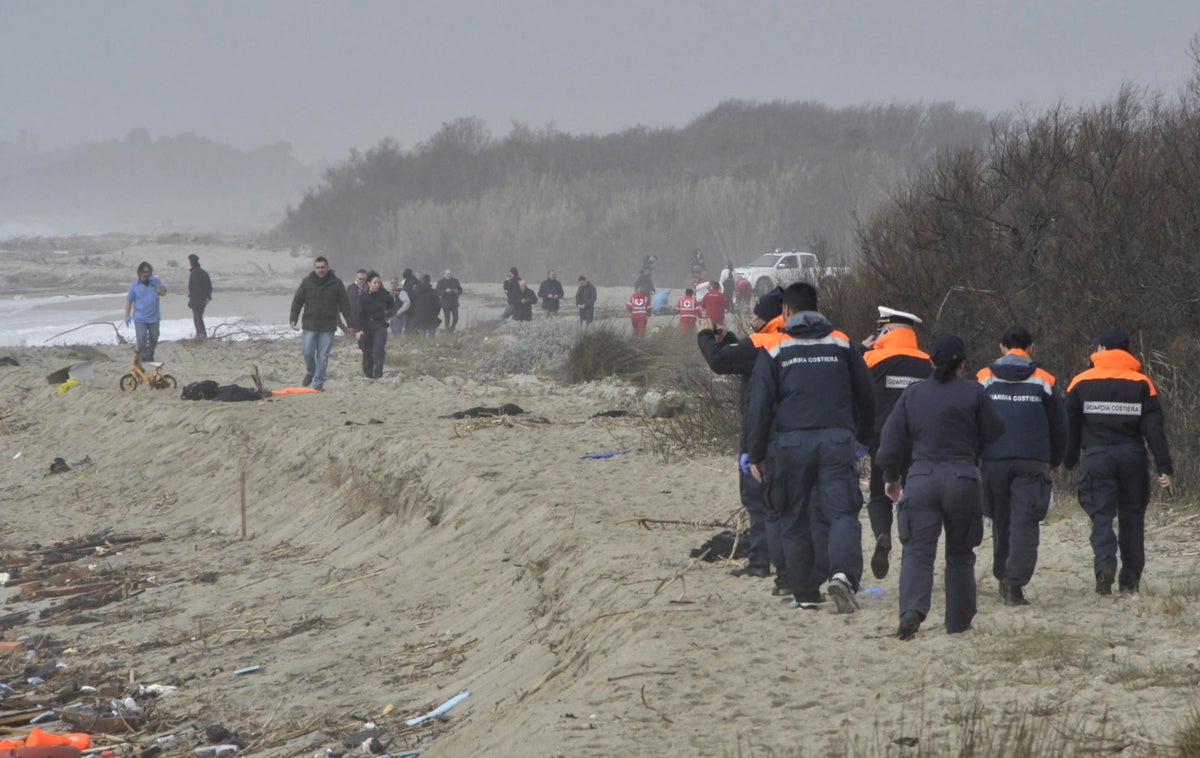 Dozens of bodies have washed up on a beach in the south Italy after a suspected migrant ship.
A boat with hundreds migrants broke apart in rough seas off the southern coast of mainland Italy on Sunday.
Reports indicate that the bodies of around 33 migrants have so far been seen on the shores of Steccato di Cutro, a seaside resort in the province of Crotone, the tip of the Italian peninsula, while more have still been seen in the water.
Italian Prime Minister Giorgia Meloni expressed her "deep sorrow" over the tragedy and vowed to stop irregular sea migration to prevent more deaths.
"Prime Minister Giorgia Meloni expresses her deep sorrow for the many lives cut short by human traffickers," a statement from her office said.
"The government is committed to preventing (migrants') departures, and with them the development of these tragedies, and will continue to do so, first and foremost by demanding maximum cooperation from (migrants') countries of departure and origin."
Italian news agency Lapresse quoted unidentified rescue officials as saying there could have been as many as 180 people on board.
In a statement, Italian Interior Minister Matteo Piantedosi said: "It is an enormous tragedy that demonstrates the absolute need to act decisively against irregular migration channels."
He went on to say it was "necessary" to stop sea crossings which, by offering migrants the "illusory mirage of a better life" in Europe, enrich traffickers and "cause tragedies like today's."
The scale of the tragedy remains unclear, although the current provisional death toll of 33 is "certainly" likely to rise, the ANSA news agency said.
"Several dead are reported among the migrants, (and) around 40 survivors," the national fire service wrote on messaging app Telegram, adding that the migrants' ship had run aground off the coast.
Meanwhile, the AGI news agency said a baby was among the dead.
The boat, which was carrying migrants from Iran, Pakistan and Afghanistan, crashed into rocks during rough seas, according to Adnkronos.
"It is a huge tragedy," Crotone mayor Vincenzo Voce told RAI, adding: "In solidarity, the city will find places in the cemetery" for the dead.
A coast guard the figure was quoted by state radio station RAI as saying coast guard vessels, border police and firefighters were involved in rescue efforts.
Danilo Maida, spokesperson for the firefighters in the region of Calabria, said Reuters that rescue teams were still searching for more survivors at sea, but conditions are difficult, making the search difficult.
It was not immediately clear where the boat had set out from, but migrant vessels arriving in Calabria usually depart from Turkish or Egyptian coasts.
Many of these boats reach remote parts of Italy's long southern coastline without the help of the coast guard or humanitarian rescue ships.
More to follow