Today's Dead by Daylight seventh anniversary live stream brought a slew of announcements for the game's eighth year.
Earlier this week, the live broadcast was preceded by news that Nicolas Cage will face the Killers of the game as a Survivorwith more specific information in July.
The announcements include details on the next chapter, quality of life improvements and partnerships with the likes of Slipknot, Iron Maiden and Ikumi Nakamura.
There's even a new narrative-driven single-player game in the works from Supermassive Games, developer of The Quarry.
The next chapter of Dead by Daylight moves into sci-fi horror
Over the next year, Behavior Interactive will add four new chapters to Dead by Daylight: two licensed and two original.
The first of these is the developer's first foray into sci-fi horror, and will be available from June 14 on all platforms (and on the PTB from May 23 at 4pm UK time).
Titled Final Gear, it takes place on an alien planet and features a new assassin called the Singularity, a rogue artificial intelligence corrupted by alien technology that takes the form of human flesh and technology combined.
His main power is to place BioPods on surfaces around each map that he can project his consciousness onto to spy on survivors. With his Slipstream ability, he can connect these pods to the Survivors and teleport to their location.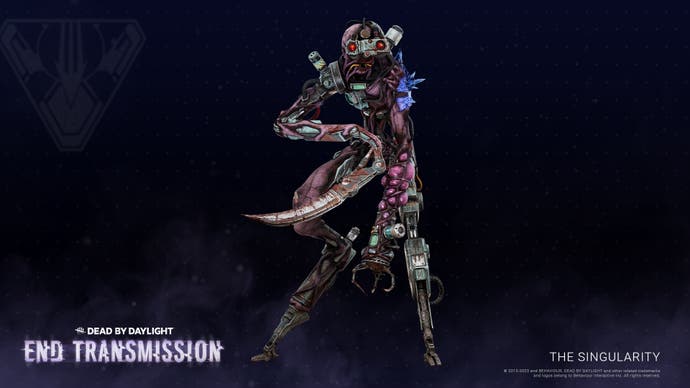 New survivor Gabriel Soma is one of the humans tasked with colonizing this distant planet. He is a master technician and his bonuses will reflect that. A new EMP tool will also be available when encountering The Singularity, allowing Survivors to disable its modules and remove the Slipstream effect.
All this will take place on the new map Toba Landing, an alien jungle, including a human base filled with low-tech equipment and traces of a lost alien civilization.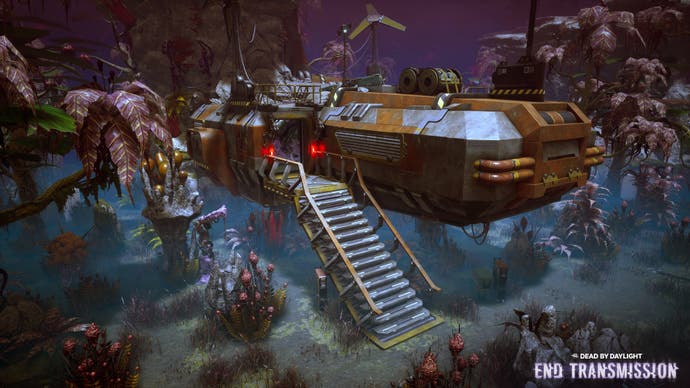 In addition to this new chapter, Behavior is making some quality-of-life changes over the next year. This will include updating bonuses, rebalancing maps, using bots to take over if a player is out of the game, and steps to eliminate in-game camping. Cross-platform progression is also in the works. The full road map is below.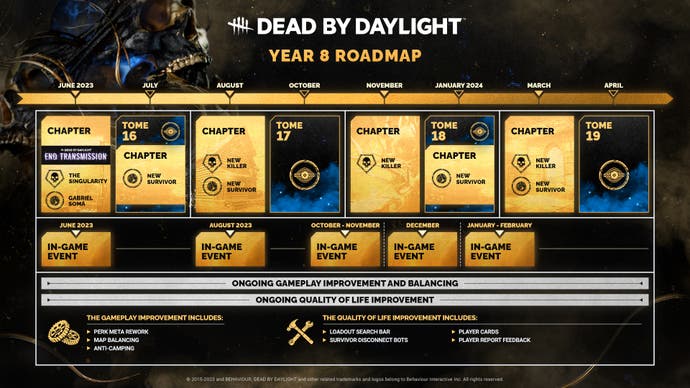 Cosmetic crossovers of Iron Maiden and Slipknot
Behavior has partnered with several big names on new cosmetics for the game.
First up is the Artists of the Mist collection, featuring designs by four fans from the game's community.
The fifth artist is Ikumi Nakamura, known as the concept artist for Bayonetta and her work on The Evil Within and Ghostwire: Tokyo. Nakamura will provide new cosmetics for the game's Japanese characters — The Oni, The Legion, and Yui Kimura — which will be available later this summer.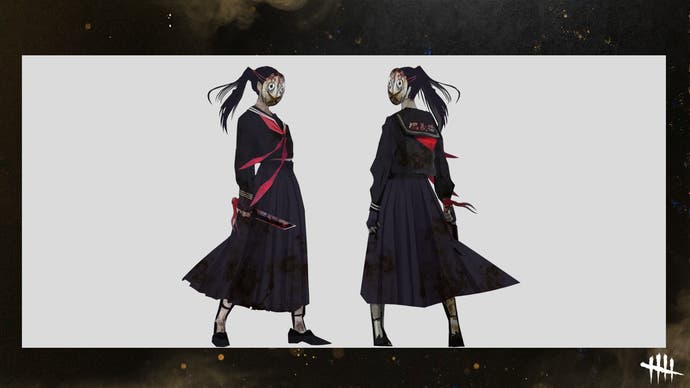 Next, Behavior collaborated with metal bands Iron Maiden and Slipknot on cosmetics collections.
There's no concept or release date yet, but the Iron Maiden collection will focus on the band's character Eddie, while the Slipknot collection will showcase nine iconic masks.
Finally, new skins for Trapper Killer based on the previous game Behavior Naughty Bear will be available soon. Not only will it dress up the Slayer as a cuddly teddy bear, but it will also have Mori's own unique move, a first for the series.
A new Supermassive game is in development and much more
Behavior is branching out with more co-op outside of the core Dead by Daylight game.
Already announced an upcoming film with the famous horror studio Blumhouse (Paranormal, Sinister, Insidious and Away). It is unclear if Nicolas Cage will appear in the film alongside his appearance in the game. A Dead by Daylight comic from Titan Comics will also be released in early June.
Additionally, Behavior is working with Supermassive Games on an interactive single-player story game set in the world of Dead by Daylight. The studio is best known for Until Dawn and The Quarry, and this new game will also be a life-or-death choice. More details are expected later this year.
The behavior also teased a new multiplayer PvE game set in the world of Dead by Daylight. Developed by Midwinter Entertainment, it will touch on themes of greed and lust for power, and will see teams of up to four players tackle a strange new corner of The Entity's Realm.
Finally, Behavior is exploring the possibility of releasing its romantic visual novel Fascinated by youreleased last year for PC, on consoles.
All in all, there's a lot to get into for fans of Dead by Daylight, both in-game and out-of-game. Happy seventh birthday!