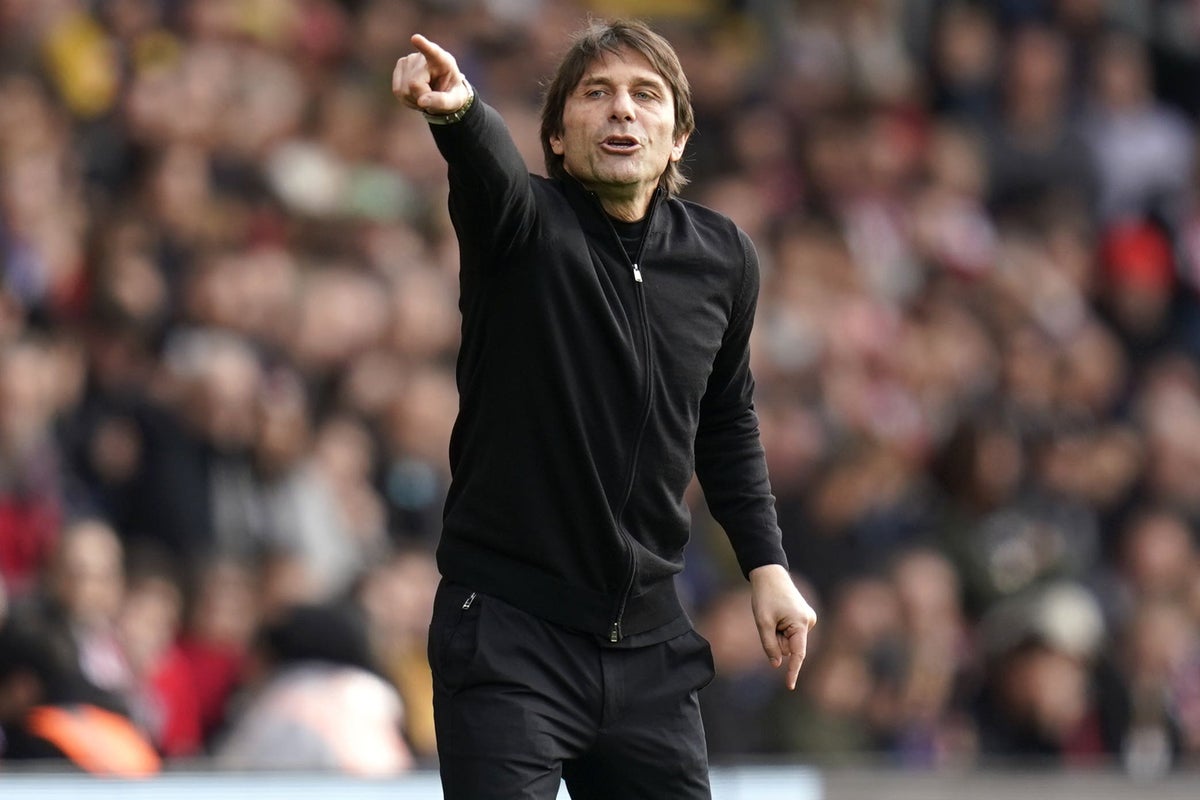 Arsenal take their lead to the top Premier League While table Tottenham manager Antonio Conte He started a rant after his side drew 3-3 at Southampton.
The relegation avoidance race took more corners as Leeds beat the Wolves as Everton and Leicester scored valuable points.
Here, the PA news agency takes a look at five things we learned from the events of this weekend.
Will Conte's criticism have consequences?
Under pressure, Tottenham manager Antonio Conte made an extraordinary rant that could have consequences after letting his side take a 3-1 lead against Southampton, meaning they missed out on third place at the table.
Goals Players from Pedro Porro, Harry Kane and Ivan Perisic made it look like the Spurs were ready to go to Champions League spots, but Southampton at the bottom of the table responded by sealing the Theo Walcott goal and James Ward-Prowse's downtime penalty. point.
Conte later gave an angry post-match interview and said: "If we're going to discuss the penalty, it means we don't want to see other situations. I think it's much better to get into trouble because the thing is, we've shown another time that we're not a team.
We are 11 players entering the field. I see selfish players, I see players who don't want to help each other, who don't give their heart.
"Why? Because they're used to it, they're used to it. They don't play for anything important, yes. They don't want to play under pressure, they don't want to play under stress.
"It's easy that way. That's the story of Tottenham. They've owned it for twenty years and they haven't won anything but why? The fault is only with the club or any manager who stays here. I've seen the managers Tottenham keep on the bench."
Can Arsenal be stopped?
Arsenal bounced back from Europa League disappointment after beating managerless Crystal Palace 4-1 on Sunday and continued to dominate the league.
Bukayo Saka again played an important role. gunnersincreasing his leadership at the top of the table to eight points; They have now recorded six consecutive league wins as they enter the international break.
Cheers Brooks returns to Cherries
The weekend's best flying action saw a welcome return for the Bournemouth midfielder david brooksSubstituted in the 79th minute of their 3-0 defeat to Aston Villa.
This was the midfielder's first appearance since being diagnosed with cancer in October 2021, and applause for Brooks resounded all over Villa Park.
Speaking to the official Bournemouth website, the Welsh football player said: "It was a good feeling to be back on the pitch and try to help and be involved.
"When I got into the game, it didn't go as planned in terms of what I wanted to do and help the team achieve, but yes, it was a good moment to be back there."
Wolves referee shortage continues
Wolves manager Julen Lopetegui was once again frustrated by refereeing decisions after a 4-2 loss to Leeds.
Rodrigo finished the game with a stoppage strike, in which unused substitute Matheus Nunes was ejected and the Wolves stopped the goal after Adama Traore was fouled in preparation.
"I could make a book (about bad decisions): Liverpool, Nottingham Forest, Newcastle, Southampton, today. "Sometimes you can understand mistakes, it's part of football but it's not easy to repeat the same mistake against us," said Lopetegui.
"I don't want an explanation, I don't expect an explanation. In the last game (against Newcastle) it was the same today.
"I don't want to make fair decisions and have the feeling or feeling that it's unbalanced. At the end of the season they will normally be balanced but we are very unlucky, we have to be critical of bad things but we didn't deserve to lose this game.
"We still had a very clear penalty but the referee and VAR think otherwise."
Relegation race heats up
The win over Wolves saw Leeds break out of the last three as their struggle for survival entered another turn.
A valuable three points for Leeds, two points away from the relegation zone, see them climb to 14th place, while the Wolves are one place above the Yorkshire team.
Everton scored a pivotal point after Ellis Simms scored his first goal for the club with a dramatic late equalizer against Chelsea, and Harvey Barnes was also late for Leicester's 1-1 draw with Brentford, ending their five-game undefeated streak in all competitions.