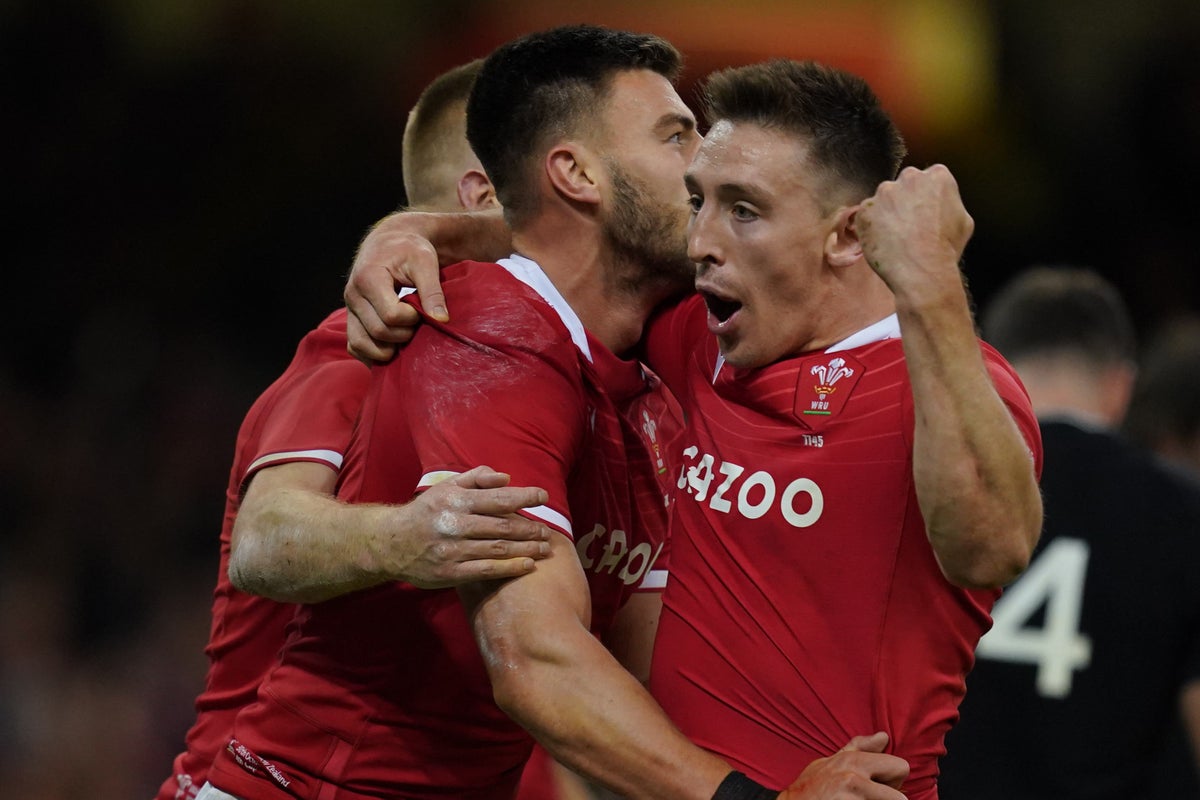 Josh Adams returns to Test rugby on Saturday and admits the competition for Wales' back three rows is "stronger than ever".
Cardiff's Adams, who was the top scorer in the 2019 World Cup hosted by Japan, was suspended from the field due to a broken hand.
In Adams' absence, Dragons nominee Rio Dyer used his luck impressively to open their Autumn Nations Series games against New Zealand and Argentina.
Leigh Halfpenny returns from injury as Wales tackle Georgia this weekend, Louis Rees-Zammit fills the full-back and is selected as Alex Cuthbert Adams' winger.
Meanwhile, current outside center George North has played the majority of his international career as a winger, resting against Dyer Georgia and Liam Williams is currently recovering from a collarbone injury.
"The competition for places in the back trio is stronger than ever and drives your standards," Adams said.
"With players coming and going well, you know that when you get an opportunity, you have to seize it.
"Rio came in and played extraordinarily well, Cuthy (Alex Cuthbert) came back and he was great, George (North) could go to the wing.
"Louis is doing fullbacks with Leigh and Liam to come back. The list goes on and on, so you should use every chance you get.
"The wing and full-back positions can now be changed. The two positions have a lot of similarities – backcourt coverage, airborne, defensively.
"It might help you play wing and 15 at test level and it counts in your favor, but as a triple back there are a lot of similarities.
"It's been like that for a while, but before you could have been more of a winger, a bit more bumpy with speed and power.
"Now, being better than air, kicking, positional play is important and can be transferred to fullback."
Adams earned his 43rd cap on Saturday and a try against Georgia puts him above Sir Gareth Edwards, Gerald Davies and Tom Shanklin on Wales' all-time list, with the four currently tied with 20 goals.
Adams' impressive batting rate underscores the impact he has had since arriving at the Test match phase less than five years ago.
And now he's fully prepared for a game where Wales face off against opponents they'll face again at next year's World Cup in France.
"It was a little frustrating because you don't know about the fractures. There is no intensive rehab you can do to speed up the process," he added.
"It was just about making sure it was 100 percent correct.
"I didn't want to go there because I could only give 75 or 80 percent. I wanted to convey what was asked of me.
"Maybe it took a week or two longer than I expected, but here we are and that's the point."
"I tried to be present at every practice as much as I could and to speak my mind at meetings.
"Coming to camp with an injury is frustrating and then you have to integrate into training, but I'm a little excited about getting back there and I'm a champion."