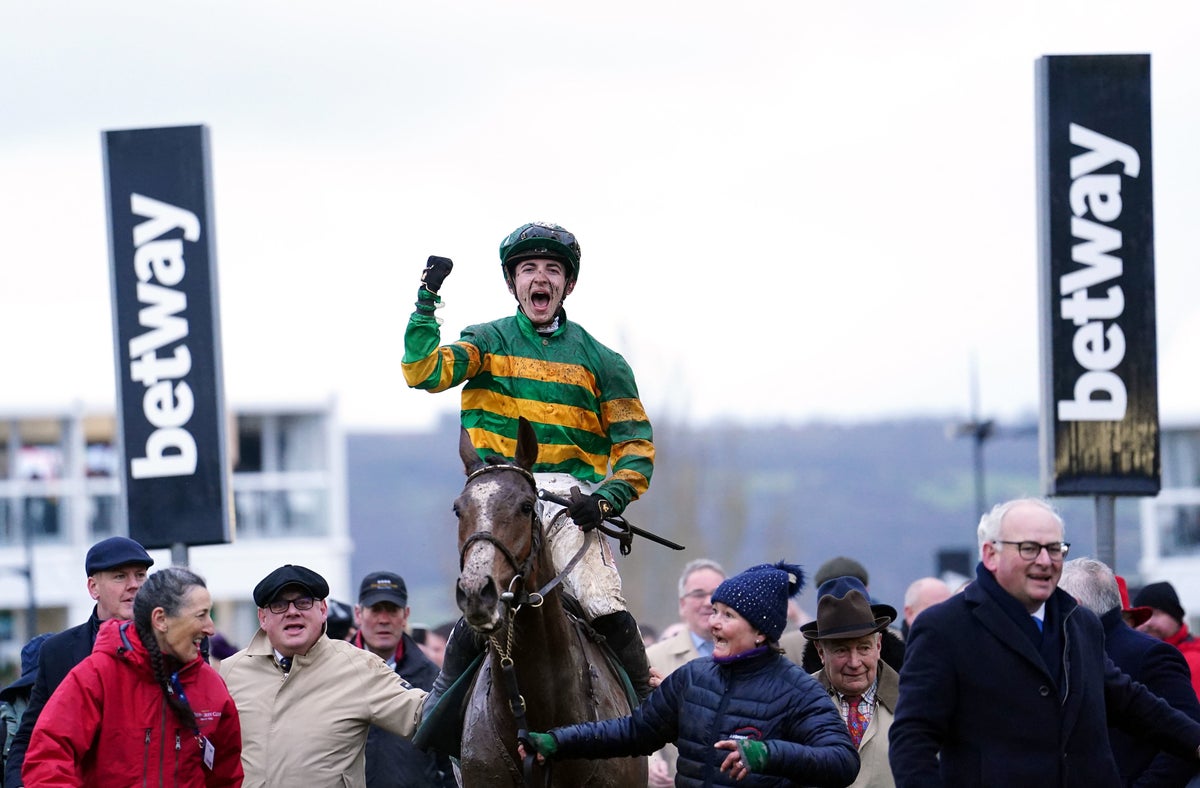 there was a lot special result for the second day between Cheltenham It's the festival where 18-year-old John Gleeson steers John Kiely's A Dream To Share to an exciting Weatherbys Champion Bumper success.
Kiely, 85, has won many major races during his long and distinguished career in the training standings, but one notable shortcoming was a victory at the Festival.
To fill that void, he found the perfect ally in the undefeated five-year-old boy raised and previously owned by jockey John's father, ITV and RTE presenter Brian Gleeson, and his wife, Claire.
He drove to Prestbury Park after a win at the Dublin Racing Festival last month and with the new owners snatched to race in the colors of JP McManus.
But the 7-2 chance remained the mount of the young Gleeson, a ride befitting a man with much more experience from his teenage years and a first to experience the Festival's incandescent atmosphere.
He spotted Patrick Mullins and 16-5 favorite Fact To File as the home corner turned and it wasn't long before he demanded an effort from his mount – sprinting smartly on rain-soaked ground to get past his old rival and confirm his Leopardstown form in a memorable win.
Kiely said: "I was always happy with the horse from the beginning, it's a good horse from day one but to be honest I was worried about the ground today.
"I knew the horse was on the top, but I was worried about the ground, so I'm happy with the way things are going.
"I was just worried he'd get to the ground too soon, but the young man was amazing. He comes every morning to ride him. He's going to lose himself and do everything, I hope he's on his feet now.
"I've been coming here since 1976 and in 1993 Shuil Ar Aghaidh (trained by his brother Paddy) and we were the winners of the Stayers' Hurdle.
"I am 86 years old in May, I stopped riding three years ago with Covid. I've spent my life in races, as a teenager you would never think you would be in this holy place.
"Isn't this horse a good name, the family named it A Dream to Share on Christmas Day, it's beautiful."
The winning driver said: "Honestly, I can't believe how smooth it went. Did this just happen? I cant believe
"We set out to keep it simple. The floor was a little run down everywhere, but we thought it was a little better from the outside.
"The ground is pretty solid, so we decided to take the time and he did it very well. I followed Patrick and it worked out perfectly.
"Just being here at the festival is not real. To be a winner for John Kiely Cheltenham Festival – that man is very good to me and I can't thank him enough. I am also very grateful to Mr. McManus for allowing me to use the car.
"This is very special. We are a small team at home but we are trying our best to get on the big stage and winning is incredible.
"I've known John for a long time and I ride this horse every day before I go to school. I had to park the books for a week but it was totally worth it!
"My mother named the horse Christmas Day a few years ago, and my father takes great pleasure in it."
Senior Gleeson said: "It's amazing. The Cheltenham Festival, trained by a maestro at John Kiely and your son riding horses in these colors – almost a book!
"The horse was named after my wife Claire. We always say that everything good in life is worth sharing, and this horse we always thought was good.
"The dream was to have a John Kiely-trained winner at the Cheltenham Festival. In May, he was 86 years old and now has his first Festival winner – it's like a fairy tale."