Chelsea's board fear it will be difficult to keep supporting Graham Potter if the team lose to Leeds and Borussia Dortmund in their next two games.
Potter has not lost the support of owners Todd Boehly and Clearlake Capital, and there is a desire, particularly on Boehly's part, for the 47-year-old to turn things around.
But the former Brighton manager is under huge pressure after a terrible run and is aware that he will require improvements in results and performances in Saturday's Premier League home game against Leeds and Tuesday's Champions League last 16 tie at Stamford Bridge against Dortmund, who are 1-0 up.
Chelsea are 10th in the league after two wins in 15 games and closer to the bottom three in points than the top four. The owners have put a lot of faith in Potter since hiring him as Thomas Tuchel's replacement in September and admire his calm demeanor and coaching ability.
However, Chelsea have spent heavily in the last two transfer windows and have seen no reward. Their season would be over if they lost to Dortmund and the situation is complicated by the fact that a majority of the fans have turned against Potter, who could face a hostile reaction from the crowd if his side are beaten by Leeds.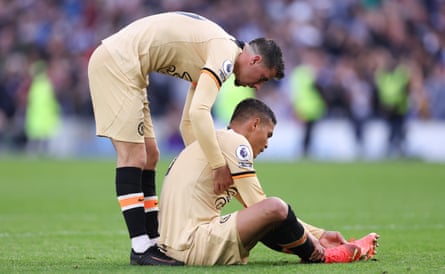 Potter admitted on Friday that he struggles to get his ideas across to his players. "When you've got the results we've had, it's clearly not perfect, or you'd get better results," he said. "Obviously it's a process of how we get our message across better. How can we structure things in a way to help the players because that's what we're here for.
"When the results are not good, from my point of view you have to accept that we have not done well enough. That's the reality we're in and I'm sure the players will take responsibility and admit they can do better too.
Potter said he retained the support of the locker room. But it's a bad moment for him to be without Thiago Silva's leadership in defense – the Brazilian is out for six weeks with a knee injury – and Mason Mount has also joined an injury list that includes César Azpilicueta, Édouard Mendy, N'Golo Kanté and Christian Pulisic. Reece James is doubtful with a tight hamstring.
Potter insisted Chelsea had enough character to cope without Silva, although they struggled when the 38-year-old and James were rested in last month's 1-0 home defeat to Southampton. "There's no doubt there are people in the squad who can step up and add more in terms of performance on the field, leadership, all those things," Potter said. "Just as I can."
The atmosphere is likely to be tense on Saturday, with home fans sure to call for Potter to be sacked if Chelsea lose. However, it would be almost impossible to find a permanent replacement before the Dortmund game. Potter knows he must repay the board's faith.
"There is support and of course I have spoken to them," he said. "But I'm not going to hide behind it. The results haven't been good enough and I'm responsible for that. When you're a coach, if the results aren't good, you accept the criticism and the noise that comes with it. My job is to stay in the team, try to prepare the team as best as I can and win the game tomorrow."