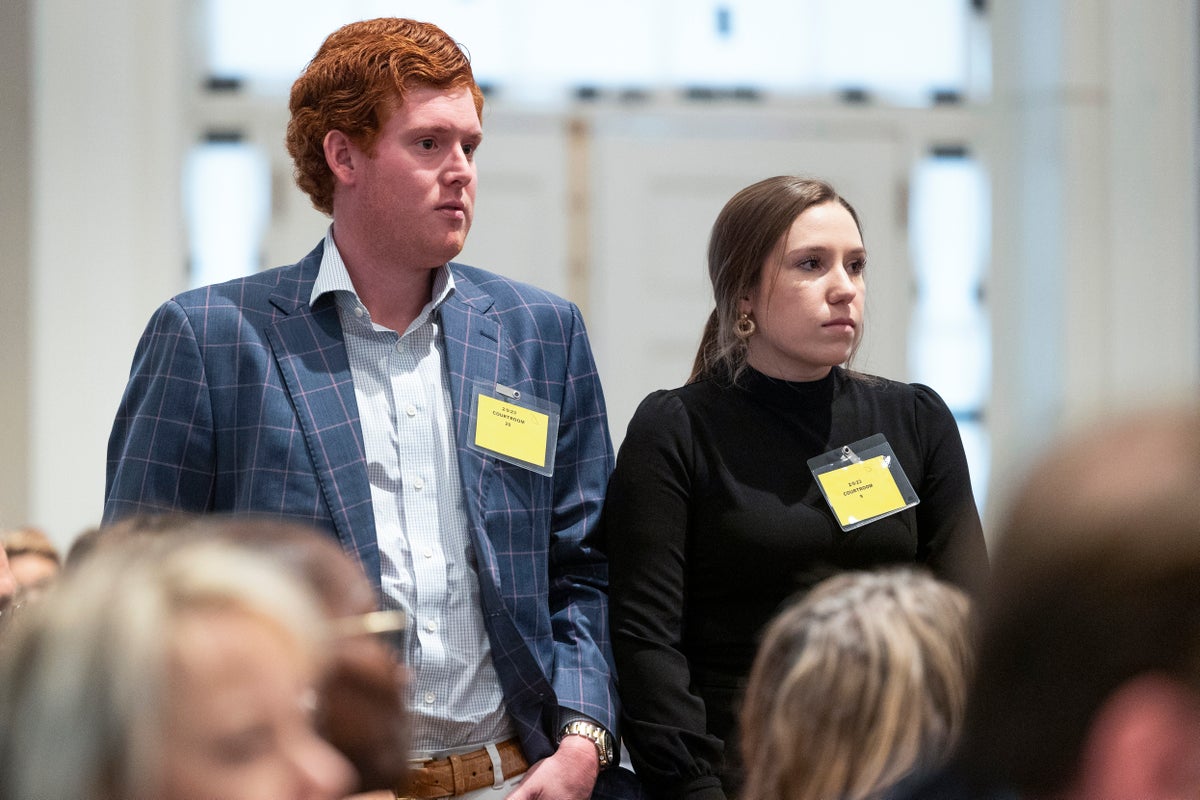 The girlfriend of Alex MurdaughThe only surviving son has complained to police about being harassed by the media following the disgraced lawyer's double-murder trial.
Buster Murdaugh and his girlfriend Brooklyn White have filed a total of three reports with the Beaufort County Sheriff's Office over "ongoing intrusions into (their) lives by reporters," news station WTOC reports.
The couple, who live in an apartment on Hilton Head, were often seen in the gallery every day during the six-week trial that led to Murdaugh's conviction for the 2021 murders of his son Paul and wife Maggie. But even after the high-profile trial ended, Buster and White say the press has continued to follow them and invade their privacy.
According to an incident report filed this week, White told police she saw a reporter looking into the windows of her car as she left her home on March 6. She claimed she recognized the reporter because he allegedly stalked her and Buster for weeks at the Colleton County Court House in Walterboro.
White allegedly told police the ordeal was "increasingly disturbing and terrifying to her".
Ms White, who works as a lawyer for Olivetti McCray and Withrow, said the reporter in question ran a video account where she said he had posted images of him allegedly harassing Buster and asking him questions.
She also claimed that in the aftermath of the trial, she saw several reporters photographing and following her as she walked her dogs in her neighborhood.
Buster and Ms. White had previously filed a report after New York Post published an article with photos showing his face through a crack in the blinds of their apartment. Buster also showed police dashcam footage that captured a Dodge Challenger car parked outside the home.
Law enforcement told him more patrols would be conducted in the area. However, the couple called the police again when another driver, who they believed was in the media, followed them as they went for a walk.
The driver was stopped and released with a warning, but deputies noted in an incident report obtained by WTOC that he had a camera bag in the passenger seat.
While some members of the Murdaugh family have spoken out following Alex Murdaugh's double life sentence, Buster and Ms. White have been silent about the jury's conviction.
Last week, Murdaugh's lawyers explained that they decided not to let Buster plead for leniency during Murdaugh's sentence so as not to subject him to unnecessary trauma after he experienced "more than anyone that we can imagine has ever been through."
"We could have had Mother Teresa up there to speak on Alex's behalf at the sentencing, but he got a double life sentence. That was expected," attorney Jim Griffin told reporters, per Fox news.
"Judge Newman, he is a very strict punisher when it comes to crime and punishment. That was never in dispute."
Buster had followed the family tradition, working at his father's since-disbanded firm while a student at South Carolina Law School, but he was later expelled due to a plagiarism incident, according to The Wall Street Journal.
His girlfriend, Ms. White, earned her bachelor's degree in political science from the University of Alabama before graduating from the University of South Carolina School of Law in 2021. Since then, she has worked at the Olivetti McCray and Withrow firm as an estate planning attorney.
On Thursday, Alex Murdaugh's legal team announced they were appealing. The double murderer had 10 days to file an appeal after his conviction.
"Today Jim Griffin and I filed our Notice of Appeal for Alex Murdaugh," tweeted Dick Harpootlian, one of Murdaugh's attorneys. "This is the next step in the legal process to fight for Alex's constitutional right to a fair trial."