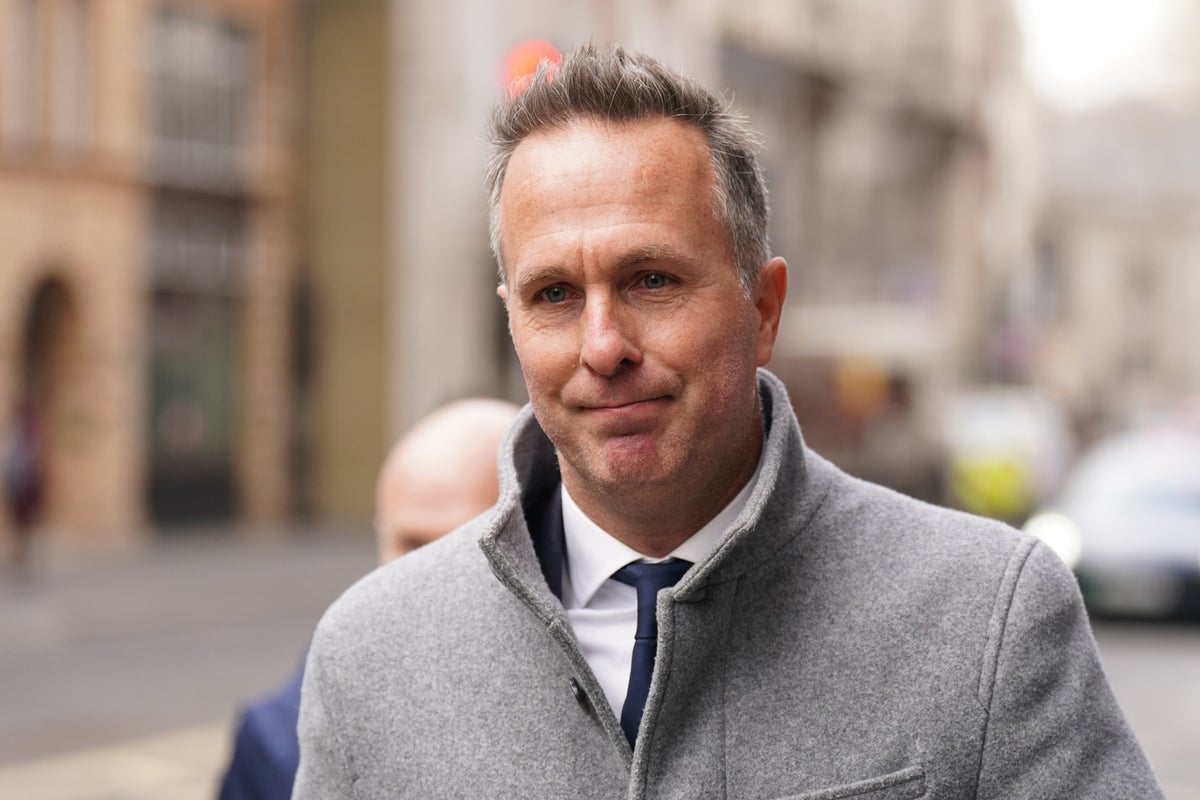 "possible in nature" Michael Vaughan made a racist comment against four of them Yorkshire A lawyer for players of Asian ethnicity England and Wales Cricket Board He said a hearing on Tuesday.
Vaughan is accused of tarnishing the game's reputation by saying: Azeem RafikAdil Rashid, Rana Naved-ul-Hasan and Ajmal Shahzad "we got a lot of you, we need to talk a little bit about that" before the Twenty20 game against Nottinghamshire in June 2009.
Vaughan categorically denies the allegation, but European Central Bank In a statement to a Cricket Disciplinary Commission, attorney Jane Mulcahy argued that the alleged comment was "in the same vein" as Vaughan's tweets posted at similar times, so the utterance was "probable in nature".
The last written presentations began to be read just after 14:00.
The ECB presentation stated: "Michael Vaughan can't refute words because he can't remember saying the words. Instead, he claims he wouldn't say those words."
The ECB said the alleged comment was made just a year before Vaughan sent some tweets in which the former England captain admitted they were "totally unacceptable".
"These tweets were seemingly carefree, but in reality offensive, so he admitted," the post added.
"His comment to the players on June 22, 2009 was in the same vein."
Vaughan's closing presentation included, in addition to 32 pages, 22 pages of a 'Sky-images storyboard', which were still images of footage filmed at the time the comment was allegedly made.
Mulcahy said it made sense for Vaughan to shake hands "with Asian players only."
"This action clearly demonstrates that he identifies the four cricketers as a separate group, consistent with the words 'you'," Mulcahy said.
The former England captain is one of seven Yorkshire-linked people who were indicted by the ECB in June last year over allegations made by Rafiq.
Vaughan is the only person indicted to attend the hearing personally. Five other people – John Blain, Tim Bresnan, Andrew Gale, Matthew Hoggard and Richard Pyrah – were charged in absentia against them. Another former Yorkshire player, Gary Ballance, admitted he had been accused of using racist and/or discriminatory language against Rafiq and therefore did not appear.
Yorkshire also admitted to the four corrected charges and therefore club representatives did not appear.
Mulcahy detailed the additional evidence the panel should consider when reaching a decision.
It included the fact that Vaughan admitted that the 19-second period when the cameras were off the players during the 2009 game was long enough to comment.
He also referred to other tweets from Vaughan in 2017.
"These tweets have a very similar tone to the comment that was allegedly made on June 22, 2009," Mulcahy said.
Mulcahy further stated that "not a single Yorkshire player was prepared that day to present evidence to support Michael Vaughan's position".
He also claimed that Vaughan's lawyer's criticism of the ECB's investigation was intended to "divert attention from Vaughan's behavior".
Mulcahy concluded: "The CDC must find out that Michael Vaughan made the alleged remarks, that the words were racist and/or discriminatory and that the words could harm the interests of cricket or tarnish the reputation of Michael Vaughan or the game of cricket.
"That being the case, Michael Vaughan violates the 3.3 directive."
Vaughan's lawyer, Christopher Stoner KC, then began to summarize, describing the ECB's investigation in this case as "completely inadequate".
In a written statement on behalf of Vaughan, the following statements were included: "As this hearing comes to an end, approximately 5,006 days after the words were allegedly spoken, the burden of proving that these words were spoken has not been so clearly lifted at the ECB.
"The overall reliability, adequacy and weight of the evidence in the context of a very serious issue is such that it is simply not possible for the panel to decide that the alleged words were more likely than not being said by someone else. Mr. Vaughan."
Stoner added: "The due process is important and we say our client was denied due process.
"The ECB has jurisdiction over my client, who retired in 2009, but apparently not the other players that day. We are saying that there is no real investigation."
Tuesday's hearing began with the reading of the charges against Gale and Pyrah.
Former Yorkshire bowling coach Pyrah allegedly used the term "you" when talking to three Yorkshire players of Asian ethnicity, Rafiq, Rashid and Shahzad.
He was alleged to have said: "Why are you all together? Why don't you come and relax with us?" Before a game in 2011.
Given that Hoggard admits to using the term "you" and Bresnan agrees that it's used on a daily basis, "it's clear that the phrase is used extensively in and around the Yorkshire dressing room," Mulcahy said.
Pyrah is also accused of using the terms "fit P***" and "FP" to describe Asian women.
Pyrah denies the allegations and told the ECB that she has a positive professional relationship with Rafiq.
Gale is accused of violating ECB directive 3.3 once by using racist and/or discriminatory language against former Yorkshire bowler Rafiq.
"Mr Gale often used the word P*** against Rafiq," Mulcahy said.
He was also alleged to have used a racial slur against Yorkshire academy player Mosun Hussain. Gale denied the allegations.