Key events
6th over: Australia 35-1 (Head 17, Smith 1) Just two singles and a wicket make up Moeen's first over. England enter the competition after a poor start.
DOORMAN! Warner c Dawson b Moeen 16 (Australia 33-1)
A bold and interesting one from Moeen Ali, it came early. Nothing has been happening with his seamers and the pitch will clearly favor the slow bowlers, but can he survive in the powerplay? Yes, yes, it can! His first delivery is Warner fishing around the off stump and his second is swept straight to Dawson at square leg. Great captaincy position for England. It changes the look of this stage of the game, especially with England having selected three frontline players.
5th over: Australia 33-0 (Warner 16, Head 16) Five overs, five times the first ball went for a run. However, for the first time, they come from behind square offside, four of them, with Warner hitting a sharp square which cut off Waakes. The first bowler-induced fake of the day with Waakes' offie catching the pitch and finding the thick outside edge of Head's bat. No chance and the hosts continue to build an ominous opening partnership.
4th over: Australia 24-0 (Warner 10, Head 13) Guess what? The second over starts with a run behind square to leg. Leg-pae this time, but still, poor bowling. Moeen adapted to the conditions, replacing catchers behind the wicket with those in front, acknowledging the lack of pace in the field and the threat in his fast and medium attack. But all the catchers are spectators when Willey is dropped and Warner slaps him contemptuously over midwicket for a one-bounce four. England will need 20 good overs in the middle from Rashid and Dawson, and maybe ten more from Moeen.
3rd over: Australia 18-0 (Warner 5, Head 13) The three overs in a row now start with Warner scoring behind square on the on side. This is not good from England. The fielder almost saves Woakes with the next ball with the batsman diving under Head's shot. The opener adjusts and measures the next ball through the V for a sumptuous four. Warner returns the strike but almost gives away his wicket with that short arm he occasionally calls for, lobbing into the on-side just short of midwicket. It is clear that this surface will be difficult to trust.
2nd over: Australia 12-0 (Warner 5, Head 8) Like Waakes before him, Willey starts on Warner's flank and the Aussie cuts a pair. England's left-arm seamer is far from an express and Australia's openers are hungry to climb into anything in their half of the pitch. Warner doesn't time his moves but rotates the shot to allow Head to brutalize the extra cover.
1st over: Australia 5-0 (Warner 1, Head 4) Warner bowls the first ball off target, raising his hip, then Head skins his first ball through extra cover for four. It was a rubbish delivery, moderate pace, short and wide. The World Cup winner finds his way after that.
"I was sitting in area 15 in the Victor Trumper stand and the teams gave the game a real daytime atmosphere today," says Andrew Jolly, clearly very much on my wavelength. "England are fielding a 2nd XI again and Australia have just picked a captain based on, I guess, who's the tallest guy? Nice day for it, but."
I'm pretty sure the first school team I played in was led by the smartest guy of the year – cricketing ability notwithstanding. There are certainly plenty of other examples of questionable captaincy decisions – the guy whose mum brought orange quarters etc…
Chris Woakes has the new ball, David Warner has a strike, the SCG is the picture of responsible social distancing. Let's go to cricket!
Foreign sides take to the SCG oval. England in a uniform over 50 years old in dark blue with sky blue details. Australian collarbone to toe in canary yellow, monochrome palate accented only by green helmets.
Smith is currently being interviewed by the host television station about the treatment. It's great #content, but it's hard to connect with the cuteness of it all. I think I'm a little dead inside. Maybe more than a little.
Four changes for England with Moeen, Adil Rashid, Sam Curran and Chris Woakes coming on. Buttler, Chris Jordan, Luke Wood and Olly Stone drop out.
England XI: Jason Roy, Phil Salt, Dawid Malan, James Vince, Sam Billings (ie), Moeen Ali (c), Chris Woakes, Sam Curran, Liam Dawson, David Willey, Adil Rashid
Two changes for the home side with Hazlewood replacing Cummins in attack and as captain, while Mitch Marsh gets an audition for the all-rounder role in place of Cameron Green.
Australia XI: David Warner, Travis Head, Steve Smith, Marnus Labuschagne, Alex Carey (ie), Mitch Marsh, Marcus Stoinis, Ashton Agar, Mitchell Starc, Adam Zampa, Josh Hazlewood (c)
Australia won the toss and will bat
Josh Hazlewood was given the toss and reckons the pitch will deteriorate as the day goes on so is happy to have first use.
AND Moeen Ali will be captain of England! No Jos Buttler…
That news has been confirmed, and this is fun, Josh Hazlewood will captain Australia. Not Steve Smith, not David Warner, not Alex Carey, not literally any of ten other possibilities. Maybe today will be full of #context after all.
Some early reports are coming in that Pat Cummins, just one match into his ODI captaincy career, will be rested today.
It's dry in Sydney, for a change, with temperatures hovering around 21C all the time. A sharp north-easterly wind can dictate the choice of sides for some bowlers.
Preamble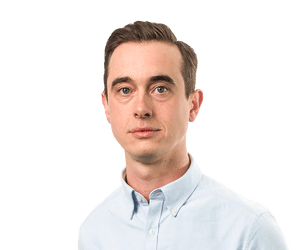 Jonathan Howcroft
Hello everyone and welcome to the live coverage of the second One Day International between Australia and England at the SCG. We will depart Sydney at 14:20 AEDT/3:20 GMT.
Thursday's opening game went according to script: Australia, hungry for action after a disappointing T20 World Cup and eager to establish a positive narrative under new skipper Pat Cummins ahead of next year's 50-over World Cup, cruised to victory over England, second or third -ish XI a few hours after celebrating the big international trophy.
Adelaide Oval was about a quarter full. Few out there seemed to give two figs. With the Rugby League World Cup finals, the Men's FIFA World Cup just around the corner and the recent Men's T20 World Cup which ended just last weekend, there is so much attention and effort to go around. And a bilateral ODI series between famous bedfellows sponsored by #contractualobligation will not get a pulse rating.
But here we are, approaching the second leg, and quite possibly 100-over cricket in the space of about eight hours. You might as well make the most of it.
Here's another look at Travis Head's opener, Australia picking the top two innings and the battle for all-round supremacy. This is more exposure for England's newcomers, Jason Roy's struggle for form and James Vince making a nice 20 or 30 or so before going elegantly behind the post.
Are you more excited than me? Then email me. Or if you struggle even more with the lack of context, tweet me while you still can @JPHowcroft.