Key events
Aaron Bower's match report is here:
Australian coach Mal Meninga spoke to the BBC: "Fantastic… it's one of those games… the first half was outstanding. In the second half, we played well in defense, with one player less. That is the sign of a great team that is committed to each other. You know, really happy for the boy.
"Tedesco was everywhere… he led the side really well throughout the week… the way he trained and his conversations were exceptional.
"It is a sign of people as they are. They are really committed to each other… humility and respect… they responded really well. I thought they played their best game tonight … it's a tough tournament and the fatigue is starting to set in, but they were rewarded for their efforts tonight."
James Tedesco says: "It's pretty amazing. We came here six, seven weeks ago with this group of guys and we've built a close bond … it's so special to represent our country … it's a really proud moment, right now.
"We've created a close bond on and off the field … it's important to build that bond … we wanted to work hard for each other, and we showed that tonight.
"It's very special to wear this jersey and represent your family and friends. I know they're watching, so give them a shout. It's amazing, it's an amazing feeling.
"We've been getting better and better … and this was probably our best performance."
Full time! Kangaroos are champions! Australia 30-10 Samoa
Relentless Kangaroos are once again, fully deserved, winners of the Rugby League World Cup. Samoa gave 100% and maybe more, but Mal Mening's team simply had too much in defense and attack.
It's double the joy for Australia after the Jillaroos won their final earlier.
Try out! 79 min: Australia 30-10 Samoa (Mitchell)
Everywhere. I mean, it already was. A fantastic fizzing pass from his right hand by Cleary sets up the last try of the game.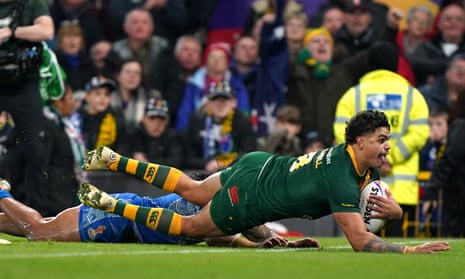 78 min: Jonathan Davies, who is on commentary duty, declares the Kangaroo captain, James Tedesco, man of the match. It was an all-round quality performance from No. 1. Tedesco is the best.
We have an 'intruder' on the field. Streaker, I think. But of course they don't show it.
77 min: Samoa work on their last run and move towards the Australian line… Luai sets up Leniu, the substitute, but is brought down by this ruthless Kangaroo defence.
75 min: Tedesco breaks through again for Australia on the line… Addo Carr then goes for it on the left wing, but the attempted grubber shot is off the mark. However, Australia leads by 16 points with only five minutes to play.
Try out! 70 min: Australia 26-10 Samoa (Crichton)
Great cross from Samoan Stephen Crichton on the Australian left … and it's in the corner! Conversion attempt is returned from posts.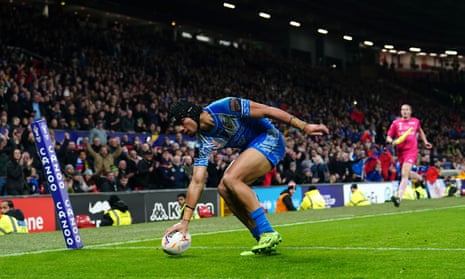 Try out! 68 min: Australia 24-6 Samoa (Tedesco)
Nice, nice try. A practice pitch move set up which is beautifully worked out, with Munster involved and Tedesco racing into space and over the line. Australia are champions… again.
66 min: Cleary plants a bomb near Samoa's try after Australia have worked their final set. Luai claims that. Australia keep pushing.
63 min: Surely look like Australia are the better conditioned of the two sides, and should turn the screw in the final quarter. But can Samoa have another go and put some doubt in the minds of the Kangaroos?
Try out! 61 min: Australia 20-6 Samoa (To'o)
And there it is! A nice run from Jarome Luai gives To'o the chance to run and dive in the corner. Great conversion from Stephen Crichton from a tight angle.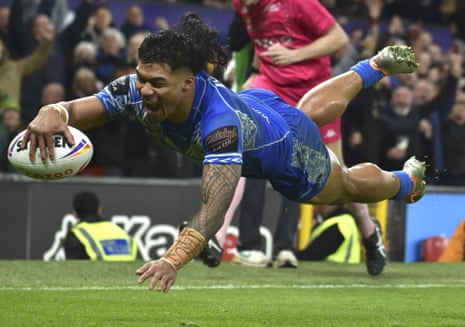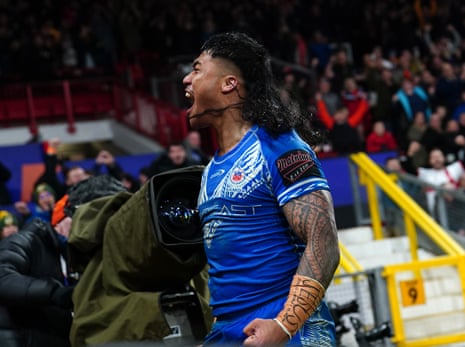 60 min: It would be nice if Samoa got on the board. Even if the game seems to be gone…
59 min: Another try for Australia? Addo Carr slips through and then shoots inside. Crichton tries to touch him, but did he knock him down? Yes, it is. Without trying.
57 min: Crichton is back from the bucket. We're back to 13-a-side.
56 min: Crichton's sin box is almost over… and yet it's Australia, still a man down, who threaten to extend their lead at the opposition end of the pitch.
Try out! 53 min: Australia 20-0 Samoa
An incredible steal by Munster sets up Australia's latest attack. Cameron Murray runs a good line and receives the pass, jumps and celebrates flamboyantly. This looks over with almost 30 minutes to go. Cleary speaks.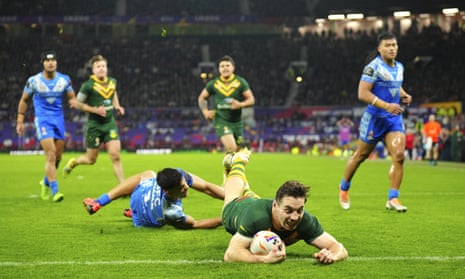 52 min: "Greetings from Australia's southernmost municipality (district) Huon Valley, from Apple Isle in the great state of Tasmania," says Scott Dufty.
"It's great to be 14-0 up at half-time, hopefully we can go on and retain the trophy!"
Ah, beautiful Tasmania, also known as the South Island. Looks good for the Kangaroos Scott…
50 min: Australia's defense stands firm after another frantic run by Samoa. There's just no way through – yet. Can Samoa build on their numerical advantage before 10 minutes are up?
48 min: Samoa in the left corner, Taylan May takes a touch… but it was a forward pass. However, Australia's setback gives Samoa another set close to the Kangaroos' try.
Yellow card for Australia! Crichton
It was strange: after Australia had dunked, Harris-Tavita charged towards Angus Crichton, who elbowed the Samoan in the face.
47 min: Harris-Tavita is still down. I think this is a red card. But the referee is waiting to finish treating the player.
47 min: Harris-Tavita collapses to the deck after elbowing Crichton in the face. This could be a red card. The least is yellow.
43 min: Samoa asked the question down their left wing after some quick hands sent Taylan May hurtling downfield into space. Two, three Australian defenders are there to break the runner into touch. There are few celebrations from Australia after another strong defence.
41 min: Samoa scored on their first possession of the second half with a punt. They have to be more specific than that…
The second half has begun!
Let's go.
Samoa can are they successfully searching for their inner heroes?
Here come the players for the second half.
HT reading:
Half time! Australia 14-0 Samoa
"Clinical," is Jonathan Edwards' assessment of Australia on the BBC, which seems fair. Samoa must find something extraordinary after the break if they are to play this game.
39 min: Mitchell is triple-tackled on Australia's left wing. Tedesco then has an arrow from the central position. Samoa get their hands on it but are forced back over the try line…
38 min: The Kangaroos threaten a try, instead of Samoa threatening trouble at the other end.
36 min: Now Tedesco is looking for an opening just meters from the Samoan line. Suaali'i goes down and lands a low rough kick, bravely, taking a few blows to the head in the process. Now, can Samoa trouble the scorers before the half-time whistle?
34 min: Taylan May finds yards of space on the Samoan left after the ball is sent through his hands and he roars down the wing. The fine covering of Tedesco removes the danger.
Try out! 30 min: Australia 14-0 Samoa (Martin)
Liam Martin is unstoppable from short range as Australia attack the length of the pitch, following a Samoa error as they went close to a try. Martin has a couple of Samoans on hand to try to break him back and knock him out of the attempt, but it's no use. The referee looks at the replay and is happy.
28 min: Luai takes a shot after Samoa go for a try… there is a decisive intervention from Addo-Carra, who stops what looks like a goal-scoring attempt after falling down the right. But he gives Samoa another set and they stay above the try! Positive signs for Parish's team, but they need to strengthen.