Key events
Half time: Arsenal 0-0 Brighton
Peek! PEEK!! A very odd half of football comes to an end. It was tricky and everything was a bit frantic. Brighton had the best of it, though Arsenal had most of the chances. It's nicely set up for an all-action second 45.
45+5 min: Saka drives past Estupinan and pulls the ball back … but he can only find a Brighton defender.
45+3 min: Odegaard ghosts into the box with Brighton back again, but he pulls his effort over the bar.
45+2 min: Distort! Saka's corner causes consternation in the box, with Colwill doing well to deny Gabriel and then Saka himself hitting wide when well placed 12 yards out.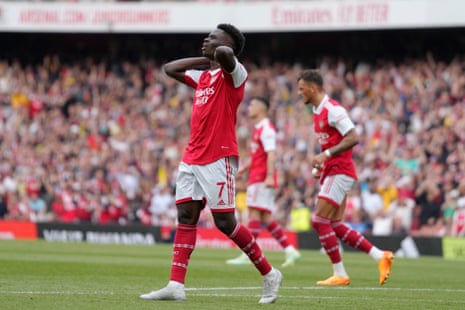 45 min: As we enter the first of five added minutes, Arsenal charge up the area after another Estupinan foul on left Brighton. Trossard's inswinger is headed away for a corner…
43 min: Ferguson outmuscles White as a long ball bounces forward but he pulls his shot wide. Arsenal wobbles a bit here.
41 min: Another loose pass from behind from Steele but again Arsenal can't punish Brighton. Saka can't really turn the potential cross towards goal. To be fair, a Brighton error has seen Arsenal's most likely route to goal – the Gunners haven't created a huge amount themselves.
39 min: Think it's fair to say you wouldn't really know who the title contenders are here and which team is 26 points back. It's a testament to how good Brighton have been in blitzes, but it also tells you Arsenal haven't really been on it yet.
37 min: Chance for Brighton, their best in the game. Mitoma very easily skips past Vit on the left and rolls the ball over the goal. It finds Enciso at the far post but he leans back and can only thump his effort over the bar with the goal gaping.
36 min: Gabriel pulls Ferguson back halfway. No booking this time. Insert your own shrug emoji.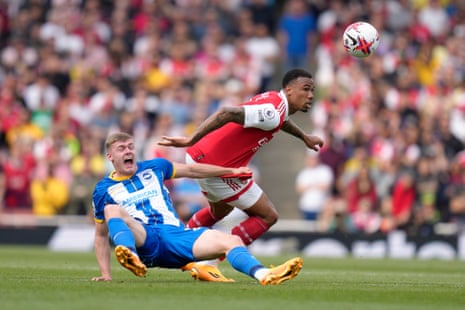 35 min: … Xhaka manages to flick on at the near post but nobody follows at the back and Brighton breathe a sigh of relief.
34 min: Referee Madley finally finds his cards and shows Estupinan a yellow for a challenge like nothing. Weirdly judgmental, honestly. But Arsenal has a dangerous free kick on the right with Trossard about to swing in…
32 min: Pass, pass, pass from Brighton. Pass pass pass pass pass…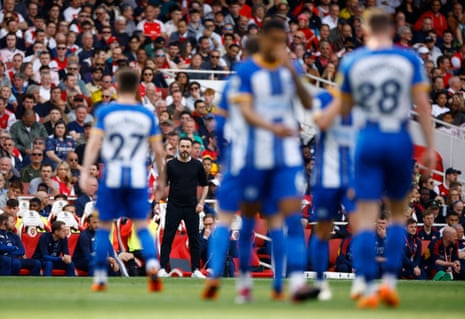 31 min: Chance! Trossard dives in from the left with Brighton at the back and fires a shot at goal: it kisses the top of the bar with Steele beaten.
30 minutes: Gilmour's turn to concede a free kick. He chops down Jorginho.
29 min: Once again, Brighton move calmly from back to front, but once again their attack falters as they enter the final third.
28 min: Gilmour wins a free-kick on halfway but the visitors can't construct anything with it.
26 min: Brighton haven't really created much in terms of chances yet but they do manage to get on the pitch fairly regularly. Arsenal has been more impactful but with less control.
24 min: Jesus forces Steele into a smart save at his near post as the home side begin to get a real foothold in the game and perhaps find some rhythm.
23 min: Saka looks to have picked Estupinan's pocket on the touchline … and then curls an effort to the post. The linesman flags to say the ball had gone out. On replay, I'm really not sure it did.
21 min: Saka is pushed off the ball on halfway by Estupinan. Jesus then fouls Ferguson in the center circle. Jorginho then drops to the lawn and complains that he has become ugly. The whole thing has been incredibly stop-start and surprisingly bad temper.
18 min: Martinelli sinks back onto the turf and he's done for the day. Leandro Trossard, the former Brighton man, replaces him.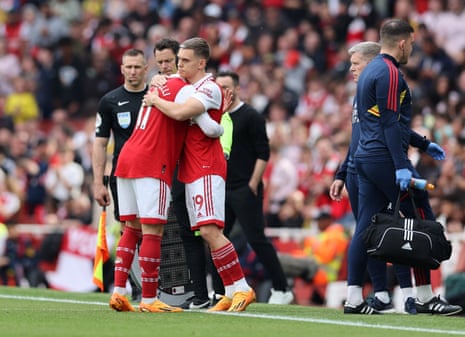 17 min: All a bit scrappy for a minute or two as the teams change possession.
15 min: Brighton send the heavy artillery up from the back for a free-kick … then play short and end up floating in a not particularly threatening effort. Down at the other end, Odegaard hits a low shot just wide from distance. It's been an eventful start here.
13 min: … it clearly nods.
12 min: Crikey! It's Steele's turn to take a risk on the back, with his swoon just to avoid Jesus. Brighton go straight down the other end and Ramsdale must be sharp to keep out Enciso's effort at the near post. Brighton corner…
10 minutes: Martinelli limps off but looks OK to continue. It's been a strange opening 10 minutes – stop-start with the physios on three occasions, a couple of wild challenges and two very ugly bits of defensive work from Brighton. Fair to say the game hasn't really settled down yet.
8 min: Caicedo, perhaps seeking retribution for his teammate, slams into Martinelli from behind. Referee Andy Madley again chooses to keep his cards in his pocket, slightly puzzled.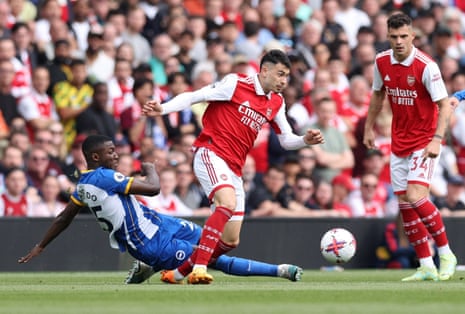 7 min: Dunk hums an approval and all of a sudden things open up Arsenal. Odegaard looks to have an ideal shooting opportunity but chooses to pass instead and the chance disappears.
6 min: Not entirely sure how Martinelli escaped a booking there – it was undeniably late, loud and dangerous, albeit unintentional.
5 minutes: … Martinelli looks to shoot it in, but it goes wide. When the ball breaks, the same player challenges Mitoma for a high ball, med Arsenal man who absolutely pats the Brighton man with his hip. It's a terrible challenge but Mitoma is up pretty quickly thankfully.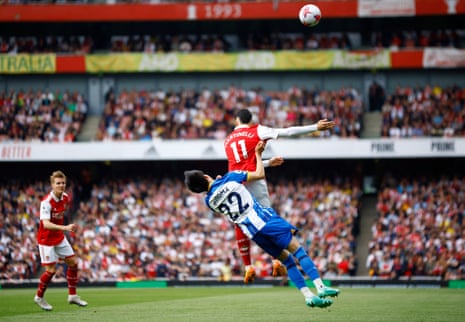 4 min: Gross sloppily flicks a pass from his goalkeeper out for a corner…
3 min: Mac Allister looks to release Caicedo down the Brighton right but he turns back inside and Albion choose to build from the back.
2 min: Odegaard seems good to continue and is quickly back into contention.
1 minute: Martin Odegaard takes an early hit, Pervis Estupiñán's attempted clearance crashes into the head at close range. He will need some treatment.
Peek! Let's go!
On Sky's commentary, Martin Tyler seems to be struggling a bit with his voice. A little creaky. But Arsenal the fans are in good voice as kick off approaches.
Out they come into the hazy corn sunshine. It was brilliant an hour ago but some light clouds have moved in. No rain expected until much later though.
The players are in the tunnel … Dunk and Odegaard ready to lead out their sides.
Across north London, they are in the dying seconds at Wembley with Chelsea leading Manchester United 1-0 in the Women's FA Cup Final. Sarah Rendell has the latest:
The atmosphere is building at Emirates…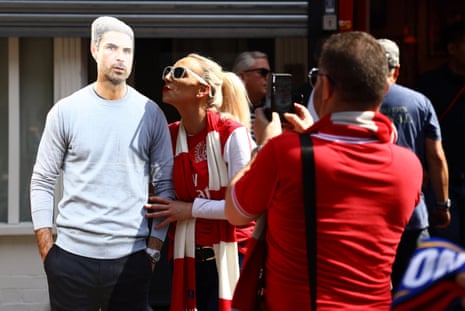 It's full-time at Goodison: Everton 0-3 Manchester City. So Realistically, Arsenal need to win their last three games and hope City fail to win two of their last three. Hard to see that happening of course, but Arsenal will at least want to keep City honest.
Arsenal (4-2-3-1): Ramsdale; White, Kiwior, Gabriel, Tierney; Jorginho, Xhaka; Saka, Odegaard, Martinelli; Jesus. Subs: Turner, Holding, Walters, Partey, Vieira, Smith Rowe, Nelson, Trossard, Nketiah.
Brighton (4-2-3-1): Steele; Gross, Dunk, Colwill, Estupinan; Caicedo, Mac Allister; Mitoma, Gilmour, Enciso; Ferguson. Subs: McGill, Welbeck, Undav, Ayari, Van Hecke, Buonanotte, Offiah, Moran, Peupion.
So Kieran Tierney is only doing his second the elite series early 2023 for Arsenal. For Brighton, Evan Ferguson is fit to start for the first time in five games. He is one of four changes for Albion from Everton's capitulation.
It's already gotten a little tasty at Emirates…
Forget the build-up to this one for a minute – all eyes on Arsenal have been at Goodison Park this afternoon, where they have been desperate for a helping hand from Everton. It's, um, hasn't gone well for them so far.
But in one way the picture doesn't really change – nothing short of a win will do for Mikel Arteta's side against a Brighton side who, given a result on Saturday, could take a big step towards securing European football next season.
The Seagulls fell victim to the strangest result of the bank holiday weekend last time out, hammering Everton 5-1 at the Amex. It was their second home run of the season, the other coming against today's opponent back in December Arsenal ran out 4-2 winners on New Year's Eve.
The Gunners were flying at the time and while their miserable April looks to have dimmed any hopes of wresting the title away from City, they have bounced back from the blow they took at the Etihad with impressive wins against Chelsea and notably away at Newcastle. Three more points will keep the title race alive for at least another week.
Kick-off is 4.30pm BST
[pub1]