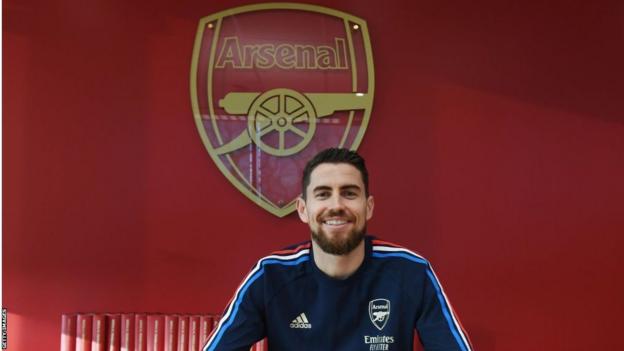 Arsenal have signed Italian midfielder Jorginho from Chelsea in a £12m deal.
The 31-year-old, who transferred from Napoli to Chelsea in 2018, was in the last six months of his contract with the Blues.
He passed his health check on Tuesday and signed an 18-month contract with an option for one more year.
"Jorginho is a midfielder with intelligence, deep leadership skills and a wealth of Premier League and international experience," said Arsenal boss Mikel Arteta.
"He has won in his career, but he still has the hunger and great desire to contribute here.
"We are very happy to sign Jorginho and invite him and his family to the club."
Jorginho said he was "slightly surprised" by the move, which he described as an "incredible challenge".
Speaking to the Arsenal website, he said that playing for Arteta had a "huge influence" on his decision, adding: "I know you tried to get me a couple of times before and that didn't happen for other reasons, not because of my wishes.
"Honestly, I can't wait to be on the field. Everything happened so fast.
"An important jersey. It's a great club, a great club and I'm really excited and happy to be here.
"I will try to bring only positive energy, hard work and experience to help the team. That's what I always bring with me."
The Gunners turned their attention to Jorginho after two bids were rejected by Brighton for Ecuadorian midfielder Moises Caicedo.
Brighton said Caicedo is not for sale and appears ready to stay at the club after the 23:00 deadline.
Jorginho is Arsenal's third signing in January, the club had previously bought Polish defender Jakub Kiwior from Spezia for 20m euros (£17.6m) and Belgian striker Leandro Trossard, who moved from Brighton for £21m .
Mikel Arteta's team is five points clear at the top of the Premier League with a side game just below them.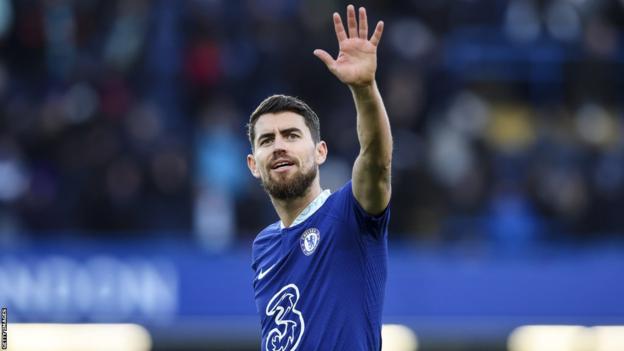 Jorginho scored 29 goals in 213 matches for Chelsea, winning the Champions League, Europa League, UEFA Super Cup and FIFA Club World Cup.
He was born in Brazil but moved to Italy at the age of 15 and chose to play for the Azzurri internationally.
He made 46 appearances, was part of the Italian side that won Euro 2020 by beating England at Wembley in July 2021, and will wear the number 20 shirt for the Gunners.
Arsenal sporting director Edu said: "Jorginho is a well-established professional with a strong mindset who brings quality and experience to our squad.
"He is a player who fits our style of play and is joining us at a very good time and can contribute to a key position that will help us maintain our momentum. We welcome Jorginho to Arsenal."