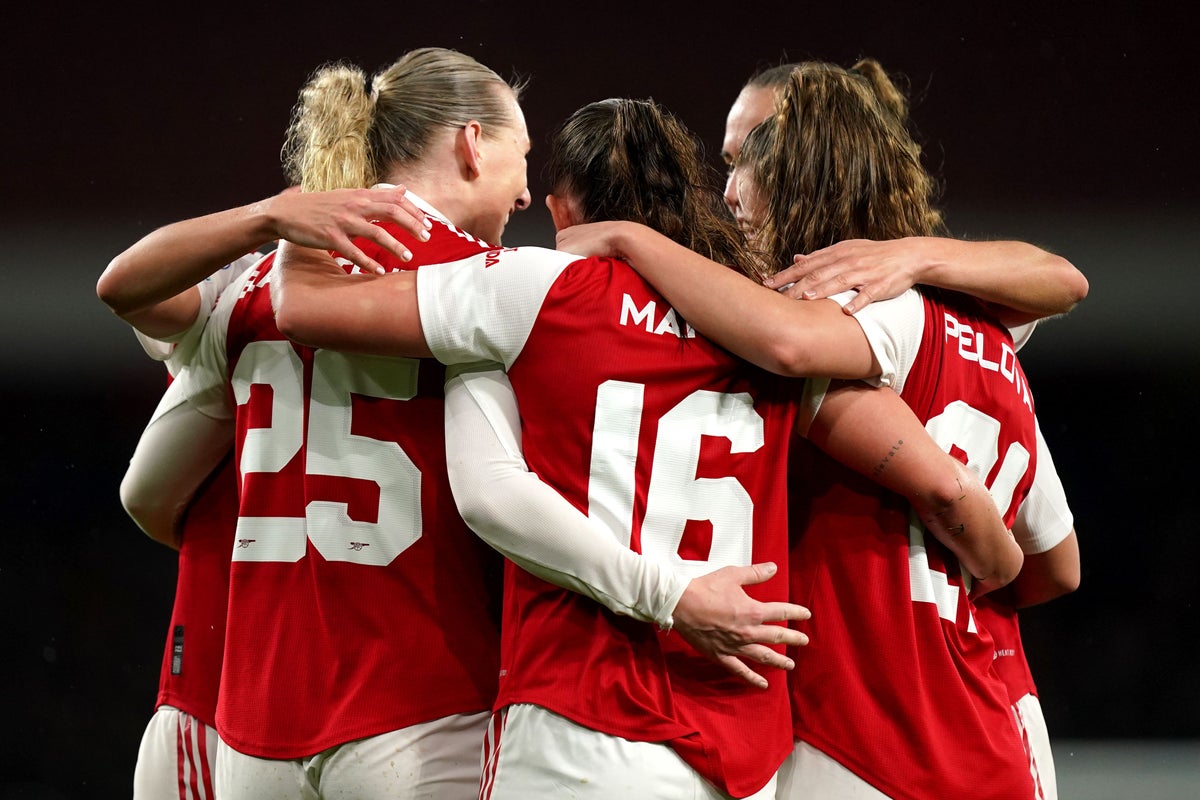 Jonas Eidevall believes this is a "realistic vision". Arsenal play permanently at Emirates Stadium after coming from behind to beat Bayern Munich and reach the Women's Champions League semi-finals.
A superb 45-minute opening, a nice kick to the hosts by Frida Maanum and a header by Stina Blackstenius helped the hosts reverse the deficit in the first game as they scored a 2-0 victory overnight.
After Lea Schuller's goal in Germany last week, the hosts dodge Kim Little's early defeat to take a 2-1 lead on aggregate.
The win came in front of 21,307 fans at the Emirates, and Eidevall's side has also played with over 40,000 fans three times this season.
When asked about his decision to move more games to the stadium, the Arsenal boss replied, "When we talk about growing the game, I think it's absolutely fundamental to create those moments with our fans."
"I think it's absolutely fundamental to have the fans here experience that with us many times, without having to experience playing here many times. Tonight helps us do that.
"I really hope he continues to push. When I see what the audience and culture is like at the Emirates Stadium, I am led to believe that we are seeing history being created very quickly before our eyes.
"Five years ago, if someone had said that Arsenal's long-term plan was to permanently move to the Emirates Stadium, people would probably be like, 'How is this going to happen?' a realistic vision for the future."
Captain Kim Little was forcibly injured 10 minutes later and Katie McCabe limped out of the competition late and is expected to undergo a screening Thursday as Eidevall said both players would be considered.
The margin of victory should have been much more comfortable had it not been for a good goalkeeping show from Maria-Luisa Grohs and a slightly awkward finish from the Arsenal forwards.
Eidevall guided the Gunners to their first Champions League semi-final since 2013, when they lost to Wolfsburg, who eliminated Arsenal in the quarterfinals last season.
The Germans could block again, this time as Paris St-Germain is currently leading 1-0 on aggregate and the winners meet Arsenal in the final four.
Two of the participants in the beautiful win were coach Edu and men's manager Mikel Arteta, whose side sits at the top of the Premier League.
Eidevall said: "I got a very nice message from Edu after the match.
"The support from the whole club is amazing. They talk a lot about how we always act classy when we're with Arsenal.
"But when you're inside the organization you really understand the meaning of these words. It's not just something written on the wall.
"It is rooted in top management and spreading downwards. This communication and belief from them is incredible."