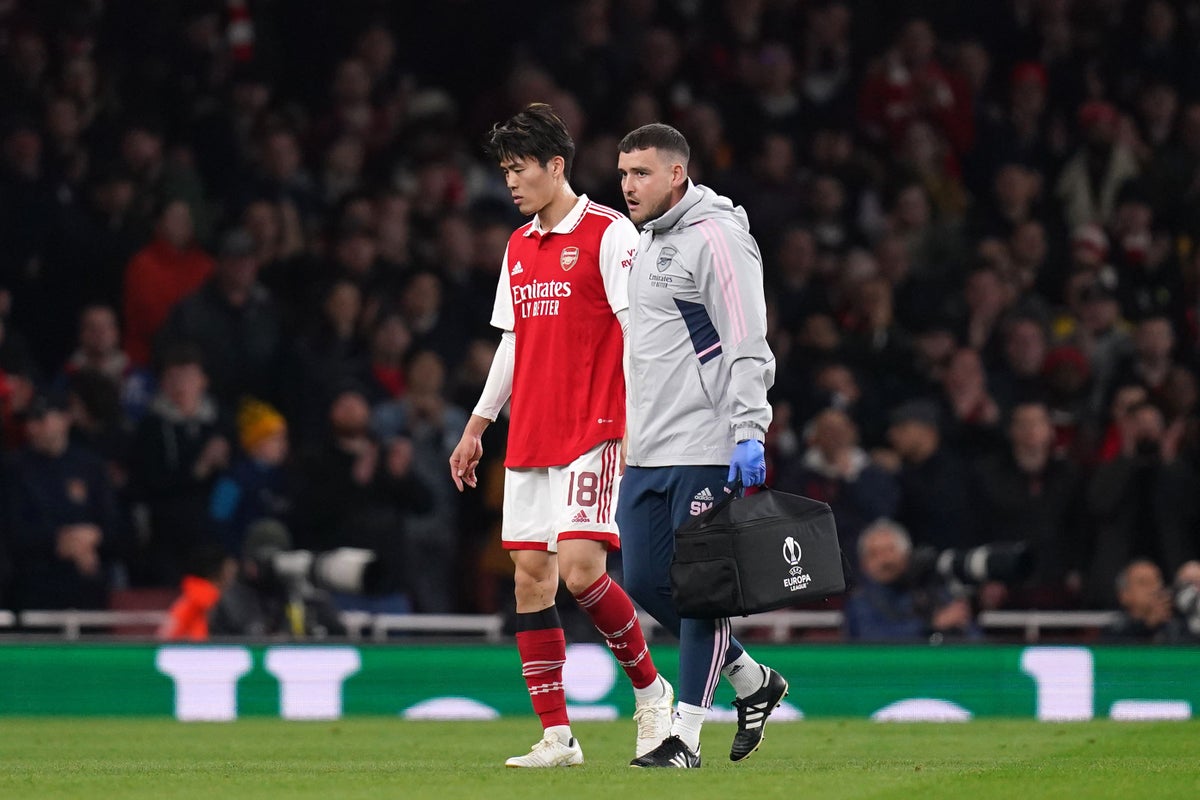 Arsenal Defender Takehiro Tomiyasu will not play for the rest of the season after suffering a serious knee injury.
The 24-year-old right-back withdrew from the Emirates Stadium on crutches in the ninth minute of last Thursday's defeat to Sporting Lisbon in the Round of 16 of the Europa League.
The club has confirmed that the Japanese international had a successful surgery in London on Tuesday and will now miss the Gunners' 10 remaining games in the Premier League title game.
Tomiyasu played 31 games in all competitions this season, making regular appearances during Arsenal's rise to the top.
Mikel Arteta Will be hoping that Tomiyasu returns in abundance for next season.
Arteta's side will play a Major League Soccer All-Stars team led by Wayne Rooney on July 19 ahead of the new season.
The game will be played in Washington DC at Audi Field, home of DC United, where Rooney has been running since last summer.
Arsenal boss Arteta said: "It's great that we're playing against the MLS All-Stars in Washington DC in July.
"Our tour of the USA last summer was a great preparation for the season and we look forward to visiting our amazing fans in the USA once again. The game with the MLS All-Stars will be a good test before the 2023-24 season."
Athletic director Edu said: "Our game against the MLS All-Stars in July is a great opportunity for Mikel and the team to prepare for the new season as they face a strong opponent. We are currently working on our pre-season plans and look forward to announcing more details soon."
Rooney, who previously played for the club from 2018 to 2019, returned to DC United as boss last July.
"First as a player and now as a coach, I sat in one of the front rows to watch the growth and development of Major League Soccer," Rooney told DC United's website.
"The opportunity to lead the best team our league has to offer against the best club in the Premier League like Arsenal will be an important event for me personally and an unforgettable experience for our passionate fan base in DC."
Current Premier League leaders Arsenal were the last English team to feature in the annual MLS All-Stars game in their 2-1 win over San Jose in 2016.
Rooney played for Manchester United in New Jersey in 2011, which he won 4-0, and was featured in the MLS squad in 2019 against Atletico Madrid, who won 3-0 in Orlando.