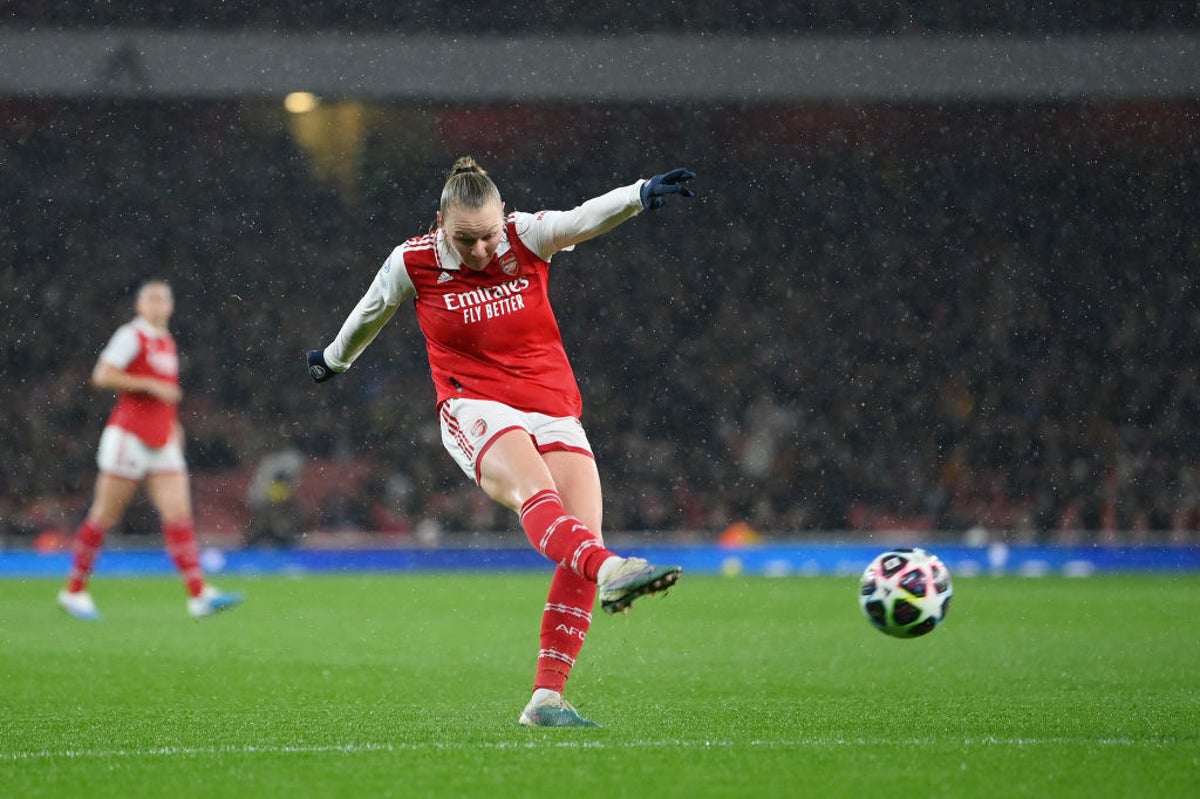 You must have seen the goal by now. You must have. If not, go find it and drink it in its four seconds of angular splendor. That was the goal that changed everything for Arsenal the night they made the Emirates their home in the Women's Champions League.
There have been many near moments in this competition, some of them here. Cases where Arsenal is not looking at or ready for this tier. It could have been something else: Arsenal went 10 years without a Champions League semi-final, Bayern Munich came in with a 14-game winning streak and a goal advantage.
How did Frida Maanum change that? How did Lia Walti change that when she first switched to Stina Blackstenius to start it all? Then came a complicated and definitive layoff for Leah Williamson, leading to the flick. How the Arsenal captain sees Maanum is another question, but Bayern formed a neat square on the edge of the box. Maanum took two steps back and swung, the shot rising perfectly, a series of meticulous touches completing a trigonometry exhibit.
Yes, Bayern got in trouble not once, but twice. Starting the second match cautiously, the German side tried to knock out Arsenal and began to take control of the quarter-finals played in Munich since last Tuesday night. But Arsenal here raised the situation to a level that Bayern could not match, their only threats coming from a flurry of corners early in the second half. Finally, Tuva Hansen's ball outside the defense started to slip.
From there Arsenal were phenomenal, their offensive play was spectacular as Jonas Eidevall's side shattered the Bundesliga leaders. Victoria Pelova, whose right flank in Arsenal's attack helped change the draw, was a threat and outstripped the dangerous Klara Buhl. Katie McCabe and Caitlin Foord beat Maxi Rall on the opposite flank. Playing with freedom and confidence, Blackstenius put the pieces together. Williamson, Manuum, and Walti worked perfectly—many of their games were instinctive and one-touch.
Bayern stunned by Arsenal's full throttle flight. Blackstenius crossed the McCabe Rall and hit the six-yard line with a great, crooked cross, then doubled with a close-range header. Williamson approached with a rear post header perfectly set up by Foord. Blackstenius, Lotte Wubben-Moy's cross kick hit the post and Maria Luisa Grohs was defeated. The Bayern goalkeeper could have conceded four-fifths at halftime.
It was regrettable that despite Arsenal's dazzling play, their games did not reach the four or five they deserved. Bayern drew on the scoreboard. They threatened set pieces, but offered little despite the prolonged sense of unease that came with a slim one-goal win. Arsenal created fewer moments of danger after the break, but the quality remained devastatingly high. McCabe approached after a dazzling run. Foord should have buried Bayern after a blissful move from the brilliant Maanum that set the Gunners off.
How Arsenal needed a moment like a stunning shot. The Gunners performed well in Munich, where at the Allianz Arena two shots were taken off the line and another thumped the post, making everything but a point. Arsenal lost captain Kim Little 10 minutes into the opening with an injury after a heavy rain at the Emirates, after writhing on a lightning-fast surface and slipping out of reach. Bayern were starting to piece together their passing strings by absorbing any momentum, but then Williamson stepped into midfield. The England captain was tremendous and Arsenal started playing on a different level.
The rest of the Champions League will draw attention. In recent years, the semi-finals have almost closed and since 2018, only six teams, including Bayern, have made it to the last four. Arsenal are there now and they will have nothing to fear when they face Paris Saint-Germain or Wolfsburg. . Emirates will rise as well, as it did tonight, with a record 21,307 turnout for the competition. Arsenal only managed a quarter of that this time last year as they experienced a familiar exit in the quarterfinals. But their chances in Europe changed the night Arsenal actually arrived.