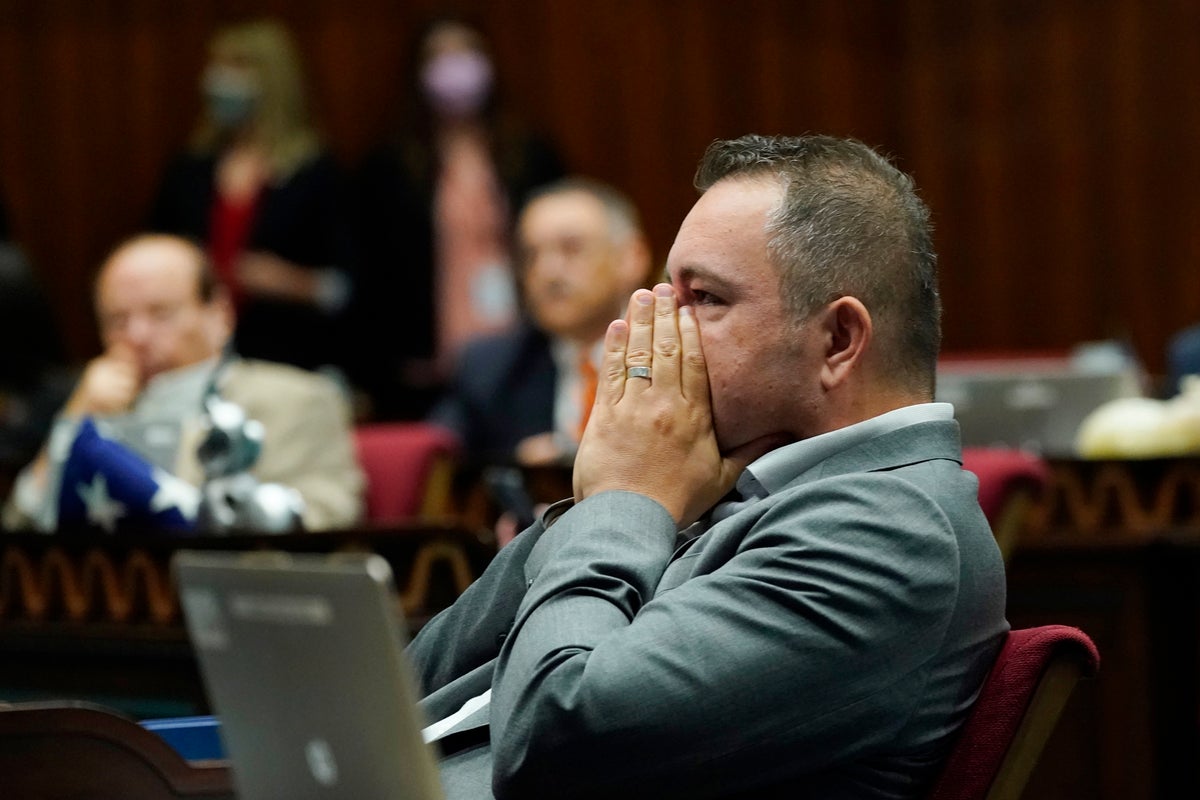 Arizonas Republican-controlled legislature has for years entertained a host of unsupported theories about fraudsters manipulating election results since Donald Trumploss in 2020.
But lawmakers reached a limit on what they will tolerate last week, when a day-long hearing on the election ended with a presentation accusing a wide range of politicians, judges and public officials of taking bribes from a Mexican drug cartel.
Republican leaders rushed Monday to distance themselves from the claims after they caught fire over the weekend on social media, where accounts that routinely share unsubstantiated claims of voter fraud widely covered them. It was embarrassing for a voter fraud movement that has mostly found a sympathetic, or at least tolerant, ear among Arizona lawmakers Republicans.
House Speaker Ben Toma and Senate President Warren Petersen, both Republicans, blamed the presentation on the ropes. Liz Harris, a newly elected Republican who led a door-to-door effort to search for evidence of fraud after the 2020 election. Her effort drew scrutiny from the U.S. Justice Department's civil rights division, which warned of potential voter intimidation.
"What should have been a joint hearing to examine common sense electoral reforms devolved into shameful fringe theater," Toma said in a statement on Monday. "I am not alone in believing that it was irresponsible and poor judgment on the part of Harris to invite an individual to present baseless and defamatory allegations in a legislative forum."
Harris did not respond to a request for comment.
Arizona Republican lawmakers have given wide latitude to people claiming to be election experts to share unsubstantiated or disproved claims in Capitol hearings. They are widely shared among far-right media figures and bear the imprimatur of an official legislative process.
Last week's hearing was just the latest in a string of similar events since the start of the year, though it was the first to draw such a widespread backlash.
The focus on election conspiracies has persisted despite the ruckus Republicans took in last year's election. The GOP was shut out of the state's highest office after voters rejected Republicans who promoted election fraud.
Still, the ranks of vote-deniers in the Legislature grew as moderate Republicans declined to run for re-election or lost GOP primaries.
Petersen, the Senate president, said he agreed to allow last week's controversial hearing at the request of Harris and Toma, adding that Majority Leader Sonny Borrelli asked to review materials before they were presented but was not allowed to see the bribery allegations.
"I assure you, if he had known about the report, he would not have allowed it to be included," Petersen said in a statement. "This was definitely not the place to make such allegations, nor to judge the credibility of such statements."
Even Sen. Wendy Rogers, who is deeply embroiled in the national "stop the steal" movement of Trump supporters who claim the election was rigged and refused to back down when she was censured by the Senate last year, backed down this time.
"To our knowledge, none of the individuals named had charges filed, have charges pending, nor any convictions against them," Rogers said in a statement Sunday night. Rogers is chairman of the Senate Select Committee.
The charges came at the end of a day-long hearing by the state House and Senate Elections Committees, which democrats boycotted. They were offered in a 40-minute presentation by Jacqueline Breger, a Scottsdale insurance agent, who attributed them to a report written by John Thaler, who she said was an attorney with a background in fraud investigations.
Thaler alleged, without credible evidence, that two women working on behalf of the Sinaloa cartel used fraudulent mortgage documents to launder money for a wide range of officials, both Republican and Democratic. Netizens discovered that the women Thaler accused of facilitating the fraud were his ex-wife and her mother.
Thaler has a history of filing lawsuits accusing them of carrying out extensive conspiracies. A federal judge last year dismissed one of his lawsuits, calling it "a delusional and fantastical story."
Thaler did not respond to an email seeking comment.